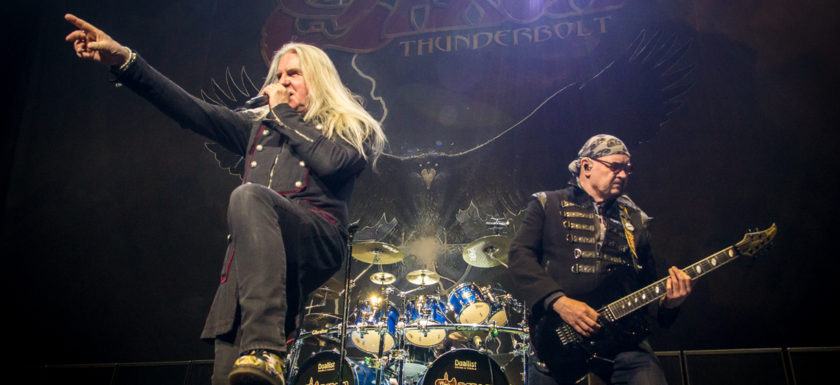 SAXON
Judas Priest Firepower Tour
Mohegan Sun Arena
Uncasville, Connecticut
March 22, 2018
Saxon took the second spot opening for Judas Priest on the Firepower Tour at the Mohegan Sun Arena in Uncasville, Connecticut.  Saxon has been making metal since 1977 and have been known as one of Europe's most popular metal acts of the 80's era. Saxon is one of those bands to help lay the foundation of heavy metal and has been an influence to many other bands and musicians to form out of the 80's heavy metal genre. Since 1978, Saxon has put out twenty-one albums, with their latest release of Thunderbolt in 2018.  Saxon has never stopped in what they do. They are a powerful and inspirational force in the world of heavy metal.  Saxon is part of the industrial British Metal era among the likes of Motorhead, Black Sabbath and Judas Priest to name a few. In other words, this is where it all began.
The latest album Thunderbolt, while not having reached top charts in the United States yet, has hit the charts worldwide. If you have not listened to Thunderbolt, you really should. Thunderbolt gets back to the roots of metal, and has a progressive metal sound that could be found out of the adorned era of the 80's  Thunderbolt was even released on cassette and vinyl.
Saxon is lead by vocalist and founder Biff Byford, Paul Quinn (guitar), Doug Scarratt (guitar), Nibbs Carter (bass) and Nigel Glockler on drums.
The set kicked off with "Thunderbolt" from the new album. Saxon took the stage with Nigel Glockler hidden behind this powerful drum kit.  It was hard to see him, but there was not doubt he was back there with the powerful drums of Saxon.  Biff Byford took control of the stage and arena as only a seasoned godfather of heavy metal could do.  Saxon continued the night's set with an eleven song array of Saxon metal.  True British Heavy Metal.  It was into "Power and the Glory" and "The Secret of Flight".
Biff Byford took moments throughout the night to talk to the crowd. Byford talked about the early days of Saxon and about the second show ever played was opening for Judas Priest and talked about how things come full circle.  As a prelude to the song "They Played Rock & Roll", from the Thunderbolt album; Byford talked about how the song tells the story of Saxon's very first tour in 1979 with Motorhead. A homage to Motorhead and what it was like in the early days for Saxon and Motorhead at the start of the 80's metal revolution.
Then Byford called to a member of the crowd to put forth their denim vest to the stage. Byford inspected the vest, adorned with a Judas Priest back patch and other metal bands. With Byford's approval of the denim vest, he put it on and began the 1981 hit, "Denim and Leather".  This was a night of pure heavy metal.
MOHEGAN SUN ARENA PHOTOS | 3.22.18
Photos by Dan Wenc at dmwpictures.com
For more Saxon: http://www.saxon747.com/