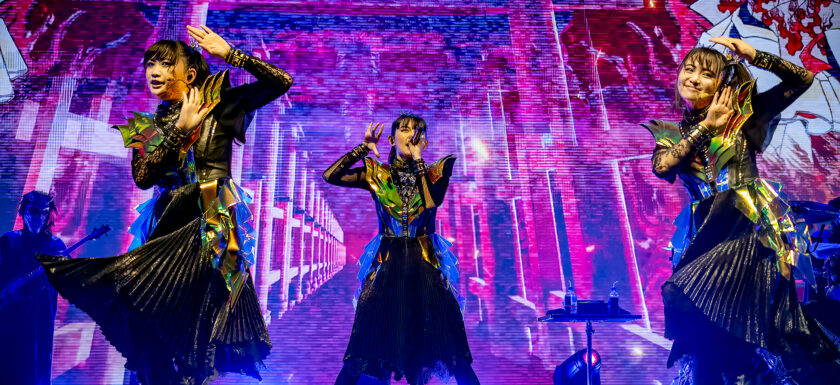 BABYKLOK TOUR FEATURING BABYMETAL AND DETHKLOK
With Jason Richardson
Oakdale Theatre
Wallingford, Connecticut
September 9, 2023
Photos & Review by Tom Bogus
WALLINGFORD, Conn. – The Oakdale Theatre was a cauldron of electrifying energy on September 9th, 2023, as the BABYKLOK Tour featuring Dethklok and BABYMETAL, with special guest Jason Richardson, made its stop in Connecticut
Jason Richardson set the night in motion at 6:30pm, delivering a blistering 40-minute performance that showcased his unmatched mastery of the guitar. With every riff and solo, Richardson proved why he's a force to be reckoned with in the world of guitar virtuosos.
JASON RICHARDSON photo gallery

Dethklok seized the stage at 7:55pm, unleashing a relentless onslaught of their signature hits. From the thunderous "Aortic Desecration" to the unapologetically fierce "I Ejaculate Fire," each song was a sonic assault that resonated with the fervent crowd, all set the various cartoon videos played and the large screen behind them. The precision and intensity of their performance left no doubt that Dethklok reigns supreme in the realm of dark metal.
DETHKLOK photo gallery

At 9:25pm, the stage belonged to the enchanting trio known as BABYMETAL. Opening with the heart-pounding "BABYMETAL DEATH," they captivated the audience with their visual exhibition from the huge tv screen behind them and their well choreographed dance moves.  Su-metal's soaring vocals combined seamlessly with the powerhouse musicians of the KAMI Band.
The setlist was a rollercoaster of musical prowess, featuring crowd-favorites like "Gimme Chocolate!!" and "PA PA YA!!," along with breathtaking collaborations like "Distortion" (featuring Alissa White-Gluz) and "METALI!!" (Featuring Tom Morello).
As the night reached its climax with "Road of Resistance," the audience was left in a state of euphoric frenzy. The convergence of metal and J-pop, executed flawlessly by BABYMETAL, was a testament to their unrivaled artistry.
With the clock striking 10:30pm, the concert drew to a close, leaving the Oakdale Theatre pulsating with the echoes of an unforgettable night. The BABYKLOK Tour had not only lived up to its monumental hype but had exceeded all expectations. This was truly a extreme high energy show that is not to be missed.
BABYMETAL

Jason Richardson setlist:
1. Tendinitis
2. Ishimura
3. Sparrow
4. Titan
5. Retrograde
6. Upside Down
7. Hos Down
Dethklok setlist:
1. Deththeme
2. Briefcase Full of Guts
3. Birthday Dethday
4. Awaken
5. Bloodlines
6. The Gears
7. Hatredcopter
8. Dethsupport
9. Duncan Hills Coffee Jingle
10. Aortic Desecration
11. I Ejaculate Fire
12. The Duel
13. Murmaider
14. Thunderhorse
15. Fansong
16. SOS
17. Go Into the Water
BABYMETAL setlist:
1. BABYMETAL DEATH
2. Gimme Chocolate!!
3. PA PA YA!!
4. Distortion (feat. Alissa White-Gluz)
5. BxMxC
6. Mirror Mirror
7. Monochrome
8. METALI!! (feat. Tom Morello)
(preceded by KAMI Band solos)
9. Megitsune
10. Headbangeeeeerrrrr!!!!!
11. Road of Resistance