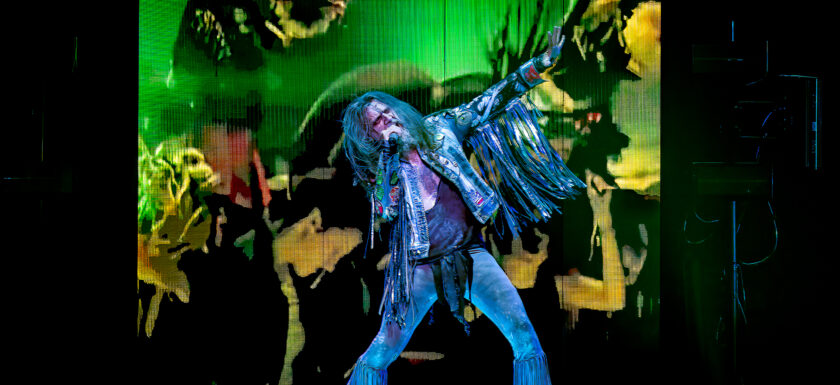 FREAKS ON PARADE TOUR
Featuring Rob Zombie and Alice Cooper
Xfinity Theatre
Hartford, Connecticut
September 10, 2023
Photos & Review by Tom Bogus
HARTFORD, Conn. – The 'Freaks on Parade' tour at XFINITY Theatre, Hartford featuring Rob Zombie and Alice Cooper, was an electrifying spectacle that left the audience in awe. With opening support from the industrial rock and metal powerhouses Filter and Ministry, the stage was set for a night of unforgettable music and theatricality.
Taking the stage promptly at 8:05pm, Alice Cooper launched into his set with  "Lock Me Up," immediately setting the tone for a night of high-energy performances. The setlist was a masterful blend of Cooper's timeless classics, ranging from the rebellious "I'm Eighteen" to the anthemic "No More Mr. Nice Guy."
Alice Cooper's performance was a masterclass in theatrics and showmanship, with each song feeling like a distinct act in a macabre play. From singing with a Boa constrictor hanging around his neck in "Snakebite" to his beheading in "Killer," Cooper's stage presence was nothing short of mesmerizing for this legendary artist.
The elaborate props, including the towering Frankenstein during "Feed My Frankenstein" and the guillotine for "Killer," added a surreal dimension to the show. The finale with "School's Out" was a fitting climax, complete with Cooper donning a white jacket and top hat amidst a flurry of bubbles.
ALICE COOPER photo gallery

Rob Zombie hit the stage at 9:55 in his iconic attire, complete with dreads, bell-bottomed jeans, and custom-patched jacket, opening with "The Triumph of King Freak (A Crypt of Preservation and
Superstition)". His stage presence was a blazing inferno that left the audience spellbound. Zombie, a true all around artist, seamlessly blended music, filmmaking, and visual arts into a sensory onslaught that was nothing short of spectacular.
Rob Zombie exuded his trademark devilish charm from the get-go. As the closing headliner, he unleashed a torrent of metal and industrial sounds, accompanied by a visual spectacle that transported the crowd to the depths of inferno. The inclusion of demonic imagery, colored lights, pyrotechnics on a stage full of tv screens only heightened the immersive experience.
Accompanied by the powerhouse lineup of Piggy D. on bass, Ginger Fish on drums, and Mike Riggs on guitar, Zombie delivered a setlist that left no room for respite. From the thunderous "Dead City Radio" to the eerie "The Lords of Salem," each song was a visceral journey through Zombie's dark and twisted world.
The show's crescendo was marked by a relentless onslaught of hits, including the anthemic "Living Dead Girl" and the pulsating "Dragula." Zombie's presence on stage was nothing short of commanding, and his connection with the audience was palpable.
'Freaks on Parade' was a concert experience that transcended the boundaries of music. The fusion of music, theatrics, and visual effects created a night of unforgettable entertainment, leaving the crowd buzzing with excitement long after the final note.
ROB ZOMBIE photo gallery

Alice Cooper setlist:
1. Lock Me Up
2. No More Mr. Nice Guy
3. I'm Eighteen
4. Under My Wheels
5. Billion Dollar Babies
6. Hey Stoopid
7. Lost in America
8. Snakebite
9. Feed My Frankenstein
10. Poison
"The Black Widow" segment from
Alice Cooper: The Nightmare
11. Guitar Solo (Nita Strauss)
12. Black Widow Jam
13. Ballad of Dwight Fry
14. Killer (Partial: band only)
15. I Love the Dead (Partial: band only)
16. Elected
17. School's Out
Rob Zombie setlist:
1. The Triumph of King Freak (A
Crypt of Preservation and
Superstition)
2. Dead City Radio and the New
Gods of Supertown
3. Feel So Numb
4. Well, Everybody's Fucking in a U.F.O.
5. What Lurks on Channel X?
6. Superbeast
7. Demonoid Phenomenon
8. The Lords of Salem
9. House of 1000 Corpses
10. Drum Solo
11. Living Dead Girl
12. More Human Than Human (White Zombie song)
13. Thunder Kiss 65 (White Zombie song)
"House of 1000 Corpses" rerelease trailer
14. Dragula