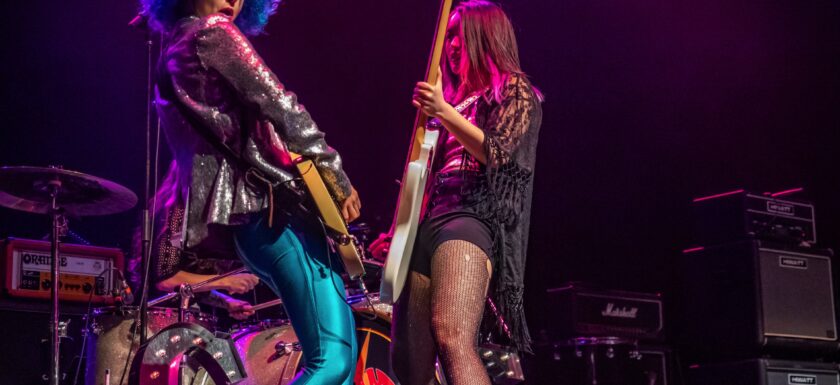 GLAM SKANKS
Opening for Adam Ant
Fox Theater
Foxwoods Resort Casino
Mashantucket, Connecticut
September 21, 2019
Photos & Review by Frank Piercy
September 21st for the last 12 years, is usually a very somber and reflective day for me. Not one I normally go out and do happy things on, but sit in the dark with a bottle of Southern Comfort and a couple packs of smokes and wallow in self pity and cry.
Not this year. This year, one of my favorite younger bands, the Glam Skanks were coming back to New England, and not just New England but specifically Connecticut with one of my guilty pleasures from the 80s, Adam Ant.
If you had read my review of Adam Ants stop in Boston at the Wilbur back in January of 2017, I believe that I said, "have a very entertaining set full of energy and sass" or my review of one of their off night shows in New York City where I said, "If you're looking to see a band with great music, one that puts on a show that is just as high energy as their music, these are your girls." Then you would understand my excitement.
Then while I was waiting for the show to start, I was finding out I wasn't alone. There were people who saw them in Boston just a few nights before, even New York City. Of course, there were the people who last saw them in Boston at the Wilbur in 2017. Other people who had become fans of this band hand picked by Adam Ant to open for him, more then once here in the States and in Europe!
Over the last couple of years, there have been some line up changes, and that had me just a bit apprehensive about how they would sound. It is different seeing a band perform live and seeing a YouTube video. The stage presence just isn't there in a video.
The lights grew dim as the girls came to the stage to at least one person clapping and hooting and hollering, what can I say, I was happy to get to see them perform.
As the young women took the stage, they started the night off "No Way to Live", followed by the title track off of their new album, Anything in Between (we will be talking about that a bit later) with another new song following, "Push and Pull Me (Like You Do)". This has been the not only my first-time seeing Vanessa McNeil live in front of the mic for the Glam Skanks but also my first time hearing these songs played live, and the energy is still there! Vanessa was back and forth on that stage, smiling the whole time. Next up was another new song, but one I have seen and played on YouTube many times, "Time Warp Woman". The next song was a treat and something a bit unexpected, as Veronica stepped up to the mic and urged the crowd to sing along, and Vanessa got the crowd clapping to Donna Summer's "Hot Stuff" by this point there even people standing and dancing along!
Finally, there was a song from the setlist, that I knew. "Bad Bitch" off of their debut album Glitter City, a great tune and a good video, but Vanessa needs a lipstick pistol on stage with her for this song. Unfortunately, like any other concert, the opening band gets a limited amount time, that is ALWAYS to short for my liking and you "Don't Waste It", followed by "Spirit of Rock n Roll" to close out their set.
The Glam Skanks consist of, Guitar Goddess Veronica Witkin, Bad Bitch Bassist Millie Chan (and they both also do backup vocals), along with their two moderately new members, Vivacious Vocalist Vanessa McNiel and the Dangerous Damsel of the Drums, Jessica Goodwin. These young women, were fantastic, full of energy and friendly after their set and after Adams set, posing for pictures and signing cds and records. I heard nothing but good things from the crowd, but then how often am I wrong?Don't answer that…
GLAMS SKANKS Photo Gallery
For more info, news, music and tour dates visit Glam Skanks web page at https://www.glamskanks.com