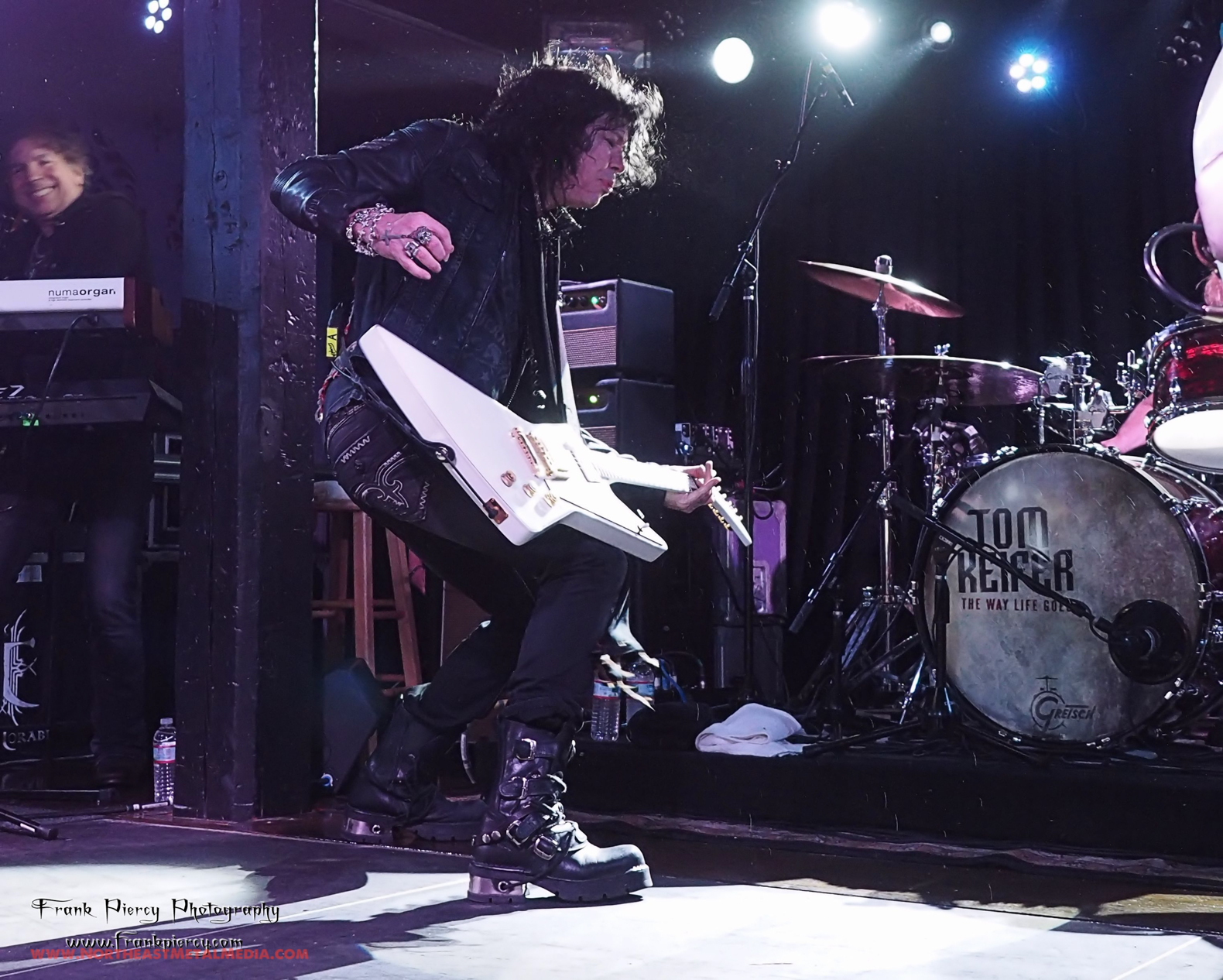 Photos & Review by Frank Piercy
April 29, 2015
Two bands I have enjoyed seeing perform live have been out touring this spring, and they actually came together for one night in Manchester at a small club called The Jewel Nightclub in Manchester New Hampshire. The Jewel is a small club that holds between 400 to 450 from what the guy working the door told me, and that night they were expecting it to be close to capacity.  I have been to many small clubs in my time, Legendary Dobbs was the first to come to mind, but The Jewel feels bigger than there but still smaller than what Tuxedo Junction in Danbury used to feel like.
A couple of local bands opened the nights but to be honest I missed the first one and only heard the last 2 songs before Faster Pussycat came out onstage. My partner in crime actually said they sounded good.
I last saw Faster Pussycat when they were touring for their first album and opened for Alice Cooper.  I was a fan by that time anyways having seen them on Mtv's Headbangers Ball.  I was excited to be able to catch them this evening along with a new favorite live artist, Tom Keifer. A Great mix of tunes from all of their albums but the crowd definitely sang along with the favorites, "Bathroom Wall", "Cathouse", "Slip of the Tongue" "House of Pain" and "Babylon". Personally I was a little disappointed because they didn't play "Poison Ivy". They still kicked ass, musically and visually, between Taime Downe and Chad Stewart drums, the look was set along with Danny Nordahl on bass, Xristian Simon and Ace Von Johnson guitars they sounded good. But Honestly… I was not there to review their set, another one of the guys here at NEMM got the gig a couple of days later when the guys hit the Palladium in Worcester.  Check out the Faster Pussycat review and pics from the Palladium, Worcester show here.
I was there to shoot and review the voice of Cinderella, Tom Keifer. Despite a small problem with a HOUSE employee refusing me entry during the first song despite the prominent displaying of my photo pass, with the help of the owner I was able to shoot the next two songs. The night started off with Tom coming out and starting into "Seamstress Blues/Falling Apart at the Seams" definitely one of my favorite songs by Cinderella.  Followed by "Its Not Enough" and Different Light" off of his "The Way Life Goes" album, now it is a different sound then your used to with Cinderella, but still a great album and one I recommend. More Cinderella tunes came blasting from the band with "Somebody Save Me", "Shake Me" and Heartbreak Station".  By this time, the 400 plus people crammed into this night club were singing along to almost every word coming from Tom's mouth, that or I was just listening to myself by this time, as I hung out in the back at the bar. I saw Tom and the band, Tony Higbee – Guitar, Billy Mercer – Bassist, Paul Simmons – Drummer and Paul Taylor – Keyboardist, back in August of 2014 at the Woodstock Country Fair and one of the highlights of that show was when he slowed down and went into the "Flower Song" and "Ask Me Yesterday".
This man is talented and an inspiration, and I think has definitely upped his game over the last few years. What he has overcome is wow.  That is all I can say.  A definite career ending vocal chord issue and then other issue's, he has my respect. More Cinderella tunes came blasting out of these guys with "Don't Know What You Got (Till Its Gone)" and "Nobodys Fool" then a couple of more newer ones with "Solid Ground" and "Cold Day In Hell". "Shelter Me" would bring the set to a close….. well sort of. Whats a rock a show with a encore right? Tom and company bring it out with their version of the Beatles, (or Joe Cocker) classic song, "With a Little Help From My Friends"  Listening to Tom sing thru this one, I have to say he is probably more inspired by Joe Cocker's version than the original, but He NAILS it, and finally closes the set with "Gypsy Road".
Tom and company are still touring the U.S. for this album and have only a few more dates on the east coast before heading out to the Midwest and then… back to Connecticut on July 25th at The Ridgefield Playhouse.
You can check out Tom Keifer's Website at http://www.tomkeifer.com/ and also his Facebook at https://www.facebook.com/TomKeiferOfficial If you enjoyed this article, please share it along.
Follow Frank Piercy on Twitter at @2_piercy
Follow Northeast Metal Media on Twitter @NEMetalMedia
©2015 Northeast Metal Media / ®All Rights Reserved Photos by Frank Piercy Photography. All photographs are Copyright protected – Not for use without permission
Facebook Comments