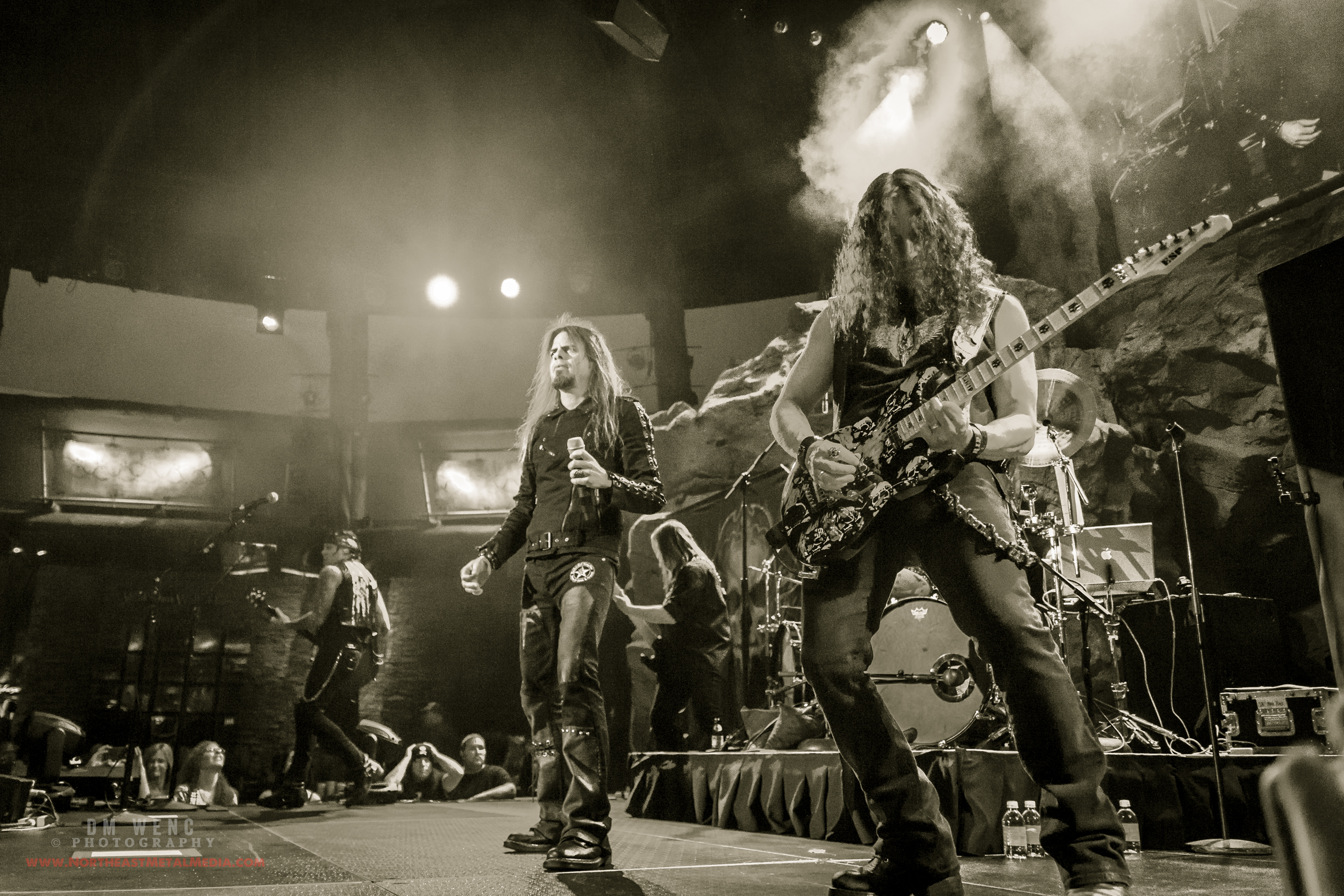 QUEENSRYCHE
Mohegan Sun Casino – Wolf Den
Uncasville, Connecticut
May 1, 2015
Photos & Review by Dan Wenc
If you have ever seen Queensryche live, you know that they put on a great show.  Having seen them twice in 1991 and once in 2006, and now seeing them in 2015, I was absolutely blown away at the most recent performance on May 1, 2015 at the Wolf's Den at Mohegan Sun Casino in Uncasville, Connecticut.  This was the first time I have seen the new version of Queensryche with Todd La Torre on vocals and Parker Lundgren on guitar. Lundgren put on a very enthusiastic show, you could tell he enjoyed his position on guitar in this legendary band, he was a great fit.
This was Queensryche at its best, the performance was an artistic display of musical precision. La Torre's sang all the Queensryche hits as they were meant to be sung. La Torre was very energetic, genuine, and connected with the crowd as he belted out many of the Queensryche favorites with unbelievable vocals and veteran stage presence.
There was no shortage of fan turnout at the Wolf's Den for this show.  The Wolf's Den is an intimate setting to enjoy a show such as this and it allows the band and crowd to connect.  Queensryche put on a powerful ninety minute performance.  Throughout the show they delivered on each song, almost of studio quality sound. La Torre enthusiastically covered all of the stage, mixing with the crowd, shaking hands and even signed a leather jacket with a custom leather back design a fan got to the stage.
One fan on the side of the stage had someone on Facetime on the phone, La Torre went over and sang to the person on the other end of the phone. Talk about pretty damn cool!  He was also seen taking a selfie with fan along the stage.  La Torre is a genuine asset to Queensryche of 2015 and beyond. A band that has truly improved with age.  Scott Rockenfield, Michael Wilton and Eddie Jackson continue to amaze with their performances as they are so clearly in sync to make the musical machine that is Queensryche over the past thirty plus years.
La Torre noted it was the twenty-fifth anniversary of the release of the Empire album, and played "Empire" as one of the last three songs in the set. They played "Jet City Woman" and finished off the show with "Take Hold of the Flame". To mention a few other songs played, "Eyes of  Stranger", "Needle Lies", "Silent Lucidity" and "Speak". Just an overall amazing set.  It is a great time to be excited about Queensryche.  La Torre shared with the crowd that the band is currently in the studio working on a new Queensryche album, and if they are not out touring, they are in the studio.
Queensryche is Michael Wilton (guitar), Eddie Jackson (bass), Scott Rockenfield (drums), Parker Lundgren (guitar) and Todd La Torre (lead vocals).
Do not miss Queensryche if they come to a city near you and be on the look out for a new studio album soon.
For more band info visit their webpage at QueensrycheOfficial.com
Photos from the show below:
Photos by Dan Wenc at dmwpictures.com
©2015 NortheastRockReview.com / ®All Rights Reserved
All photographs are Copyright protected – Not for use without permission