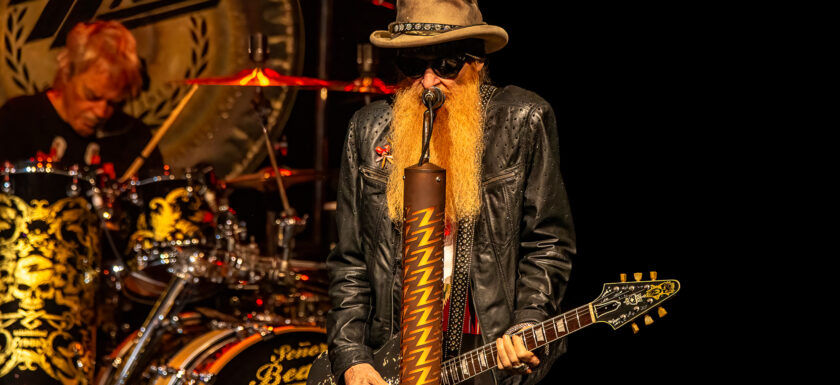 ZZ TOP
With George Thorogood & The Destroyers
Oakdale Theatre
Wallingford, Connecticut
August 30, 2023
Photos & Review by Tom Bogus
WALLINGFORD, Conn. – ZZ Top brought their legendary blues-rock swagger sound to Connecticut and it was a night to remember. With Billy Gibbons on guitar and lead vocals, Frank Beard on drums and Elwood Francis on bass guitar and backing vocals, this iconic trio delivered a performance that left the audience in awe. On tour and opening the concert were none other than the legendary George Thorogood and the Destroyers.
Thorogood and the Destroyers delivered an electrifying performance and kicked off with a burst of energy as they opened with "Rock Party," setting the tone for an unforgettable evening. The band's setlist was a thrilling journey through their iconic blues-rock repertoire. "Who Do You Love?," "Shot Down," and "Night Time" had the crowd on their feet, dancing and singing along. "I Drink Alone," and "One Bourbon, One Scotch, One Beer" had everyone raising their drinks and singing along to the catchy choruses of those two legendary drinking anthems. "Gear Jammer" revved things up into overdrive with its infectious rhythm, and "Get a Haircut" had everyone remembering back to the early 90's when that song was released.
The band closed the show with their most iconic hit, "Bad to the Bone." The Oakdale Theatre was shaking with excitement as the band left the stage. George Thorogood and the Destroyers delivered a rock and blues spectacle that won't be forgotten anytime soon. Their timeless classics and Thorogood's fiery guitar prowess proved once again why they are icons in the music world.
GEORGE THOROGOOD photo gallery

ZZ Top hit the stage with a bang as the band opened with "Got Me Under Pressure," a track that showcased Elwood Francis' incredible skills on a  black 17-string bass guitar.
The setlist was a journey through ZZ Top's greatest hits, and the crowd couldn't have asked for more. "Thank You," "Waitin' for the Bus," and "Jesus Just Left Chicago" had everyone singing along and grooving to the bluesy rhythms. "Gimme All Your Lovin'" and "Pearl Necklace" were met with roaring applause, and "I'm Bad, I'm Nationwide" showcased the band's versatility and Billy Gibbons' signature guitar style. "I Gotsta Get Paid" had the crowd on their feet, and "My Head's in Mississippi" transported everyone to a Southern blues paradise.
"Just Got Paid" and "Sharp Dressed Man" were highlights of the evening, with the audience reveling in ZZ Top's timeless classics. The show reached its peak during "Legs," in which Gibbons and Francis played their iconic pillow like instruments the entire venue was rocking to the infectious beat.
After a brief exit, ZZ Top returned in matching red jackets and sneakers to deliver an encore that left the crowd begging for more. "Brown Sugar" and "Tube Snake Boogie" were met with wild enthusiasm, and the night ended on a high note with "La Grange," leaving the Oakdale Theatre echoing with the sound of thunderous applause.
ZZ Top's performance in Wallingford was a testament to their enduring talent and stage presence and longevity as a band. With a setlist that spanned their long illustrious career, the band proved once again why they are rock and blues icons. The audience left the venue with smiles on their faces, their hearts full of the blues, and their ears ringing with the unforgettable sound of ZZ Top.
ZZ TOP photo gallery

ZZ Top setlist:
Got Me Under Pressure
I Thank You (Sam & Dave cover)
Waitin' for the Bus
Jesus Just Left Chicago
Gimme All Your Lovin'
Pearl Necklace
I'm Bad, I'm Nationwide
I Gotsta Get Paid
My Head's in Mississippi
Sixteen Tons
(Merle Travis cover)
Just Got Paid
Sharp Dressed Man
Legs
Encore:
Brown Sugar
Tube Snake Boogie
La Grange
George Thorogood setlist;
Rock Party
Who Do You Love?
(Bo Diddley cover)
Shot Down
(The Sonics cover)
Night Time
(The Strangeloves cover)
I Drink Alone
One Bourbon, One Scotch, One Beer
(Amos Milburn cover)
Gear Jammer
Get a Hair-cut (Don't Panic cover)
Bad to the Bone