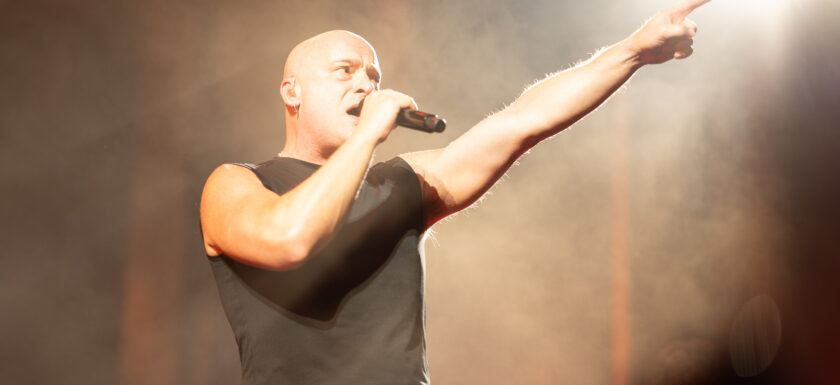 DISTURBED
With Breaking Benjamin and Jinjer
Xfinity Center
Mansfield, Massachusetts
August 18, 2023
Photos & Review by Michael LaFleche
MANSFIELD, Mass. – On a sizzling and rain soaked day, the Xfinity Center in Mansfield was set ablaze by an explosive rock concert that will undoubtedly linger in the memory of every attendee. Headlined by the powerhouse act Disturbed and supported by Breaking Benjamin and Jinjer, this event was a mesmerizing showcase of rock music's diverse energy.
As the sun dipped below the horizon, Jinjer took the stage with an electrifying opening act that set the tone for the evening. Hailing from Ukraine, their fusion of progressive metal and intense stage presence instantly grabbed the audience's attention, leaving them in anticipation of what was to come.
JINJER photo gallery

Breaking Benjamin followed, fueling the atmosphere with their signature blend of hard rock and emotive melodies. With anthems like "The Diary of Jane" and "Breath," the crowd was immersed in a sonic journey that resonated deep within. Breaking Benjamin's polished performance was a reminder of their position as stalwarts in the modern rock scene.
BREAKING BENJAMIN photo gallery

But the pinnacle of the night was undoubtedly Disturbed's headlining performance. From the moment the curtain dropped and the haunting chords of "Hey You" filled the air, the crowd was under the band's spell. Frontman David Draiman's vocals pierced through the night, capturing the raw emotion of every song.
Disturbed's setlist was a rollercoaster of their greatest hits and notable covers. "Stupify" and "Ten Thousand Fists" unleashed a wave of energy that reverberated through the venue, while "The Sound of Silence" (a Simon & Garfunkel cover) showcased the band's versatility, juxtaposing soft and soulful moments with explosive choruses.
The stage production was a visual marvel, featuring captivating visuals that complemented each song's mood and intensity. Flames ticked the front row of concert goers as David Draiman's magnetic stage presence drew the audience in, while guitarist Dan Donegan's blistering solos added layers of depth to the performance. Bassist John Moyer and drummer Mike Wengren held down the fort with precision and power, providing the backbone for Disturbed's sonic assault.
Notably, the setlist also included "Open Your Eyes," marking its tour debut after a long hiatus. The encore was an eruption of unbridled energy, featuring "Unstoppable," "Down With the Sickness," and "Inside the Fire." These final songs left the crowd in a frenzy, cementing the night as an unforgettable celebration of rock music's resilience and power to connect.
In conclusion, the concert at the Xfinity Center was a symphony of energy, emotion, and unadulterated rock fervor. Disturbed's performance, with Breaking Benjamin and Jinjer, created an atmosphere of unity and shared passion among rock enthusiasts. As the final chords reverberated through the air and the echoes of the night faded away, it was clear that this concert had left an indelible mark on everyone fortunate enough to be present.
DISTURBED photo gallery