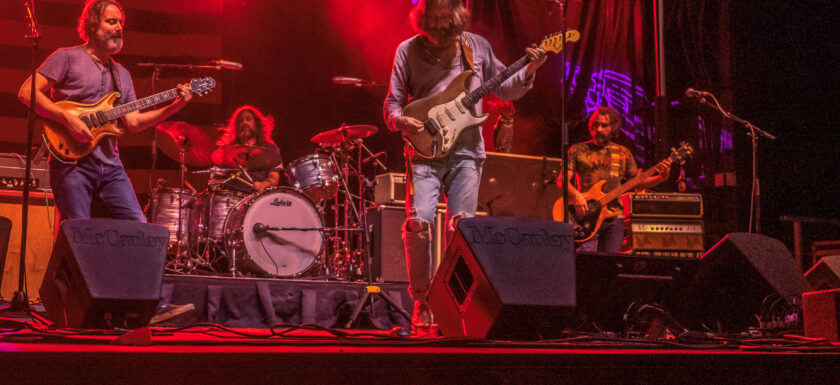 Tailwinds Music Festival
Featuring Chris Robinson Brotherhood
With Black Stone Cherry, Geoff Tate's Operation: Mindcrime, Kings X, Sass Jordan
And Local Favorites Big Guns Featuring Rachel Lorin, The Playback and The Jason Gisser Band
Wappinger Falls NY
June 29, 2019
This was shaping up to be a great weekend. I got home from seeing Ace Frehley in New Jersey with enough time to get some sleep before having to drive to Wappinger Falls to see what promised to be a very interesting and eclectic line up being brought to us by the fine folks over at CMMC Festivals.
CMMC Festivals is a nonprofit whose goals are to help those that are afflicted with various diseases like Cancer, Parkinson's, Alzheimer's, ​by working with other charities in the Hudson Valley, through organizing and promoting live music events multiple times a year. The charity chosen to benefit from the festival, is Miles of Hope Breast Cancer Foundation, serving the 9 counties of the Hudson Valley since 2004, they have been funding support services and outreach programs for people affected by Breast Cancer. You can learn more about Miles of Hope and also make a donation to their services at the following link….. go on and check it out and donate at https://milesofhope.org/
So not only was everyone there to see and hear some great music, but it was for a great cause!
I made the 90 minute drive in just under 120 minutes as traffic on this bright sunny Saturday morning was pretty heavy, with quite a bit of trepidation as the they kept saying on the radio the forecast was calling for strong thunderstorms that afternoon. My excitement started to wane as raindrops started to hit my windshield, but fortunately it never got worse then just a sprinkle a few miles from the gates of The Hudson Valley Regional Airport.
After arriving a few minutes behind due to the screwed up traffic in Connecticut and a long walk from my parking space I listened to the opening band, "The Jason Gisser Band" while walking towards the main gate. A cross between blues, soul and a bit of rock, this is definitely a band I need to catch live sometime soon. I just wish I was able to get some pics. You can find them online at https://www.thejasongisserband.com/home
While I was dealing with some miscommunication with security, another Hudson Valley band was on stage, rockers The Playback were entertaining the crowd with an energetic set of original tunes. Unfortunately, by the time I had the confusion with security cleared up it was to late to grab more then just a couple of pics of these guys. You can find them online also, well on Facebook at least, at the following address https://www.facebook.com/Theplaybackmusic/
THE PLAYBACK
Our hosts for the day were none other than Don Jamieson from VH1's That Metal Show and comedian extraordinaire and also local radio celebrity from Z93, Tigman.
Next up was another local band, one that I was familiar with, Big Gun's Featuring Rachel Lorin. I have seen these guys perform at a few shows with a mix of covers and original songs that really keeps everyone on their feet. Consisting of Frank Pallett on Guitar, Kerry Bowden on Bass, Kevin Davis Lead Vox, Joe on Guitar, John O'Shea on Drums and featuring Rachel Lorin on vocals for a couple of songs. They had everyone's attention. If you're looking for more info on them, Facebook is the place to look, https://www.facebook.com/BigGunsNY/
BIG GUNS
Now the fun was starting. Sass Jordan is a popular Canadian Rock Singer, with a soulful voice and and an entrancing smile, she had the crowd in the palm of her hand. I really wish I knew who the members of her band are, they were fun to watch and sounded great. You can find out more about her and more of her music over at her website! http://sassjordan.com/
SASS JORDAN
After Sass Jordans set, was another band I have never seen live before. Kings X has been around for a very long time, since I first heard "It's Love" off their third album, I have been a fan. For some reason I have never seen them live. Until this weekend. I was not disappointed. The band did their soundcheck, Kings X was ready and already on stage. They asked if they could start their set early, so the audience got to hear 10 more minutes of Kings X. That was fantastic! Kings X consists of Doug Pinnick on bass and lead vocals, Ty Tabor on guitar and Jerry Gaskill on drums. Another band that seemed to be onstage and having fun with smiles on the faces of all three of them for most of the set. They are a great band to see live and I highly recommend it. http://kingsxrocks.com/
KINGS X
This one confuses the hell out of me, it is on the flier as Geoff Tate but is also online as Geoff Tate's Operation: Mindcrime. Needless to say, being a fan of his former band, Queensryche and particularly of the album "Operation Mindcrime" I was looking forward to this set. As drummer Felix Bohnke and bassist Jack Ross took to the stage and then the dual threat guitarists, Kieran Robertson and Scott Moughton and Operation Mindcrime started. One of the best concept albums to come out of the 80's to hear it now and with Geoff sounding the best I have ever heard him is amazing. There is one moment during the set when he must be proud, which was when his equally talented daughter, Emily, comes onstage to sing with him during "Suite Sister Mary". It has been 30 years now, since the release of that album, if they come to a city near you, don't pass it up. Those rumours of his voice being gone….. well yea, they are just that. Geoff sounds amazing. https://www.operationmindcrime.com/wordpress/
GEOFF TATE – OPERATION MINDCRIME
The next band to hit the stage, is another band that I have not seen before, but have heard a lot about over the last couple of years. Black Stone Cherry is a hard rock band with southern roots, coming out of Kentucky. A popular group among the people I hang with and after seeing their set, I now know why. Full of energy and rocking tunes they came out with all cylinders firing. Guitarist Ben Wells was all over the stage full of unstoppable fury while lead vocalist and guitarist Chris Robertson hung close to the microphone. Sporting dark sunglasses, bassist Jon Lawhon, played it cool ambling around while John Fred Young pounded the crap out of the drum set. There was a keyboardist but I don't remember if they said his name and it isn't on their social media or website. This is one of those bands that I really enjoy watching play and shooting even more! Full of energy and looking like they were having just as much of a good time as the rest of us were. It was invigorating and I absolutely cant wait to see these guys again. You can check them out online at their website http://www.blackstonecherry.com/
BLACK STONE CHERRY
The next band up, was another one I had been looking forward to. Chris Robinson Brotherhood is a lot different then the band vocalist and guitar player Chris Robinson is more known for. A definite departure from the harder sound (not by much tho) of The Black Crowes, The Chris Robinson Brotherhood is more of a psychedelic jam band, playing a very distinct style of blues influenced rock. A bit more relaxed then the previous band, Chris and his band of merry men, consists of Neal Casal on guitar, Tony Leone on drums, Jeff Hill on bass and (for the moment) Joel Robinow on keyboards. This set was the perfect ending to the day for me. I was able to sit back and relax and enjoy a show that felt like it was a bunch of friends jamming in my living room. Except for the incense…. And the cloud of smoke that smelled a lot like weed that hovered over us. Unfortunately, from what I understand they are going on a hiatus after their July dates. For some reason though, I do not think that will be the last we see of Mr Robinson.
CHRIS ROBINSON BROTHERHOOD
You definitely need to check out there website and once there Raven's Reels. It is pure heaven and once its posted get their Tailwinds Music Fest appearance! I know I will be. https://chrisrobinsonbrotherhood.com/
This was a great event, with perfect weather, even though they had to deal with an irritable old photographer, they were gracious and polite. The food trucks were great, and so were the vendors, everything from records (Darkside Records of Poughkeepsie) to Jerkie and even Grateful Dead stuff!! One of my favorites being Copper Horse Coffee Roasters. Really good coffee. And they even had HATCHET THROWING!
I cant wait for next year!