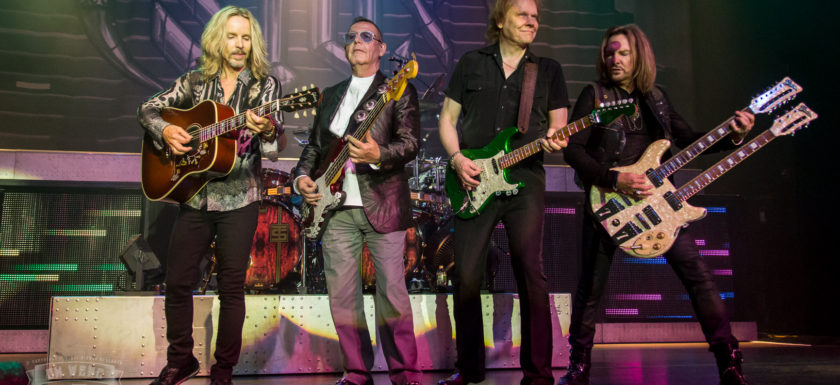 STYX
Twin River Casino Event Center
Lincoln, Rhode Island
October 22, 2016
Photos & Review by Dan Wenc
STYX took to the stage at the Twin River Event Center in front of a full house of excited classic rock fans. The room immediately transformed to a temporary world of 1970/80 something for the almost two hour set of keyboard and guitar infused classic rock.  The crowd instantaneously rose to their feet amidst the unmistakable sound of STYX. This legendary rock n' roll band was again out on their own in the midst of a 2016 North American tour. STYX had most recently been touring summer shows with Tesla and Def Leppard.
The room was filled with STYX faithfuls, young and old, proof that rock is still alive, and had gained some new fans along the way. A true testament to rock and roll , that this band can still bring out the crowds. Long time fans, singing all the words to every song. To kids in their early teens, or younger, with their parents, singing along, knowing all the words… as a result of good parenting.
Once you heard the sounds of Lawrence Gowan on the keyboard opening with the intro of "The Grand Illusion", you knew the excitement was about to begin. The band took the stage with great energy. Twin River in Lincoln, Rhode Island is a great place to see a show. Plus the lighting is probably one of the best in the area for smaller venues.
The show was full of entertainment from start to finish. The band displayed their joy of playing live music even after all these years. You don't just have one singer on the stage. Depending on what song it was, you had variation on lead vocals spread out between Gowan, Shaw and Young. The crowd was treated to several performances with Chuck Panozzo on bass. Panozzo is a founding member of STYX. Each time Panozzo took to the stage, the crowd was highly elated at his presence. STYX is Chuck Panozzo (bass), Tommy Shaw (vocals & guitar), James "J.Y." Young (guitar & vocals), Lawrence Gowan (vocals & keyboards), Ricky Phillips (bass) and Todd Sucherman (drums).
Lawrence Gowan blasted out amazing vocals and owned the keyboard. Gowan played that keyboard every which way, in back of, in front of, on the side of and on top of the keyboard. A truly entertaining and versatile musician on the keys. Gowan established a great connection with the crowd as he and Tommy Shaw played a great version of David Bowie's "Space Oddity." And later a solo interlude would follow on keyboard and vocals, as a tribute to a couple lost legends Prince and Freddie Mercury with "1999" and "Bohemian Rhapsody", respectively. Gowan assured everyone that all remained well with Elton John, before cutting into a vocally amazing rendition of "Rocket Man" in between those two songs. The band put on an all STYX classics set with a lot of friendly crowd interactions throughout.
Both Tommy Shaw and James Young engaged with the crowd at several points in between songs. The set list was winding down and it was almost time to sail away. Then came end of the set, in a night that seemed to go by so quickly with all the STYX classics. Along came  "Come Sail Away". Then into the encore set with "Rockin' the Paradise" amidst a showering of red, white and blue confetti. The night finished off with "Renegade", one of those songs that can frequently get stuck in your head.
Overall great show. But what else would you expect at a STYX show. If you have not yet seen STYX live, be sure to check them out. There are many more tour dates coming up for the North American tour. If you have seen STYX before… Then get out and see them again… and then again. They continue to put on a phenomenal show, a pure example of what a rock show should be.
Check out the photos below:
Setlist for the night:
The Grand Illusion
Too Much Time On My Hands
Fooling Yourself (The Angry Young Man)
Lady
Light Up
Man in the Wilderness
Miss America
Space Oddity
Crystal Ball
I'm OK
Blue Collar Man (Long Nights)
1999 (Prince) / Rocket Man (Elton John) / Bohemian Rhapsody (Queen)
Come Sail Away
Encore performance:
Rockin' the Paradise
Renegade
Click here to see STYX tour dates.
For more info on STYX, check out the links below:
Facebook: https://www.facebook.com/styxtheband
Twitter: https://twitter.com/STYXtheband
YouTube: https://www.youtube.com/user/styxtheband