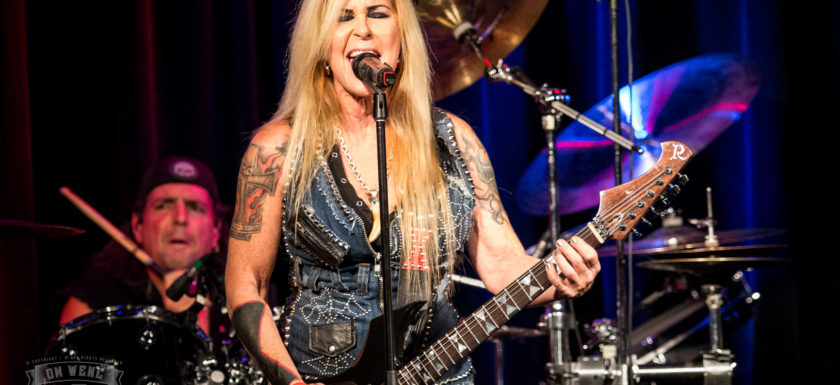 LITA FORD
The Narrows Center for Performing Arts
Fall River, Massachusetts
November 1, 2016
Photos & Review by Dan Wenc
Lita Ford
brought an arena sized performance into the intimate setting of The Narrows Center for the Arts in Fall River, Massachusetts. A Tuesday night show in front of sold out crowd who were treated to an extraordinary set list of Lita Ford hits the way an 80's style rock show should be.
Lita Ford started her career off in the mid 70's with The Runaways as one of the first all female fronted rock bands. She returned to the music scene in a solo capacity with her debut album Out For Blood, released in 1983. Lita had a good run from that time until about the mid 90's in that time Lita released six solo albums, with some of the biggest hits of "Kiss Me Deadly" and "Close My Eyes Forever" with Ozzy to mention a few. A Lita Ford poster was probably a pretty commonplace for a child of the 80's to have in their room at that time, among all the other photos pulled out of a Hit Parader or Circus magazines.
By the mid 90's all the good music of the 80's arena rock era had been washed away by the grunge movement. From the mid 90's to about 2007, Lita quietly snuck away from the music scene to spend time with her family.
Around 2008 Lita returned to the music scene, with warm reception from the fans. Many of the artists of the 80's rock era were also on a resurgence to the music scene. Since then Lita has been out on the road touring and bringing great musical joy to her fans. Since her return to the music scene, Lita has put out three additional albums Wicked Wonderland (2009) Living Like a Runaway (2012) and Time Capsule in 2016. Additionally, her most recent, tell all, autobiography "Living Like a Runaway" released in June 2016. Lita had recently come off a long running tour with Lzzy Hale of Halestorm.
The Narrows Center, an art gallery by day, is a unique venue. It is situated on the third floor of a refurbished mill building. The capacity of the room is somewhere under 300 and there really is no bad seat in the room. The best part is that it is an up close and personal show. That night it was host to Lita Ford, as part of Limelight Magazine's 10th Anniversary celebrations.
Flight of Fire, a four piece, all female, local Boston based band, the perfect compliment to a Lita Ford performance. Flight of Fire were the winners of Limelight Magazine's 2016 Opening Act Contest and 2016 Band of the Year. The guitarist and bassist are identical twins.The band took the stage and got the crowd fired up with an assortment of band originals, which brought the crowd to their feet with a standing ovation at the end of the set. Overall great performance by Flight or Fire. Check out their webpage for more details: www.flightoffire.com
Flight of Fire Photos:

Then came the goddess of rock n' metal, Lita Ford, to the stage along with her band, starting the night out with "Gotta Let Go" and "Larger Than Life". Lita looked great and sounded great. The crowd was electrified and the night was on. Lita then came out with a badass version of Elton John's "Bitch is Back".
Lita connected with the crowd in between songs, she talked about life with The Runaways and what her songs were about. Signed copies of Lita's new book "Living Like a Runaway" were on sale at the merch booth. Next up was a "Living Like a Runaway". Followed up by "Hungry" and "Playin' With Fire".
Lita is backed by a very talented group of musicians. At the back of the stage was Bobby Rock on the drums, a solid, high energy drummer as the backbone of the band. Bobby Rock had studied at Berklee College of Music in Boston and played drums with many other notable musicians like Vinnie Vincent, Nelson, Gary Hoey, Slaughter, and Hardline to name a few. Bobby Rock put on an all around great drum solo in the midst of "Can't Catch Me". Rock's solo consisted of a sampling of drumming styles of jazz, latin and hard rock, in between the cross sticking and the tipping drums. A great classic hard rocking and entertaining drum solo.
On guitar is Patrick Kennison and on bass, Rhode Island native, Marty O'Brien who has also played with some big name acts. Kennison shredded all night long and took the party of Ozzy on vocals for the Lita classic "Close My Eyes Forever". The 1988 hit, "Kiss Me Deadly" closed out an amazing night of Lita classics. It was great to see the crowd so energized and excited about this performance. This was Lita's last area show, and was then heading back to the west coast for one more show and then a short break.
Check out the photos from the show:
Set list for the night:
Gotta Let Go
Larger Than Life
Bitch Is Back – Elton John
Relentless
Living Like A Runaway
Hungry
Playin' With Fire
What Do You Know About Love
Back to the Cave
Can't Catch Me
Falling In and Out of Love
Out For Blood
Cherry Bomb – The Runaways
Black Leather – Sex Pistols
Close My Eyes Forever
Kiss Me Deadly
For more info on Lita Ford and upcoming shows:
Facebook: http://www.facebook.com/litaofficial
Twitter: http://www.twitter.com/litaford
Instagram: http://instagram.com/litafordofficial
YouTube: http://www.youtube.com/litafordtv

For more info on The Narrows Center and upcoming shows:
http://www.narrowscenter.org