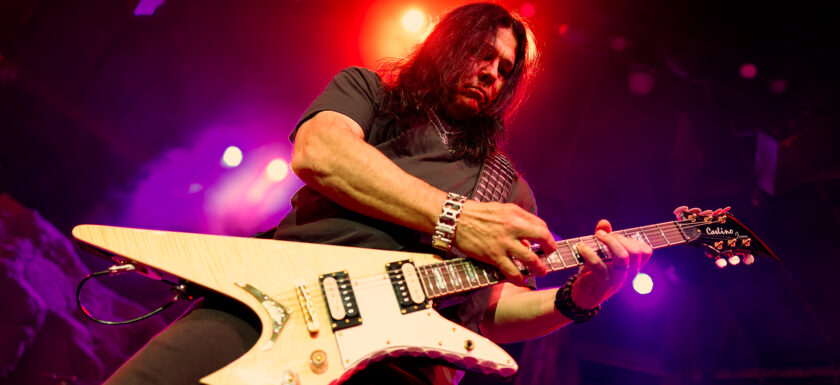 SLAUGHTER
Mohegan Sun Wolf Den
Uncasville, Connecticut
May 5, 2023
Photos & Review by Tom Bogus
UNCASVILLE, Conn. -Slaughter brought their "Still Stickin' it to Ya" tour to the Mohegan Sun's Wolf Den on Friday. The band's current tour line-up is Mark Slaughter (lead vocals/guitar), Dana Strum (bass), Jeff "Blando" Bland (lead guitar) and Jordan Cannata (drums). Fans lined up for hours to get into the show and once it was full, the rest of the people surrounded the Wolf Den. I can't even think of how many were in attendance, but I'm sure the amount would have sold out Toad's Place in New Have or the Dome at the Oakdale Theatre in Wallingford.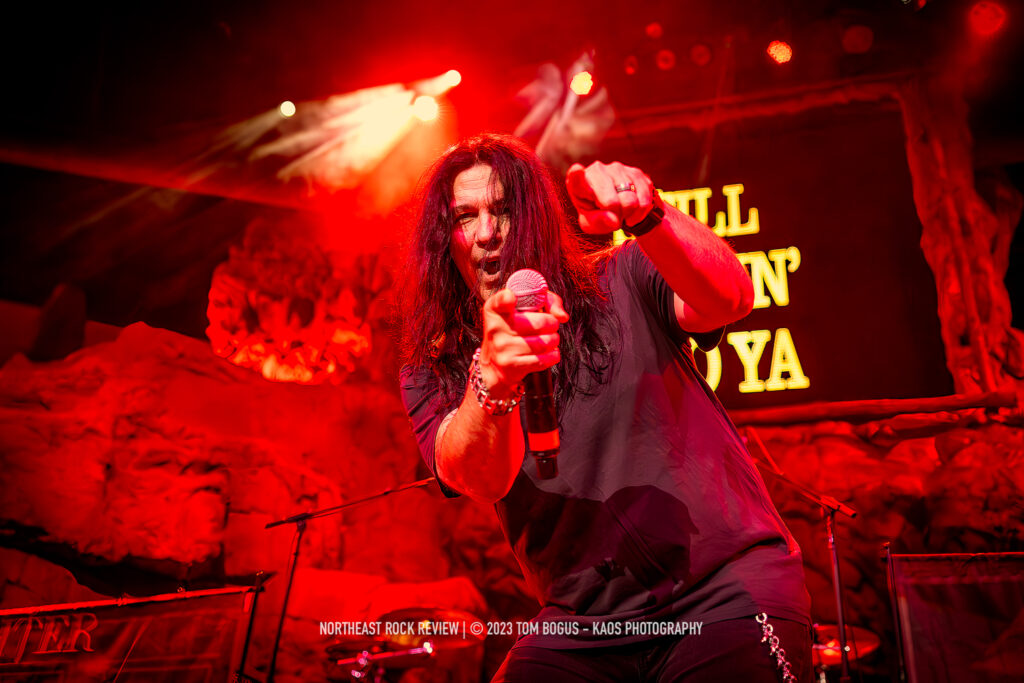 The band took to the stage at 8:05 pm and started their set off with "Mad About You" from their multi-platinum debut release Stick it to Ya, which is one of my all time top 10 albums from the 80s. The fans were amped up and singing along word for word. Slaughter has always been a high energy live band, and I believe that what a band puts out, they get back three-fold. The proof was right in front of me.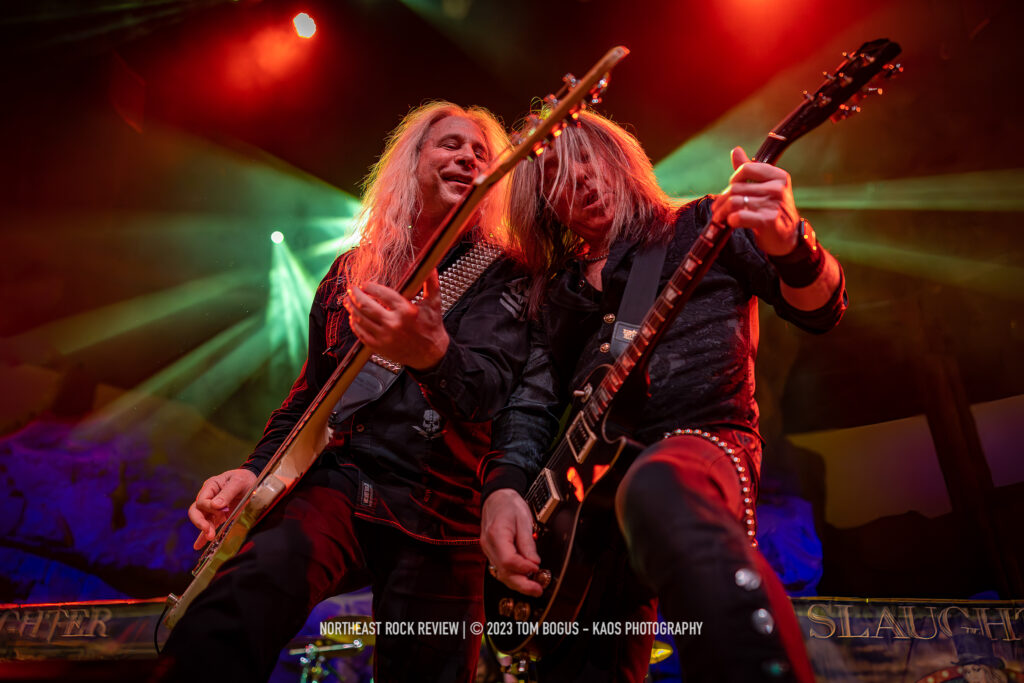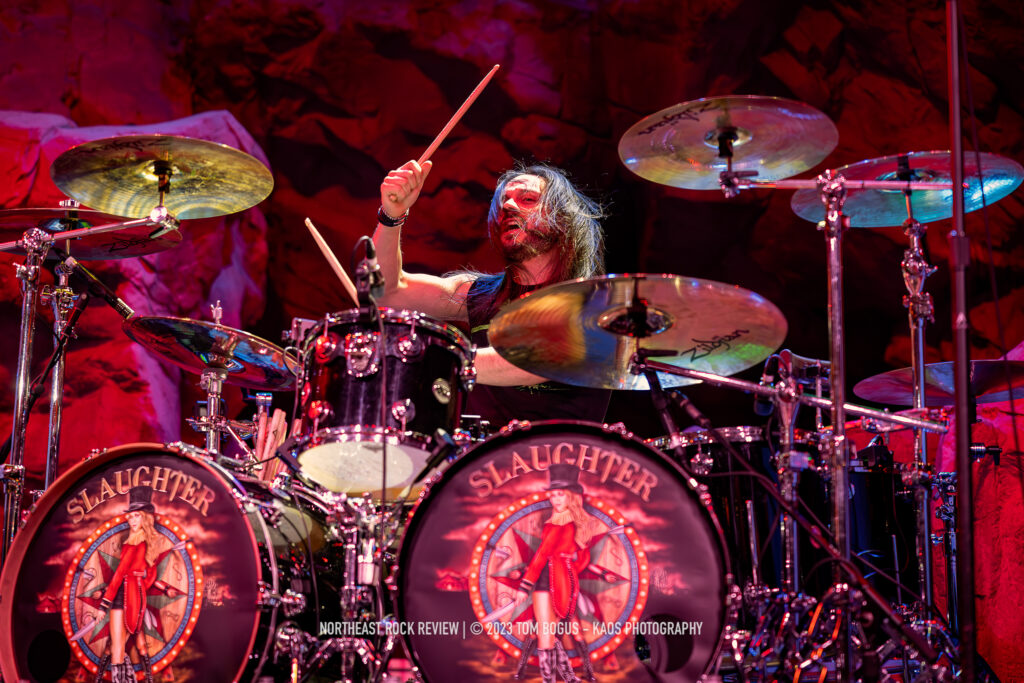 Slaughter kept the train rolling as they went right into the next two songs "Burning Bridges" and "Spend my Life", also from the Stick it to Ya. The setlist covered mainly that album playing seven songs from that album. The fourth song in was a cover of "Immigrant Song", the Led Zeppelin classic. The fans went nuts and someone even threw a Led Zeppelin shirt on stage. After "Immigrant Song", they slipped into "Eye to Eye" after which, drummer Jordan Cannata got to show off his drum skills by doing a very impressive drum solo. The band went on to do "Wild Life" and "Desperately" before slowing it down to play "Day's Gone By" and "Real Love". They closed the night out with first "Fly to the Angels", and then "Up All Night" with an outro of "Won't Get Fooled Again", a cover from The Who. When the show was over, not many people wanted to leave, everyone was having such a great time.
I've been very fortunate to have been able to see these guys perform many times over the years, each time I have always had an incredible time. This night was no different. Slaughter is truly a great band to see play live. They get onstage and are determined to give a great show every night.
SLAUGHTER photo gallery
SETLIST:
1 – Mad About You
2 – Burnin' Bridges
3 – Spend my Life
4 – Immigrant Song (Led Zeppelin cover)
5 – Eye to Eye
6 – Drum Solo
7 – Wild Life
8 – Desperately
9 – Days Gone By (Mark)
10 – Real Love
11 – Fly to the Angels
12 – Up All Night
13 – Wont Get Fooled Again Outro (The Who cover)
For more Slaughter news, music and tour dates, visit: https://www.slaughterusa.com