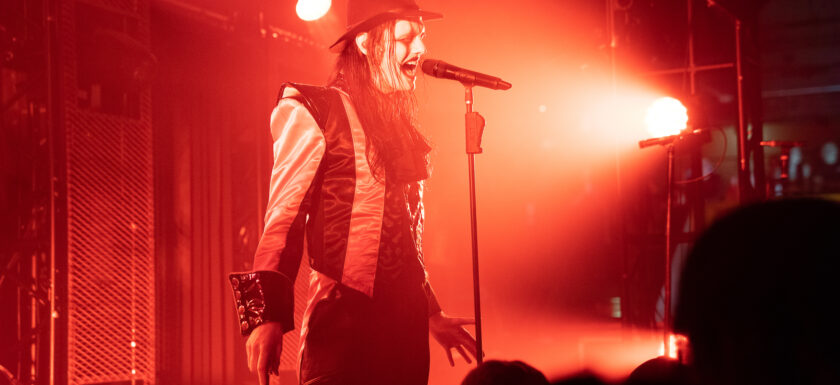 AVATAR
Unforgettable Metal Madness
Paradise Rock Club
Boston, Massachusetts
May 24, 2023
Photos & Review by Michael LaFleche
BOSTON, Mass. – Avatar, the Swedish metal powerhouse, stormed into the Paradise Rock Club in Boston with an explosive and unforgettable performance. Opening for Avatar is Veil of Maya and Orbit Culture, both pretty hardcore metal bands. I was really impressed with Orbit Culture's play and skill, the crowd was really into it.
But it was clear that the fans lined up out in the rain were here to see Avatar, makeup running down their faces while in the storm outside. But inside, the crowd lathered into a frenzy with Veil of Maya preceding Avatar. And now Avatar enters with the blistering opener "Dance Devil Dance," the crowd was electrified, setting the tone for a night of relentless metal madness.
Transitioning seamlessly into "The Eagle Has Landed," Avatar unleashed a sonic assault of pummeling drums and crushing riffs. Their commanding stage presence and larger-than-life personas captivated the audience. "Valley of Disease" showcased Avatar's dark and atmospheric side, with haunting guitar melodies and intense drum patterns creating an eerie sonic landscape.
The energy hit an all-time high with "Chimp Mosh Pit," igniting a frenzy of headbanging and moshing. The relentless pace and lightning-fast guitar work had the crowd in a state of metal mayhem. "Scream Until You Wake" provided a melodic respite, with infectious melodies and soaring vocal harmonies still maintaining an electrifying atmosphere. Highlights continued with "Bloody Angel," delivering catchy hooks and anthemic choruses that unified the crowd. The band's chemistry and tight musicianship shone through.
"For the Swarm" epitomized Avatar's aggression and energy, igniting an absolute frenzy. The pit transformed into a chaotic swarm of bodies. "Puppet Show" brought a theatrical element, captivating the audience with its haunting atmosphere and storytelling. "When the Snow Lies Red" showcased Avatar's emotional depth, balancing vulnerability with raw power. Returning to the ferocious assault, "Do You Feel in Control" fueled the mosh pit with relentless fury. "Black Waltz" stood out as a timeless anthem, uniting the venue in a massive sing-along.
The encore of "The Dirt I'm Buried In" and "Smells Like a Freakshow" intensified the atmosphere, leaving no doubt that this was a metal spectacle like no other. The final blow came with "Hail the Apocalypse," a colossal anthem that shook the venue to its core, uniting the crowd in a moment of euphoria.
Avatar's concert was a testament to the power of metal music and its ability to command the stage. It was a night of pure metal magic etched in the memory of all fortunate enough to witness it.
AVATAR photo gallery