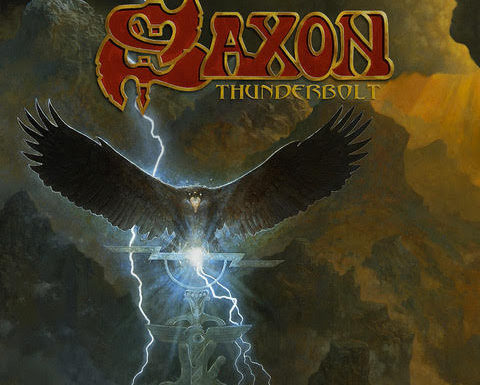 SAXON: THUNDERBOLT Album a Sure Hit – Plus 2018 Tour Dates with Judas Priest
SECOND SINGLE & VIDEO "THEY PLAYED ROCK & ROLL"FROM NEW ALBUM "THUNDERBOLT" SET FOR RELEASE 

FEBRUARY 2nd
Attention heavy metal fans of the world. Saxon's latest album, THUNDERBOLT is on mark to be one of the top heavy metal albums of 2018. ​This album is a must listen!
Northeast Rock Review had the chance to listen to SAXON's latest album THUNDERBOLT. What a delight. It is always great when you put on a new album and it instantly sticks. There is no waiting for it to get good, its just good, all the way through. Thunderbolt hits you right in the face with classic sounding metal. The album is a rarity in today's world of new metal music. You will have to flip the record or cassette over, because that's how cool this album is! Available on several formats, including a multi CD Album in Digi-pack, 180 gms colored vinyl in a Gatefold, A Special Edition Box-set, Tape Cassette and Digital Download.
The albums starts out like any traditional metal album of the 80's should start off. Not that that there is anything wrong with that. In fact it is is great to pop in music and hear that original hard rock sound that rock fans can appreciate. It is new, it's fresh and it picks up where Saxon last left off for a continuation of pure British metal.
An introductory, instrumental, "Olympus Rising" is a prelude of what is to come in the album. "Thunderbolt" is a hit. It has a musical vibe like it was 1980 something and everything was all good… listening to a fresh rock album for the first time. This whole album should be appreciate for everything that it presents, the classic sound. Musically, the drums and guitar really top the mark with melodic guitar riffs throughout and stellar drums. Biff Byford's voice is stellar.  The albums works like a well oiled machine. It is heavy metal meets prog rock. All the way through. It is a classic old school British rock sound that has grown metal fans over the decades.
OFFICIAL VIDEO FOR 'Thunderbolt'
SAXON will tour North America with fellow British metal legends Judas Priest and supporting artist Black Star Riders. The North American tour will begin in Wilkes Barre, PA on March 13 and visit several major cities all over the map – including Washington DC, Detroit, San Francisco, Los Angeles, Dallas – coming to an end in San Antonio, TX on May 1.
SAXON IS:
Biff Byford – vocal
Paul Quinn – guitar
Nigel Glockler – drums
Nibbs Carter – bass
Doug Scarratt – guitar
The album was much more than expected. Do yourself a favor and pick this album up. Watch the band's YouTube video previews, and pre-order it now. It far exceeded all expectations of new metal. THUNDERBOLT is available in several formats, including vinyl and cassette. Now that is something to be excited about. Saxon comes full circle with this album, bringing back the formats that rocked our worlds back in the day, along with the original, hard hitting and melodic sound.
Saxon, has just released the second single and video "They Played Rock And Roll" from THUNDERBOLT. Watch the video here:
"The song tells the story of Saxon's very first tour in 1979 with Motörhead" says frontman Biff Byford. "I want people to get a flavor of what it was like in the UK in 79/80 for Saxon and Motörhead at the start of the 80s musical revolution."
Saxon isn't wasting any time in 2018. Following the critically acclaimed release of 'Battering Ram' in 2015, the heavy metal giants are set to release their latest studio album, 'Thunderbolt,' on February 2nd via the Militia Guard label (Silver Lining Music).
'Thunderbolt' will feature original Artwork by long time Saxon collaborator Paul Raymond Gregory.
"This is album 22, and it's called Thunderbolt" adds Byford. "It's a Storming Smashing Thundering collection of tracks we've been crafting with Producer,Andy Sneap and it's finished and ready to be unleashed. Stand clear and fasten your seat belts!"
Three weeks later, the band will be embarking on the first leg of the Thunderbolt 2018 European Tour followed by a North American tour as special guests to Judas Priest.
Since the 1970s Saxon has shown their ability to take rock 'n' roll and give it an electrifying edge which has since cemented their status as pioneers of the British heavy metal wave. With over twenty studio albums under their belt, Saxon has made their steadfast dedication to creating a dynamic body of a work a staple of their career.
Thunderbolt Track Listing
Olympus Rising
Thunderbolt
The Secret of Flight
Nosferatu (The Vampires Waltz)
They Played Rock and Roll
Predator
Sons of Odin
Sniper
A Wizard's Tale
Speed Merchants
Roadie's Song
Nosferatu(Raw Version)*
*not available on vinyl
Thunderbolt is available to pre-order now, in the following formats:
CD Album in Digipack
180 gms colored vinyl in a Gatefold
A Special Edition Boxset
Tape Cassette
Digital Download
Pre-order:

Thunderbolt 2018 North American Tour With Judas Priest
3-13-18 in Wilkes-Barre, PA at Mohegan Sun Arena
3-15-18 in Youngstown, OH at Covelli Centre
3-17-18 in Uniondale, NY at Nassau Coliseum
3-18-18 in Washington, DC at Anthem
3-20-18 in Newark, NJ at Prudential Center
3-22-18 in Uncasville, CT at Mohegan Sun Arena
3-23-18 in Worcester, MA at Palladium
3-25-18 in Ottawa, Can at The Arena – Td Place
3-27-18 in London, Can at Budweiser Gardens
3-28-18 in Oshawa, Can at Tribute Communications Centre
3-31-18 in Detroit, MI at Dtroit Masonic Temple
4-02-18 in Minneapolis, MN at The Armory
4-03-18 in Milwaukee, WI at Riverside Theater
4-05-18 in Green Bay, WI at Resch Center
4-06-18 in Hammond, IN at The Horshoe Casino
4-08-18 in Bloomington, IL at Grossinger Motors Arena
4-10-18 in Casper, WY at Casper Events Center
4-11-18 in Loveland, CO at Budweiser Events Center
4-13-18 in West Valley City, UT at Maverick Center
4-15-18 in Kent, WA at Snoware Center
4-17-18 in Portland, OR at Veterans Memorial Coliseum
4-19-18 in San Francisco, CA at The Warfield
4-21-18 in Las Vegas, NV at Las Rageous 2018
4-22-18 in Los Angeles, CA at Microsoft Theater
4-24-18 in Phoenix, AZ at Comerica Theater
4-26-18 in Tulsa, OK at Bok Center
4-28-18 in Dallas, TX at Bomb Factory
4-29-18 in Sugar Land,TX at Smart Financial Center
5-01-18 in San Antonio, TX at Freeman Coliseum
For Ticket information visit www.saxon747.com
For more information visit:
www.saxon747.com
Facebook: www.facebook.com/saxon
Twitter: www.twitter.com/SaxonOfficial
Instagram: www.instagram.com/saxon.official
YouTube: www.youtube.com/user/PlanetSaxon