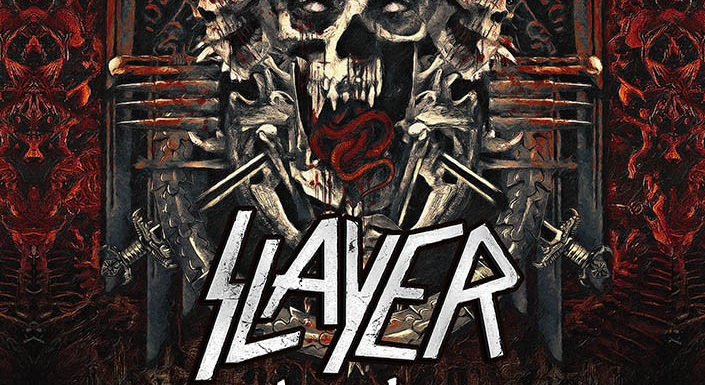 LAMB OF GOD to Perform on North American Leg of Slayer's Final World Tour
Featuring Additional Support from Anthrax, Behemoth, and Testament
January 23, 2018
Internationally-renowned heavy rock leaders LAMB OF GOD will support metal legends Slayer on leg one, North America, of what will be Slayer's final world tour. The 26-date trek will begin on May 10 and visit several major cities – from San Diego to Toronto, Orlando to Minneapolis. Additional support will come from fellow metal heavyweights Anthrax, Behemoth, and Testament. Tickets go on sale to the public this Friday, January 26; log onto www.lamb-of-god.com for all ticketing info.
Randy Blythe of LAMB OF GOD says: "If you are lucky enough to be invited to play even just once with living legends like Slayer, it's an incredible honor. Slayer gave LAMB OF GOD our very first two overseas shows. Slayer has subsequently taken us on several full-length tours, both at home and abroad. The guys in Slayer and their crew have also always been very, very cool to our band. It is irrefutable that Slayer helped create the genre of aggressive metal, and all modern bands of that ilk owe them a huge debt – I know we do. To be asked to be a part of their final tour – well, it just makes you stop and realize just how lucky you are. Hail Slayer! We'll see you on the road…"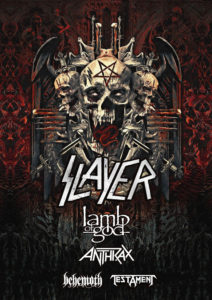 Slayer's final world tour, leg one, North America:
MAY
10 Valley View Casino Center, San Diego, CA
11 FivePoint Amphitheatre, Irvine, CA
13 Papa Murphy's Park at Cal Expo, Sacramento, CA
16 PNE Forum, Vancouver, BC
17 South Okanagan Events Centre, Penticton, BC
19 Big Four, Calgary, AB
20 Shaw Centre, Edmonton, AB
22 Bell MTS Centre, Winnipeg, MB
24 The Armory, Minneapolis, MN
25 Hollywood Casino Amphitheatre, Chicago, IL
27 Michigan Lottery Amphitheatre @ Freedom Hill, Detroit, MI
29 Budweiser Stage, Toronto, ON
30 Place Bell, Montreal, QC
JUNE
1 Mohegan Sun, Uncasville, CT
2 PNC Bank Arts Center, Holmdel, NJ
4 Santander Arena, Reading, PA
6 Riverbend Music Center, Cincinnati, OH
7 Blossom Music Center, Cleveland, OH
9 KeyBank Pavilion, Pittsburgh, PA
10 Jiffy Lube Live, Bristow, VA
12 VUHL Amphitheater, Virginia Beach, VA
14 PNC Music Pavilion, Charlotte, NC
15 Orlando Amphitheater, Orlando, FL
17 Smart Financial Centre, Houston, TX
19 The Bomb Factory, Dallas, TX
20 Austin 360 Amphitheater, Austin, TX
ABOUT LAMB OF GOD:
Richmond, VA natives LAMB OF GOD are one of heavy music's most successful and uncompromising bands. When the band's first major release, New American Gospel, was released in 2000 it was immediately touted as a classic within the genre. AllMusic stated it best, "The essential signatures of post-Pantera metal are in abundance on LAMB OF GOD's inaugural album. New American Gospel provides a mighty oak upon which gritty American metal's faith is maintained, effectively bridging the '90s' insistence upon drill-sergeant technicality and the old school's determined focus on riff construction."
Some predicted a sophomore slump – that no band could top a debut album so strong. They were proven wrong, with the release of 2004's Ashes of the Wake, an album that not only exploded stateside (certified Gold by RIAA) but also saw the spread of LAMB OF GOD to all corners of the world. The band's first DVD, Killadelphia, followed shortly after and was certified Platinum. Then, with Sacrament (Album, 2006, #8 debut on the US Billboard Hot 200), LAMB OF GOD were honored with a Grammy nomination for the track "Redneck", which would be the first of five Grammy nominations for the band to date. Next came Walk With Me In Hell (DVD, 2008) and then the band's fourth album Wrath in 2009, which debuted at #2 on the Billboard Hot 200 Chart, and then Resolution, which debuted at #3. Shortly after the release of Resolution, vocalist Randy Blythe was arrested in Prague, and spent 30 days in jail on a charge for which he was later acquitted (and lead to Blythe's bestselling memoir, Dark Days, as well as the film As The Palaces Burn). After regrouping, LAMB OF GOD lost no ground with their latest full-length album, VII: Sturm Und Drang – the album was #3 in the US, #1 in Canada, #2 in Australia, #3 in Finland, #7 in UK, #12 in Germany and #13 in Japan, and #13 in Netherlands. "Overlord", the first single from VII: Sturm Und Drang, achieved a new milestone for the band when it reached the Top Thirty of US Active Rock Radio Chart (Mediabase). In late 2016, LAMB OF GOD paid tribute to late, longtime fan and friend Wayne Ford with the release of The Duke EP, which raised funds and awareness for the Leukemia and Lymphoma Society. The EP release coincided with a charity campaign offering personal items such as Blythe's Ashes Of The Wake Gold plaque, signed signature model guitars, handwritten lyrics and more.
Since inception and through it all, LAMB OF GOD's consistent and unwavering commitment to their music – and their fans – has kept them a critical and fan favorite worldwide, selling millions of albums and tickets around the world.
LAMB OF GOD is Randy Blythe (vocals), Mark Morton (guitar), Willie Adler (guitar), John Campbell (bass), and Chris Adler (drums).