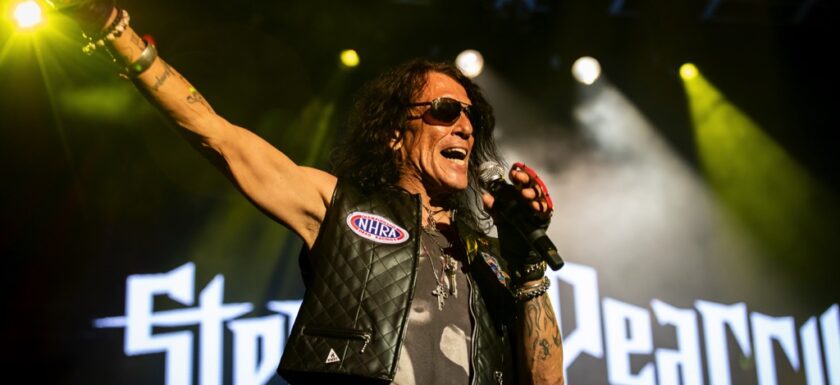 QUIET RIOT | SLAUGHTER | STEPHEN PEARCY
Mohegan Sun Casino Arena
Uncasville, Connecticut
February 18, 2022
Photos & Review by Dan Wenc
UNCASVILLE, Conn.- It was a Friday night at Mohegan Sun Casino Arena, one that would bring together three big 80s and 90s rock names onto one stage for a night of three hours worth of genuine arena rock. Three band names that dominated the 80s and 90s airwaves, MTV and your own cassette collection. Scheduled for the night's musical celebration was Quiet Riot, Slaughter and Stephen Pearcy, The Voice of RATT, solo tour.
A lineup like this is something special. It's all about the music, the history behind the music, the performers and the nostalgic vibe of the songs that a show like that brings. Music that has the amazing power to bring you back to a place in another time through one song.
Mohegan Sun has consistently brought in some of the best names in rock and metal to the arena and with the free shows at the Wolf Den. Mohegan Sun has defined itself as the go to place in the New England region to see a great metal show. According to Billboard Magazine, Pollstar and Venues Today, Mohegan Sun Arena is now ranked consistently among the top venues in the world. Entertainment all in one place, the casino, dining, concerts and its other amenities make it a destination experience.
The tickets for this show were twenty-five dollars, just slightly higher that what it cost for an arena show back in the day. An absolute bargain at 2022 prices.
Starting the night off was Quiet Riot with their first show of 2022. Rudy Sarzo was back on bass after all these years. Sarzo had appeared on the two most popular Quiet Riot albums, Metal Health and Condition Critical, as well as two other studio albums. In August 2021 Sarzo had announced that he would be returning to the band, going to back to where his famed musical career began.
The current Quiet Riot lineup is Rudy Sarzo (bass), Alex Grossi (guitar), Jizzy Pearl (vocals) and Johnny Kelly (drums).
The set would be a celebration of 40 years of the Metal Health album. The lights went down, silhouettes of Sarzo and Grossi could be seen at center stage, holding their guitars. The lights went up and the music began with "Run For Cover". Both Grossi and Sarzo's guitars had the polka-dot theme, a visual signature of Quiet Riot which was used during their early Los Angeles club circuit days.
It would homecoming performance for Connecticut native, Alex Grossi who has been playing with Quiet Riot since 2004 and was able to bring the Quiet Riot name home with him. The combo of players meshed well that night and brought a powerful performance to the Connecticut crowd.
Quiet Riot is another rock band that has fallen victim of time and change, with their fair share of breakups and lineup changes over the years, with some of the changes due to the untimely passing of its membership, original guitarist and founding member, Randy Rhodes, vocalist Kevin DuBrow in 2007 and drummer Franki Banali in 2020. Though it all, the band and music continues to be brought to fans with regular touring. A musical camp that had determined that the show must still go on. This current line up with Sarzo back in the mix sparks a new energy into the live shows. Jizzy Pearl and the band sounded great, the songs were spot on. Sarzo looked right at home at stage right, having fun, swinging the bass around, smiling and owning the stage, he looked excited back on stage under the Quiet Riot backdrop.
QUIET RIOT photo gallery
Quiet Riot setlist:
Run For Cover
Slick Black Cadillac
Mam Weer All Crazee Now
Sign of the Times
Love's a Bitch
Condition Critical
Thunderbird
Guitar Solo Portion – with a bit of Ozzy's Crazy Train
Let's Get Crazy
Cum on Feel the Noise
Metal Health
Next up was Slaughter, on the road in 2022 with the Still Stickin It To Ya Tour. While the other bands of the night dominated the 80s, Slaughter rose to its fame status during the tail end of the 80s rock era and gained popularity in 1990 with the release of the the two time Platinum album, Stick It to Ya, one of the biggest albums of that year and subsequently nominated for the best metal album of the year in 1991 at the American Music Awards. Despite having to face the adversity of the changing musical climate, with the grunge movement, Slaughter still put out the popular subsequent album The Wild Life in 1992, which went Gold. Slaughter was able to stay strong in the rock world in those changing times of the early and mid 90s. Slaughter put out a successful live albums and several other studio albums following that.
Slaughter took the stage and kicked off their hour long set with "Mad About You," "Burnin' Bridges" and "Spend My Life."
The Slaughter performance was high energy, Dana Strum on bass working the stage and the Will Hunt on drums were fun to watch. Mark Slaughter hit the stage with his signature vocals and guitar work. Jeff "Blando" Bland shredded the solos, all making for a great vibe from the stage. This would be my first time seeing Slaughter perform live, since my first concert in 1988. For one reason or another I never saw Slaughter live until now. This show was a highlight and it was great to finally hear these songs performed live. A fun show!
Slaughter has played the Mohegan Sun Arena and Wolf Den shows on numerous occasions in the past. In between songs, Mark told the crowd that Mohegan Sun feels like home every time he comes here. Mark recognized those who were lost to the Station Night Club Fire, which was two days away from what would be nineteen years since that tragedy of February 20th, 2003. Slaughter performed "Fly to the Angels" in tribute to those who have been lost along the way.
The night closed out with the Slaughter rock anthem, "Up All Night."
SLAUGHTER photo gallery
Slaughter setlist:
Mad About You
Burnin' Bridges
Spend My Life
Immigrant Song – (Led Zeppelin cover)
Eye to Eye
The Wild Life
Days Gone By
Real Love
Fly to the Angels
Up All Night
It was time for Stephen Pearcy, "The Voice of Ratt," to take to the stage as the final performer of the night. Pearcy was touring in 2022 with many solo dates. RATT has always been at the top of my list for 80s rock bands, it is most likely that I will hear at least one or three RATT song in my iTunes shuffle in any one given day. Pearcy's song artistry with RATT and in other solo endeavors are a solid part of 80s and 90s rock. Pearcy accomplishments as a songwriter and performer include 10 RATT albums, 2 Arcade albums and 7 solo albums between 2000 and 2018, and I probably missed something else in between. Pearcy has always been busy musically and active in the music scene despite the occasional RATT problem.
If you have been following along though the years, you will know that the RATT relationships have been tumultuous. Over the past few years RATT had toured under different a vocalist and hired guns and alternate versions, with the occasional reunion of some original members. Being a RATT fan, waiting for the band to reunite or tour together has been complicated, it hasn't been easy to be a RATT fan in recent years. Some bands can intermingle the players. RATT is one of those bands that you just cannot replace the vocal stylings of Stephen Pearcy, he IS the voice of RATT. With that, I was excited to see and hear Pearcy take the stage with whatever set he had lined up for us.
The lights went down. James Bond 007 music played as his band took their spots on stage. The touring band is Erik Ferentinos (lead guitar), Frank Wilsey (guitar), Jerry Montano (bass) and Scott Coogan on drums.
Starting off the set was "You're In Love". Pearcy took the stage with his signature look, mic knuckles, sunglasses, bright red pants and a leather jacket with a "RATT – Reach for the Sky" back patch. Pearcy appeared to be focused on providing a great night of music, filled with the songs the crowd wanted to hear. There was good energy on stage and in the crowd, Pearcy looking like he was enjoying it too, reciprocating with the crowd energy.
The music continued on with "Lay It Down" and "Lack of Communication". Pearcy performed "Ten Miles Wide" from his 2017 solo album, Smash.
As a long time, RATT and Pearcy fan, I was hoping to hear other solo work like "I Can't Take It," also from Smash and a couple of Arcade classics, like "Nothing To Loose" or "Cry No More".
Pearcy's set did not disappoint, especially for the arena full of RATT fans. This was such a great night with an amazing lineup of great 80s and 90s rockers and a selection of the music that built two decades of rock. Some forty years later the artists and their traveling shows of their music still continue to fill venues around the world. A true testament to the power of their rock music that is still going strong in its following.
STEPHEN PEARCY photo gallery
Stephen Pearcy – Solo Set List
You're in Love
Lay It Down
Lack of Communication
Ten Miles Wide
Wanted Man
Slip of the Lip
You Think You're Tough
I'm Insane
Body Talk
Lovin' You's a Dirty Job
U Got It
Back for More
Way Cool Jr.
Round and Round
For more info on upcoming Mohegan Sun Casino shows and entertainment visit: www.Mohegansun.com
For band info and tour dates visit the band pages here:
Quiet Riot 
Slaughter
Stephen Pearcy