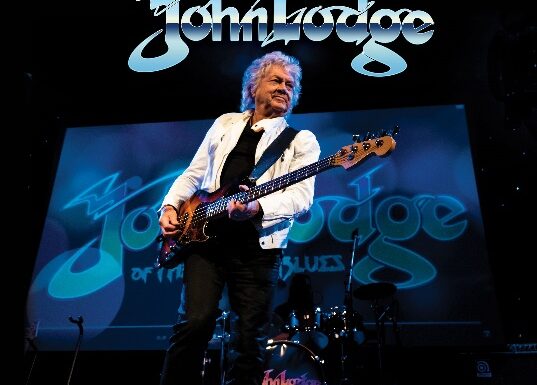 John Lodge's New Live Album 'The Royal Affair and After' Now Available on Limited Edition 180g Blue Vinyl
2022 Tour Dates – Including Many Northeast U. S. Venues
January 30, 2022
John Lodge, the renowned bass player, songwriter and vocalist of The Moody Blues, and Rock and Roll Hall of Fame inductee has released his critically acclaimed new live album, 'The Royal Affair and After' on aptly coloured limited edition 180g blue vinyl, with the 180g black vinyl due for release on 11th February.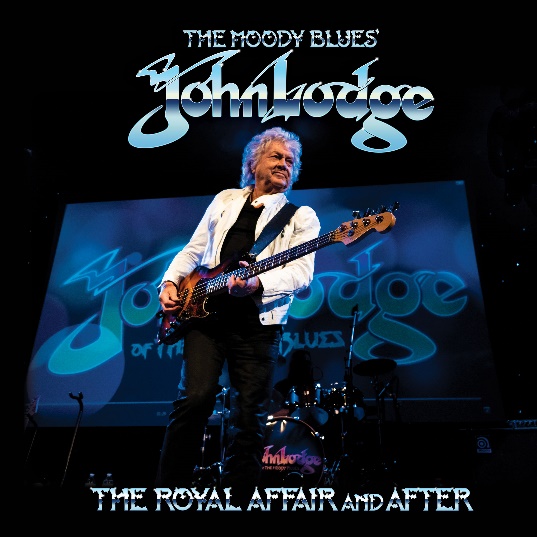 Released on CD and all digital and streaming platforms on January 14th, this spectacular 10-track album includes brand-new, live recordings of all John's Moody Blues hits, along with special tributes to all his bandmates: Graeme Edge, Justin Hayward, Mike Pinder and Ray Thomas, including a very special recording of 'Late Lament' by Graeme Edge.
The album has already received critical acclaim and rave reviews. Three videos have been released on YouTube to accompany the album: 'Ride My See-Saw', 'Gemini Dream', and the latest, for 'Isn't Life Strange', was premiered this week in Prog Magazine.
Check out 'Isn't Life Strange' here:
The album was recorded live in Las Vegas on 'The Royal Affair Tour', in the Summer of 2019, with additional tracks recorded during John's subsequent USA dates. The carefully curated set and album track list includes hits such as 'I'm Just a Singer (in a Rock and Roll Band)', 'Ride My See-saw', 'Isn't Life Strange', 'Steppin' in a Slide Zone', and 'Gemini Dream'. John has woven these tracks together with special tributes to his bandmates from The Moody Blues.
"I'm absolutely delighted by the incredible reaction to the album," says John, "it truly is 'the soundtrack of my life'… as I always say to the fans: thank you for Keeping the Faith, but this time they truly have. It also makes me so very happy that Graeme did his special performance of 'Late Lament' for the album, he will be deeply missed, but always stay with us in our hearts and on this album. I'm also thankful to Jon Davison from YES who is a great friend, but also performs the vocals on 'Nights' so beautifully, honouring this iconic song. I can't wait to see everyone back on the road — I've missed being just a singer in a rock and roll band!"
John and his 10,000 Light Years Band capture the essence, energy, and messages of these Moody Blues songs, performing them with the verve and musicianship the band were famed for, whilst bringing a truly modern feel to these classic songs. John's mission statement is, after all, "I want to keep all the Moody Blues music alive!"
And that he will with this album and its carefully chosen tracks. In the words of Folk and Tumble "'The Royal Affair And After' is a stunning live album from John Lodge"
Powerplay Magazine who awarded the album 9/10 say "Performed in Las Vegas on The Royal Affair Tour, it's clear that those present were treated to something very special… We're left more than satisfied by a fabulous selection of live favourites which act as a timely reminder of why The Moody Blues remain one of our finest treasures."
Sonic Perspectives agree "These fine musicians lay the groundwork to allow Lodge to shine on top with his vocals, bass and most importantly – charisma – which conveys his sustaining love for the material."
"In summary," RockMusicStar reflect, "The Royal Affair and After' record is a must have for any music lover that is appreciative of well-crafted songs, classic rock and electrifying live performances. John Lodge and band bring back the magic of the Moody Blues with a record that is both very satisfying to not only to long-time fans, but also the younger newer fans. The music of the Moody Blues may be decades old, but Lodge and band give the Moody Blues' masterpieces a fresh coat of sonic paint."
The 'Royal Affair and After' is out now on CD, digital download, all streaming services, and limited-edition 180g blue vinyl. The black vinyl will be released on 11th February 2022. You can catch John and his 10,000 Light Years Band on tour in the USA in March, performing all these songs and more! See John's website for details.
Download/Stream here https://orcd.co/JohnLodgeTheRoyalAffairAndAfter
https://www.johnlodge.com/the-royal-affair-and-after
JOHN LODGE 2022 TOUR DATES
8 March Infinity Hall, Norfolk CT
9 March Levoy Theatre, Millville NJ
11 March Suffolk Theater, Riverhead NY
12 March Warehouse at FTC, Fairfield CT
13 March Infinity Hall, Hartford CT
15 March Sellersville Theater, Sellersville PA
16 March Rams Head on Stage, Annapolis MD
17 March The Tin Pan, Richmond VA
19 March City Winery, Nashville TN
20 March City Winery, Atlanta GA (two shows in 1 night)
23 March The Villages, FL (two shows in 1 night)
25 March Ponte Vedra Hall, Jacksonville FL
26 March Stage 954 at the Casino at Dania Beach, Dania Beach FL
Track Listing (CD and Digital)
1. Steppin' in a Slide Zone
2. Saved by the Music
3. Legend of a Mind
4. Sunset
5. Late Lament (with Graeme Edge)
6. Nights in White Satin (with Jon Davison)
7. Gemini Dream
8. Isn't Life Strange
9. I'm Just a Singer (In a Rock and Roll Band)
10. Ride My See-Saw (with Jon Davison)
For more info:
Web: https://www.johnlodge.com/
Facebook  https://www.facebook.com/johnlodgemusic/
Twitter https://twitter.com/johnlodgemusic
Instagram https://www.instagram.com/johnlodgemusic/
YouTube https://www.youtube.com/c/johnlodgemusic