March 2020 Northeast Rock Review Update
March 23, 2020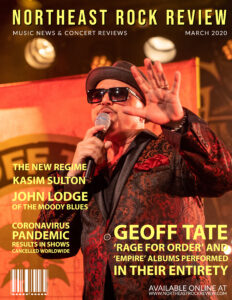 Just as the world was settling in with 2020, it all fell apart pretty fast. Th music world, fans, entertainment venues, tour support staff and musicians alike, the year was poised to kick off with tours and some already underway. It was here, life would be changed. Life as we knew it was to be put on hold by the coronavirus.
We began our social distancing in best interests of humanity. Shows began to be cancelled one by one. Sporting events, tournaments, seasons, concerts and social gatherings in would now be closed. Las Vegas closed, even local, New England area casino and entertainment venues such as Foxwoods, Mohegan Sun and Twin River Casino had closed. An unfortunate, historic event, with such 24/7 venues temporarily concluding their longevity. A world we knew had changed in an instant. Mohegan Sun and Foxwoods had both donated remaining food to area charities to do their part in this time of need.
As the tail end of March came around, some bands began rescheduling and announcing future show dates. It seems as if many months are yet to come of this, with future of uncertainty. The rescheduled shows may be the a glimmer of hope for us to emerge from this pandemic. In the mean time, go online to some of your favorite bands, buy the music, buy some merchandise.
Northeast Rock Review covered a small amount of shows in late February and early March due to the coronavirus and cancellation of shows. Shows covered were Geoff Tate, performing the Rage For Order and Empire albums in their entirety; John Lodge of The Moody Blues, Kasim Sulton and The New Regime. Those show photos and reviews can be found here, in our Concert Reviews section.
https://northeastrockreview.com/category/concert-review/