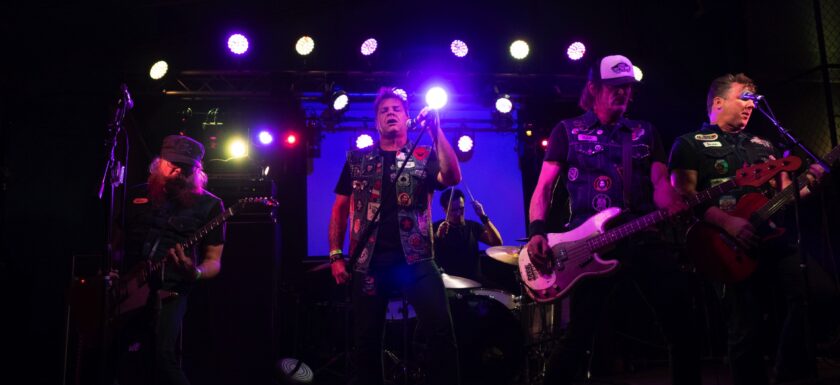 JUNKYARD
The Vault Music Hall & Pub at Greasy Luck
New Bedford, Massachusetts
August 4, 2019
Playing at Greasy this evening is another band from the 80s LA Scene, JUNKYARD.
Heavily overshadowed by Guns N Roses (but at point in the 80s, who wasn't?) Junkyard is definitely one of the more under rated bands to come out of LA during that era, with a unique sound that is the illegitimate child of AC/DC and Lynyrd Skynyrd who ended up rebelling against their parents and started their own garage punk band.
As the crowd slowly filtered into The Vault at Greasy Luck I set up shop on the side of the stage and waited for the band to hit the stage. While standing there waiting, I began thinking about the number of times I have seen Junkyard in concert, it was then I realized it has been 3 times in the last 3 years. First time seeing them live with a short set on the second stage at M3. The next time was in 2018 at the infamous Sleazy Slimy Sunday 3, a Brad Lee Entertainment extravaganza, one that found me after shooting my three songs, putting my gear away while watching Phil Lewis of LA Guns watch their set thru a window in a door by the side of the stage.
Junkyard has been around for a while and like most of the 80's bands enjoying a revival took a small break in the 00's and has come back strong. As I write this, they have just wrapped up a small tour that had them spending a lot of time on the East Coast, their Summer Blooze 2019 tour. For just about two weeks traveling from Indiana and Ohio to the New England area and NYC and Philly then quick jaunt down to Maryland, West Virginia and then finally once again finding themselves in Georgia this year.
Every where they traveled, there was nothing but great reviews of their shows and also their opening act, Charlie Bonnet lll, singer and guitarist for a trio that does some pretty destructive work to Southern Flavored Rock (and not in a bad way) and is the man who drinks from a gas can!
As the band filtered unto the stage, Patrick Muzingo squeezed behind the drum set, and bassist Todd Muscat (yes that last name is familiar to some of you older Faster Pussycat fans, as this is the brother of Brent) and Guitarist Tim Mosher took up their spots on the stage and the fabulously side burned guitarist Jimmy James tweaked his guitar just a bit before the non stop energy of David Roach came to the stage to the opening chords of "Back on the Streets"
The crowd was singing along and fists and horns waving high in the air as the set continued with "Long Way Home", "Hellbound" and "Lifer". Watching David work the crowd was fascinating, constantly leaning in and singing with them or slapping open hands.
And they loved it!
"Simple Man" a small ballad from their debut album, "Blooze", "Clean The Dirt" and one of my favorites "Faded", then "Hands Off", "All The Time", "Hot Rod", "WFLWF" which led into the nights all time favorite and loudest of the crowd sing alongs. "Hollywood" with as their encore tune, "Life Sentence."
This was probably one of my favorite shows at the Greasy, the crowd was all into the music and the band sounded great and the interaction between them and the fans before, during and after was amazing. The mix of songs leaned heavily towards their first album, not that anyone was complaining. I really enjoyed "High Water" hopefully will be seeing something new from Junkyard soon. I am hearing rumors of another tour this fall so if they do end up in your neck of the woods, I do recommend you get off your ass and go listen to some good ole….. well, what to call it except, Good Ole Rock n F'n Roll!