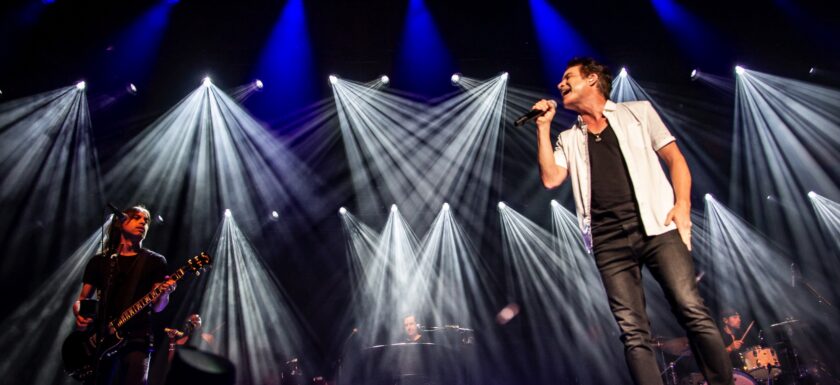 GOO GOO DOLLS | TRAIN
With Special Guest Allen Stone
Xfinity Center
Mansfield, Massachusetts
August 17, 2019
Photos & Review by Dan Wenc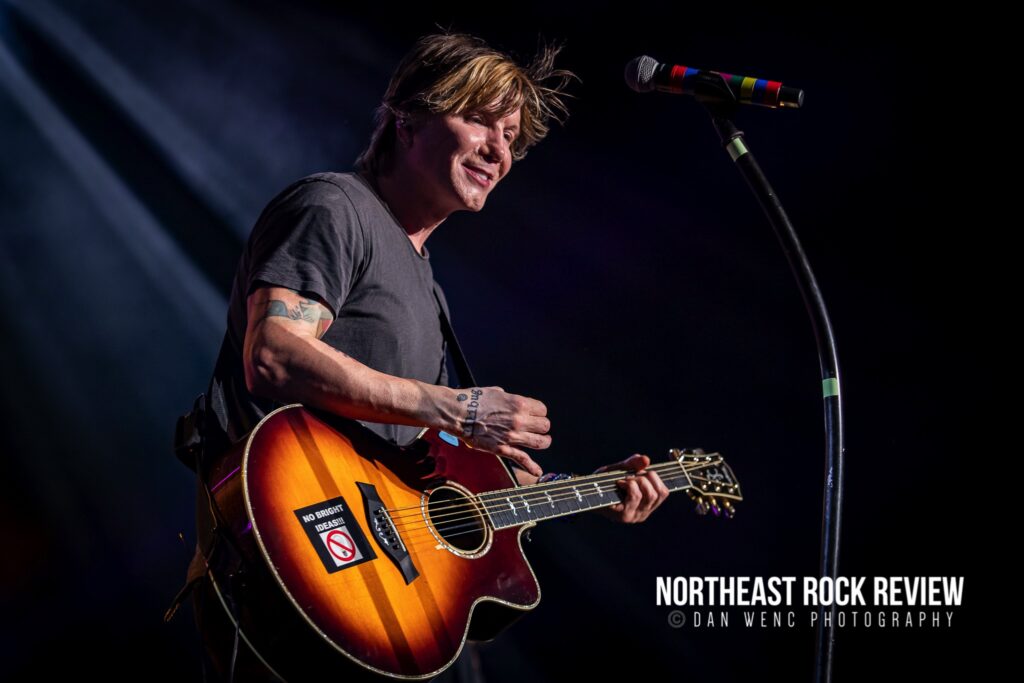 A very excited crowd gathered to take in the Goo Goo Dolls and Train on their last night of their summer amphitheater tour together. A beautiful summer night for an outdoor concert. Two great bands all in one place that night.
The Goo Goo Dolls had broken through the top of the popular music scene by 1995 with the A Boy Named Goo album, pushing them further into the spotlight.  Albeit the band formed in 1986 and had already had four studio albums under their belt. Train followed with their success soon thereafter in 1998, with their self-titled album.  Introducing the pop music world to "Meet Virginia", and following up with the success of Drops of Jupiter. From there the rest is history, bringing us to this current day. Two bands that helped to revive the music scene-post grunge era, both are still going strong. Their performances were displays of the longevity and popularity that these two bands have sowed throughout the years.
The night started off with Allen Stone, a solo artist that is described as a Soul and R&B musician and singer. Allen's soothing vocals and musician arrangements are something that stands out from the rest of today's popular new music. A man of the guitar and vocals he is. The rest of the band meshed well, especially with the keyboard/organ, it made for some real deep rooted soul music. His short set was a variety of sound that was most pleasurable to listen to and great artist to start off the night. His stage presence, animation and his soulful voice made it an enjoyable musical experience. If you have a chance to see Allen Stone live, check him out, visit his page HERE and have a listen.
ALLEN STONE Photo Gallery:

Then it was time for the Goo Goo Dolls. John Rzeznik and Robby Takac made it to the stage.  The crowd reacted with swells of cheers and the night kicked off with the 2006 hit "Stay With You". Then it was right into "Big Machine" and then "Slide".
Takac played with animated raw emotion and high energy. Traversing the stage, barefoot and pants rolled up, wearing smiles on his face all though the night. Bouncing from one side of the stage to the other, 100% full energy the entire show. Just watching Takac's joyous performance was enough to make anyone in the crowd smile. Takac was the cheerleader of fun that night. Goo Goo Dolls is one of those bands that is just a lot of fun to watch to perform; and as a photographer to capture the energy, emotion, passion and excitement displayed by him. A joy to watch perform and an honor to be capturing those moments.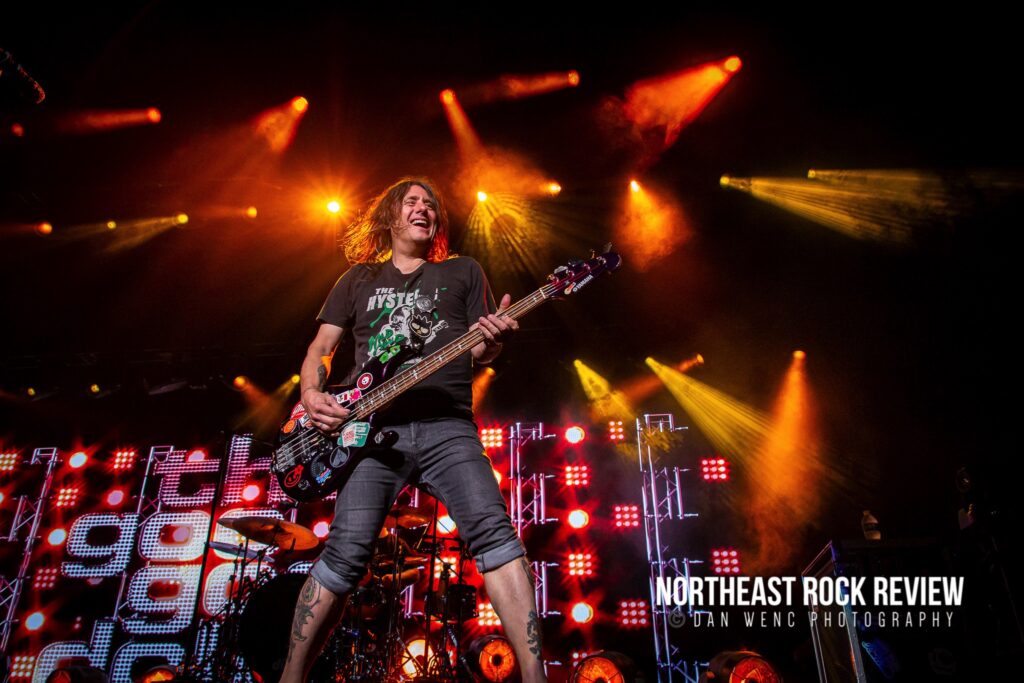 Rzeznik took center stage at the microphone, changing guitars in between songs, keeping the night moving. He played a full set of Goo Goo Dolls hits passionately through the night. Hit after hit came along and it was great to hear these radio hits performed live in person. The positive energy that this band and their music produced that night's live performance could leave everyone ecstatic and walk away feeling that much better than when they came in.
The night would not have been complete without  "Black Ballon", which included a release of black balloons of varying sizes into the crowd, which were bounced around the venue for the duration of the song. Then it was Robby Takac's turn to take the microphone, leading the vocals for "Free of Me". Then it was back to John Rzeznik with "So Alive", which he got the crowd singing along with him.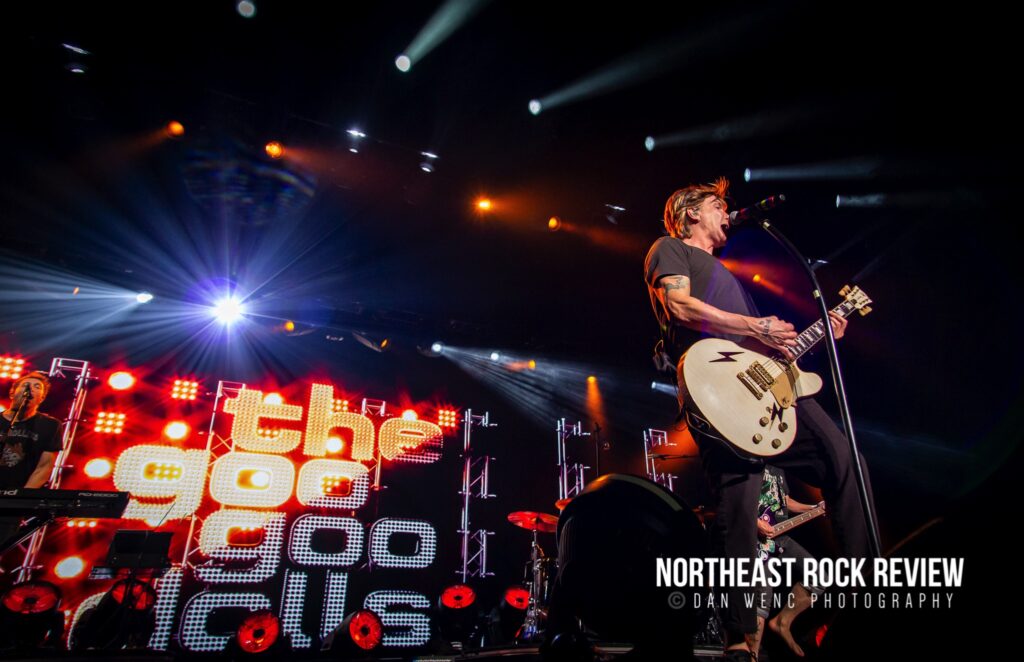 Rzeznik took a few moments to talk to the crowd that night. Leading into the next song, he talked about their first song ever that was played on the radio, "Name".  And spoke of how Boston was the first city they played, at The Channel nightclub, for their first ever tour. Rzeznik said it was one of the first cities to open their heart to them. The circle continues, many years later, the Goo Goo Dolls have survived the ever changing music environment, proving that great music survives.
The Goo Goo Dolls 12th studio album, Miracle Pill is set to release in September 2019. They performed the self-titled song from the album, "Miracle Pill". It was catchy and easy to acclimate to. After hearing this song, the album is defiantely something to look forward to hearing when it is released. The new song appeared to be a success with the crowd.
The Goo Goo Dolls night closed out with "Bringing on the Light", "Better Days", "Iris" and "Broadway".
It was great to see these bands still out on the road and making new music. A very enjoyable performance. Goo Goo Dolls have concluded this tour with Train, but check their web page for upcoming tour dates later in 2019, worldwide and North America.
GOO GOO DOLLS Photo Gallery
It was then time for TRAIN to take the stage. They have been around since '93, with Pat Monahan on vocals since that time. The mechanics of the band have changed over the years. This version of train has been together since about 2014.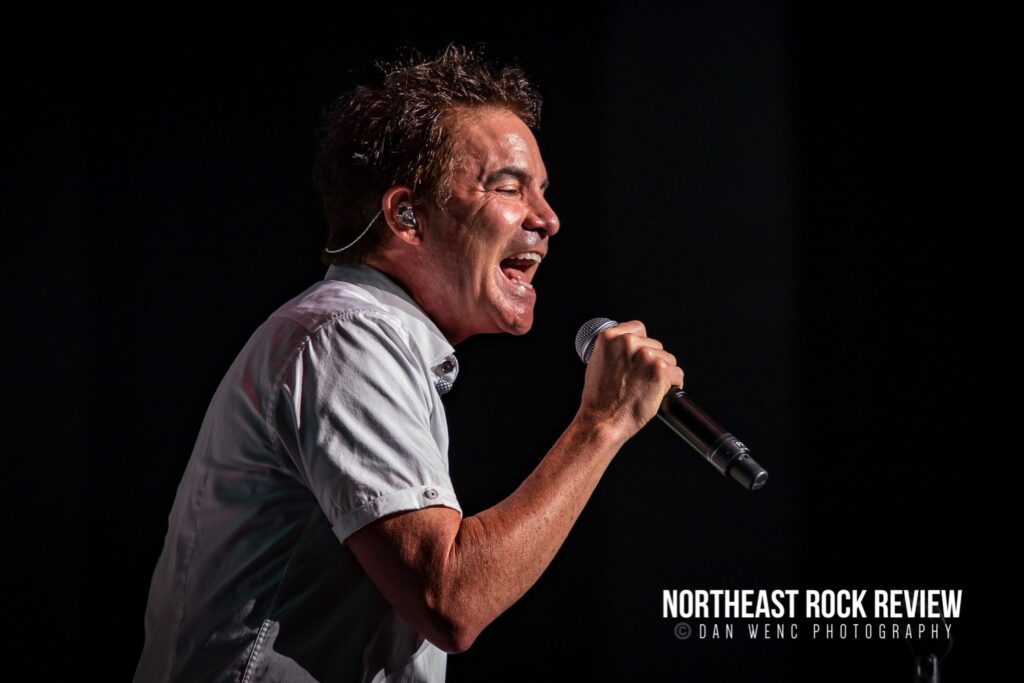 Train of 2019 is Jerry Becker (keyboards, guitar), Hector Maldonado (bass), Luis Maldonado (lead guitar), Nikita Houston and Sakai Smith on background vocals, and touring drummer Matt Musty. It was a homecoming show for Luis Maldanoado on guitar who is from Boston.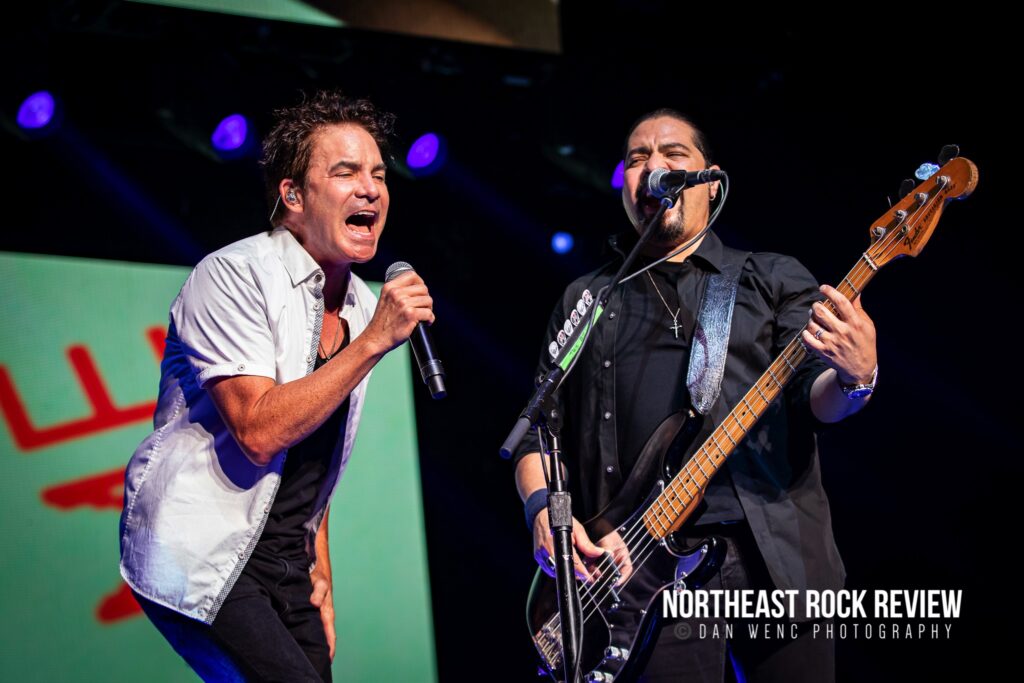 Pat Monahan and company sounded amazing and they played all the hits that night. Another band with great energy on the stage, making a night of musical bliss. The Train set opened with "Calling All Angels."
Pat Monahan sounded great and next up was "50 Ways to Say Goodbye", from the 2012 album, California 37. The song was a great selection get the crowd going with the upbeat tempo and mariachi band infused sound.
Then it was time for the cell phones to start flying up to Pat on stage, with "If It's Love". With a digital backdrop of candy hearts in theme with the song, Pat collected cell phone after phone as they were thrown up onto the stage, taking selfies and then throwing the phones back to their lucky owners. Just another example of great music and a fun show.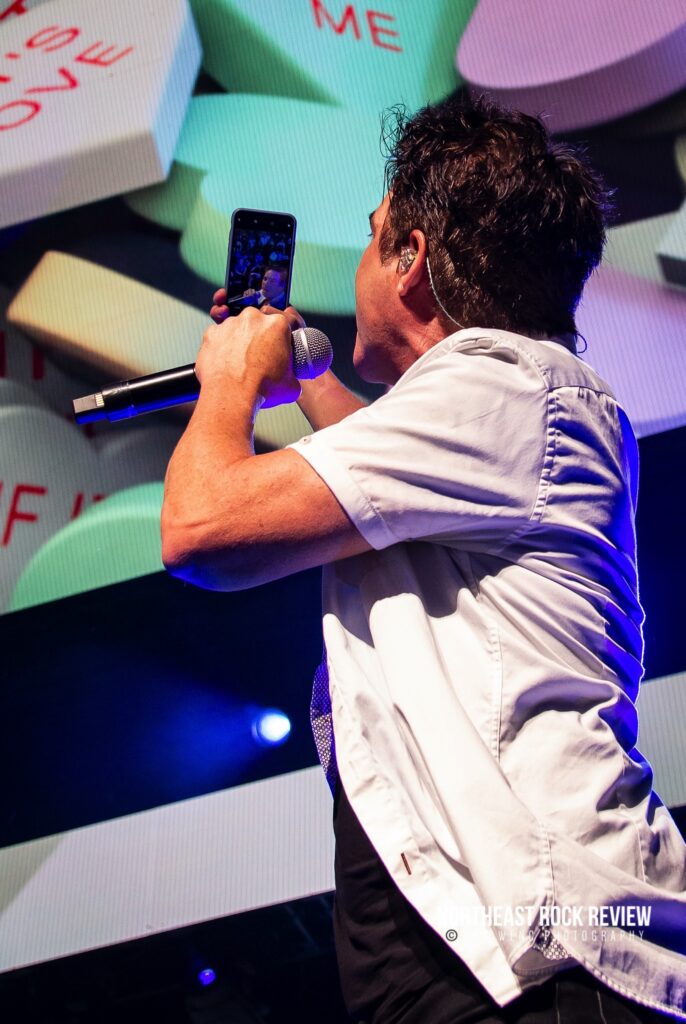 Next up was "Get To Me" and "Save Me San Francisco" and the beach balls were bouncing around the venue adding to the fun of the night. Then it was "Angel in Blue Jeans". Allen Stone made it back to the stage for a duet with Pat for "Bruises", taking the place of Ashley Monroe.
Then was the 1998, "Meet Virginia", which brought Pat throwing out T-shirt's to the crowd. One lucky fan even got a shirt that Pat wore on stage, took off and had the band sign during the song. And then it was time for a Tom Petty tribute, "American Girl". With a special appearance by John Rzenik, coming back out onto stage wearing flip flops, grey robe and towel on his head that said "I Love Pat".
With all the the fun and energy on stage that it was the finale. But it wasn't. They were only halfway there. The remainder of the night followed up with "When I Look to the Sky", "Marry Me" and then a cover of Queen's "Under Pressure". Closing out the night with "Hey Soul Sister", "Play That Song", Led Zepplin's "Heartbreaker" and of course… "Drops of Jupiter".
Overall a great night. Great positive energy from the music of all the bands that night. Maybe it was your first time, or 31st time seeing these bands, whatever it was, safe to say it was memorable show. Maybe you keep these songs in your regular rotation, or maybe you lost touch with the songs years ago. Each song brought you back to those times and to have an appreciation for those songs once again.  Between then and now, both of these bands have persevered through the evolving musical landscapes of the past 25 something years. They remain as top quality acts, still out making new music and performing. Keep these bands going, get out and see their shows and buy the albums.
TRAIN Photo Gallery
Greatest Hits album now out, released in 2018

For More Tour News and Updates, Visit: