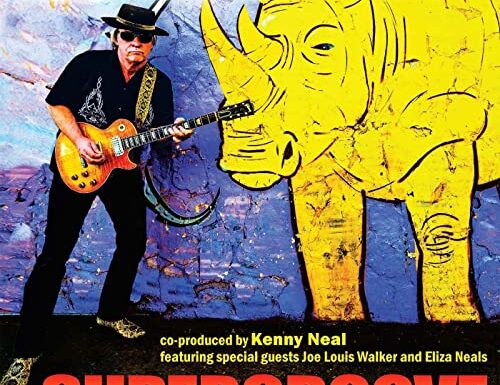 Guitarist and Vocalist, Andy Watts to Release Supergroove
January 31, 2021
In his home country of Israel, Andy Watts is widely considered to be Israel's Ambassador of the Blues. His live shows in his home country, along with the UK and Europe, both as a solo act and along with his kick-ass band, Blues on Fire, has earned him a well-deserved reputation as a fiery, passionate blues guitarist and singer.
Watts has performed with many of the modern blues greats including Joe Louis Walker, Kenny Neal, Lucky Peterson, Johnny Winter, Rick Estrin, Bernard Alison and Eliza Neals, amongst others.
Watts developed such tight musical chemistry with Kenny Neal that Kenny not only co-produced Andy's new album, Supergroove, but he also released it on his label, Booga Music, in conjunction with the Vizztone label group.
Supergroove is a highly charged album of ten electrifying blues tracks, dusted with a bit of rock, funk and R&B. The album features Andy's sometimes gritty, sometimes slinky guitar and his soulful vocals along with his great band, including bass, drums, keyboards, trumpet, trombone, saxophones and occasional guest harmonica. On this album, the groove is king!
Guest vocalists on the album include Joe Louis Walker and Eliza Neals, plus explosive soul singer Roy Young, along with Danny Shoshan and Gadi Altman.
Half of the songs are Watts originals, while the others are Watts' versions of classics by Freddie King, Joe Louis Walker, Rick Estrin and Andy's biggest musical influence and hero, the one-and-only Peter Green from the original Fleetwood Mac line-up.
Get it here – https://ffm.to/supergroove