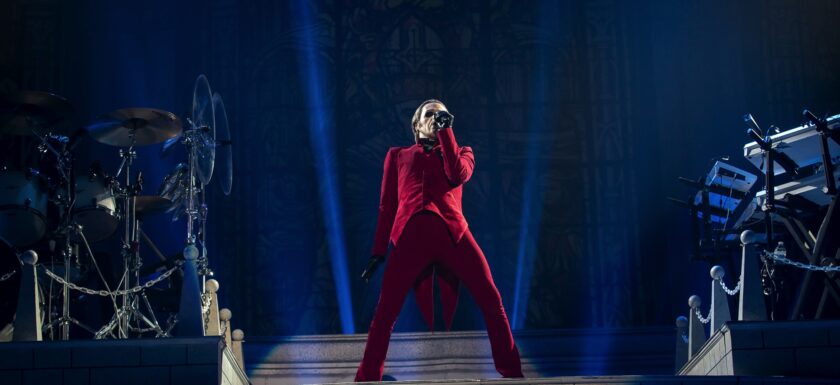 GHOST
The Ultimate Tour Named Death
DCU Center
Worcester, Massachusetts
October 21, 2019
Photos & Review by Dan Wenc
GHOST is not just your typical rock concert.  It is a theatrical musical experience that follows on the methods of the forefathers of rock artists such as KISS, Alice Cooper, King Diamond, Iron Maiden, Ozzy and Black Sabbath. GHOST is now one of those bands that can be added to that list of outstanding theatrical musical acts that put on an impressive visual performance, in addition to their music.
This was GHOST's first performance in Worcester, Massachusetts. GHOST fans showed up Monday night for the ritual at the DCU Center to listen to a message from the clergy as delivered by Cardinal Copia and his Nameless Ghouls and Ghoulettes. Songs of darkness, Satan and the macabre they may be, but GHOST produces songs with those underlying themes and perform them in a magical musical arrangement. The set list was comprised of an assortment of their musical stylings. If you haven't heard GHOST's music, it's not all the same. It is a mix of varying degrees of rock, metal, and pop, with obvious sounds of musical influence from bands of the 70's rock, 80's metal/pop era. With no one particular style for every song, the entire set was an eclectic assortment of amazing vocals, metal guitar riffs, synthesizers, organs, saxophone, keytar solos and much more. It is everything that is different out there in popular music. GHOST is on the verge of achieving legendary status in terms of performance and musical arrangements. A band that will keep the fans wanting more, GHOST is what the 21st century rock world needs.
Formed in 2006, this Grammy Award Winning Swedish rock band is led by Tobias Forge, who has been referred to as "the Andrew Lloyd Webber of Rock". This United States Arena tour is titled, The Ultimate Tour Named Death, performing a selection of hits from their four studio albums, including the 2018 Prequelle, which has achieved three Top Ten rock chart hits.
Tobias Forge presents in character, Cardinal Copia, the next in line succession of GHOST characters, followed up from the previous Papa Emeritus series of characters, wearing Cardinal vestments, black or white tuxedos and prosthetic masks and multi-colored eyes. Cardinal Copia and the expanded band with seven Ghouls and Ghoulettes put on a two-hour presentation of one of the greatest stage rock theatrical stage performance to be seen in many years. The new album Prequelle, is loosely based on the story of the Black Plague of 14th century in Europe and a metaphor for the societal ills of today.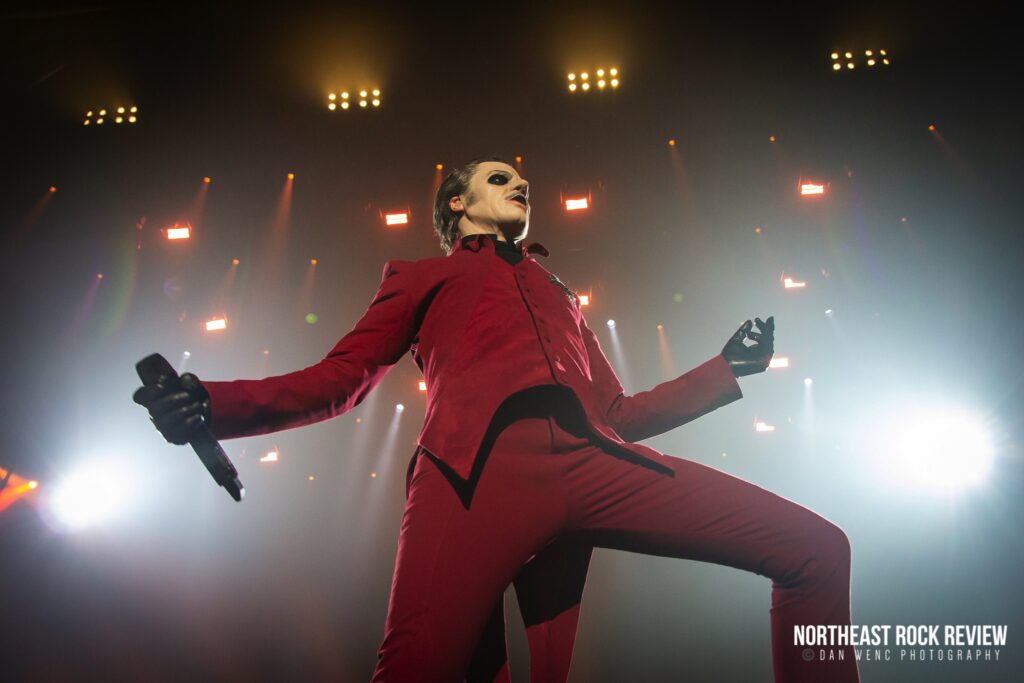 The room went dark, the anticipation built. The sounds of "Ashes" from Prequelle played. The curtain dropped and the music began, into "Rats". Intensive energy and anticipation had met the pivotal point of the night. The Nameless Ghouls and Ghoulettes stood in their places in stage. Then came the Cardinal, in his red suit, leading the crowd with chorus's parts and audience roar of "Rats", with fists raised in proper metal fashion. Followed up with "Absolution", "Faith" and "Mary on a Cross".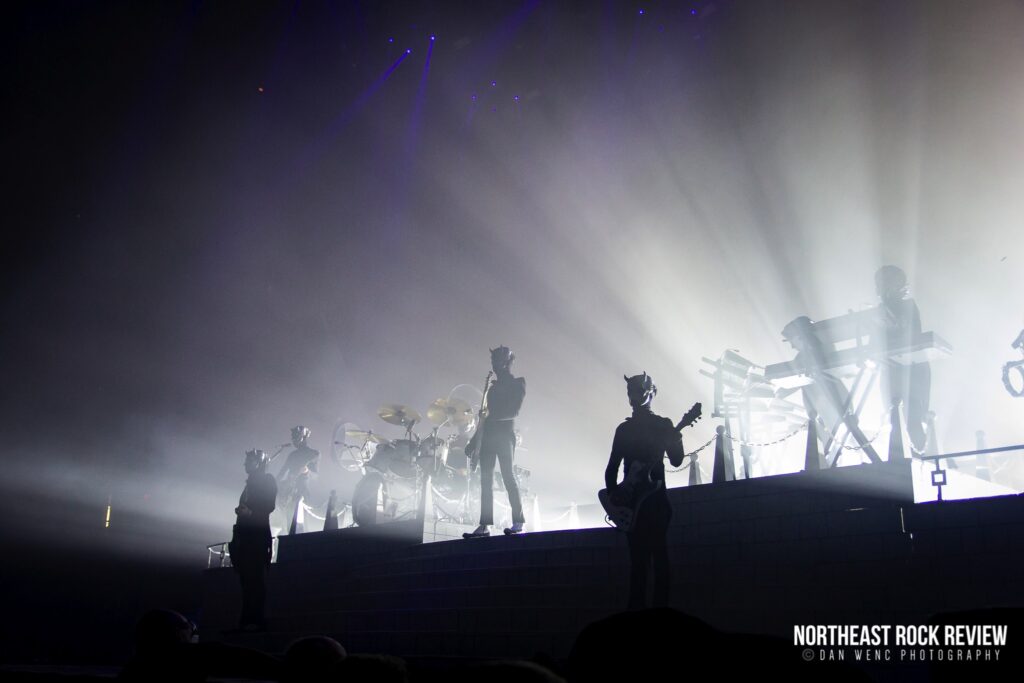 Then it was time for "Devil Church", an instrumental, opening with church style organ music, turned into an extended a guitar solo session, as a light and entertaining banter between the nameless Ghouls, on the white and black guitars. Both musically talented, they entertained and thrilled the crowd with their silent banter. Expressing themselves through hand gestures and guitar notes. Also throwing in a hint of hometown flavor with the unmistakable opening riff from Aerosmith's "Walk This Way".
GHOST is what a rock show is all about; with the Cardinal Copia wandering the stage, entertaining each side of the arena and the Ghouls on stage manning their instruments upon the grandiose stage of dark piety, a staircase leading up to a large backdrop image of stained glass, a stellar lighting display, theatrics, confetti, smoke, flames and pyrotechnics.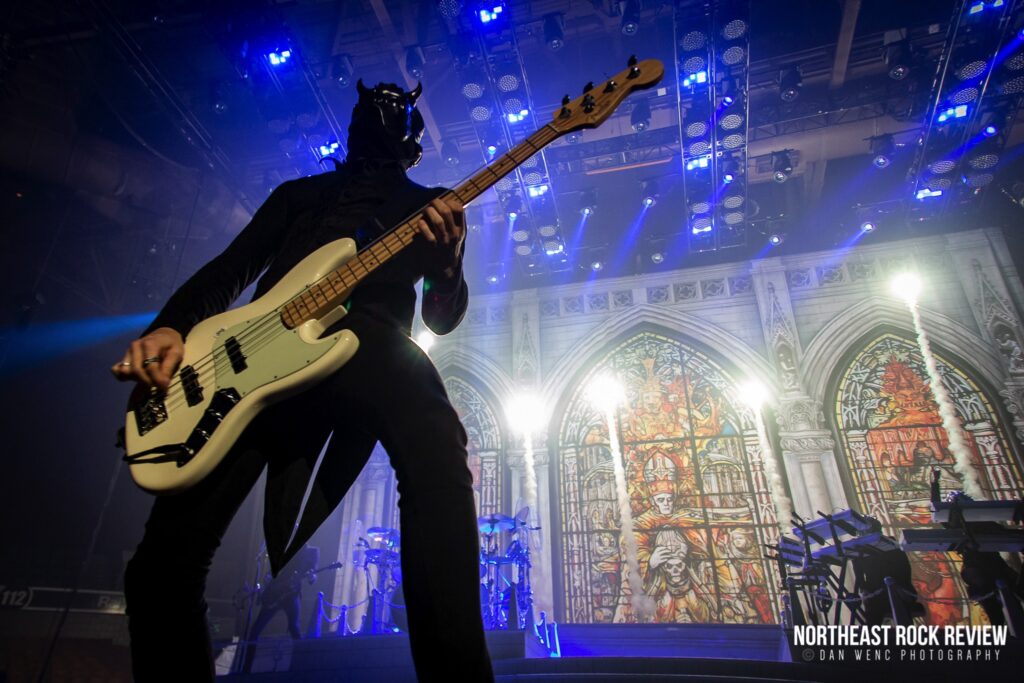 Cardinal Copia made several costume changes through the night, from his opening red suit, to a white suit and black hat riding a tricycle, to a dark cassock. Each costume change was met with roars of approval from the audience each time. And with simple hand motions, in almost mime-like fashion, the Cardinal was able to bring swells of cheer from the audience.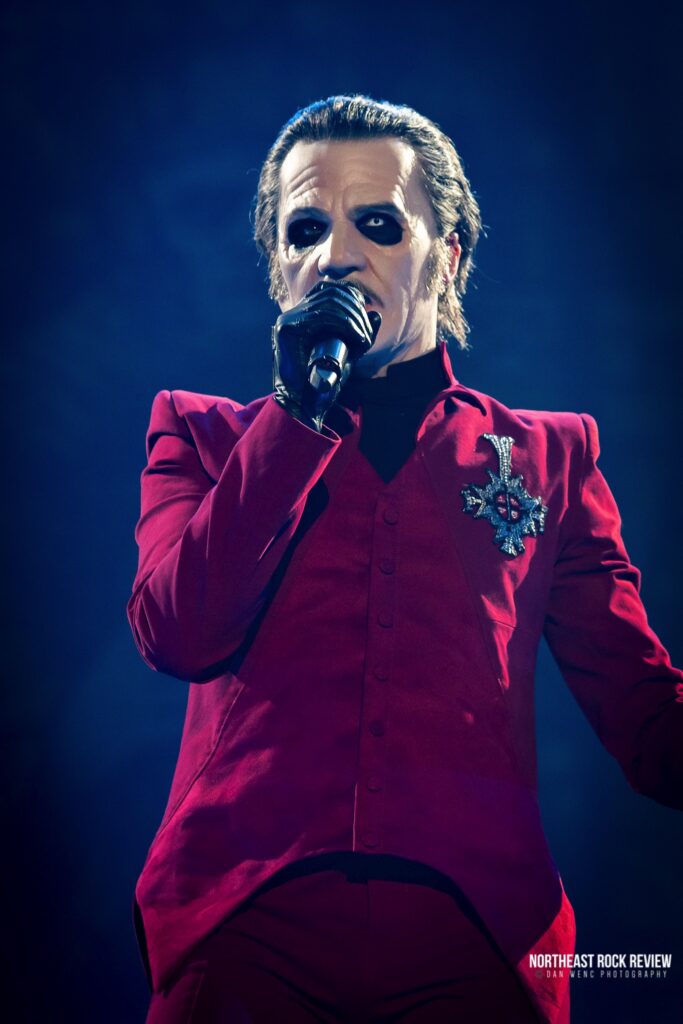 Cardinal Copia talked with the crowd to introduce, "Mummy Dust", which he cited as being a very heavy song, building up to the next song he was about to instill upon us. Heavy it was! "Mummy Dust" ended with an explosion of metallic conefetti, leaving Cardina Copia, looking as he was encircled in the stars. Cardinal Copia asked the audience if they liked it, for his question was answered with cheers of approval.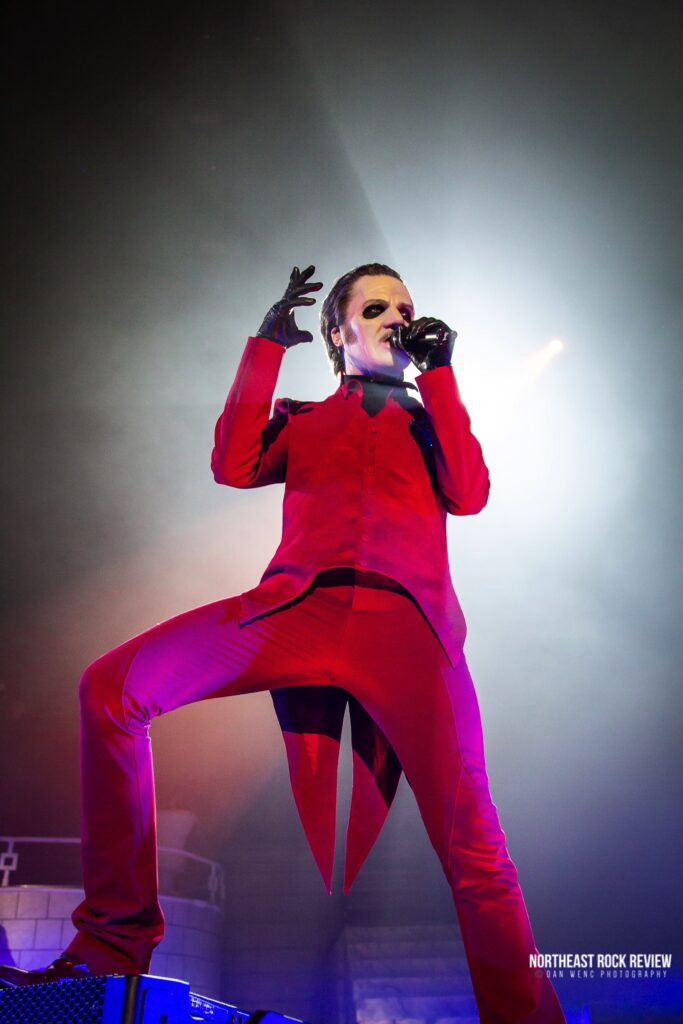 The end of the night was in sight. Cardinal Copia reminded us that it was still Monday, a school night, a work night; and that the ritual was about to conclude. But first, a selection of ever popular GHOST songs, "Kiss the Go-Goat" and "Dance the Macabre". The Cardinal tried to shoo the audience away in a fun way, saying that was all, time to go home, etc. However there was still one song left, "Square Hammer", which closed out the night. With that the night was complete. A spectacular show and well rounded performance that will leave you wanting more. Whatever your rock genre of choice is, GHOST has something for you.
GHOST Photo Gallery – Worcester, MA
For more GHOST news, music, info and tour dates, visit: http://ghost-official.com