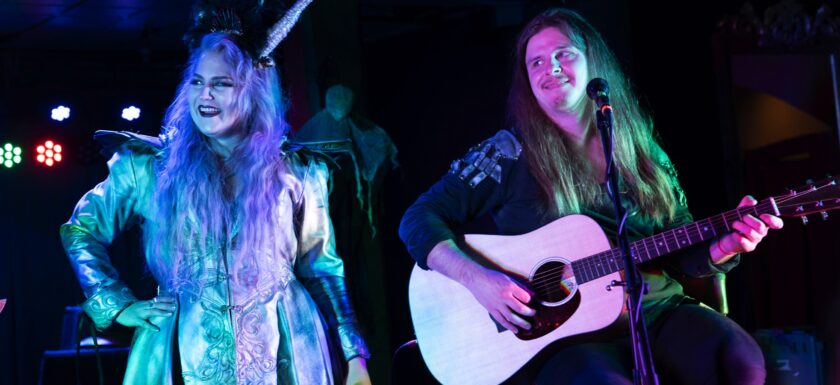 BATTLE BEAST
Jewel Nightclub
Manchester, New Hampshire
October 19, 2019
Photos & Review by Michael LaFleche
The Jewel in Manchester, NH welcomed a killer power metal lineup headlined by Battle Beast. Opening for the Finnish band was local act Perennial Quest of Everett, MA. Thunderforge, originally from Western, MA and the Slayer-esque, Let Us Prey.
After being feverishly warmed up, the crowd was now ready for Noora Louhimo and Battle Beast, the Finnish masters of melodic, catchy power metal. I saw them last month opening for Kamelot in Worcester and they were a powerhouse of insanely well done and catchy power metal. To remind the active readership of Northeast Rock Review, the band is a six piece touring unit with dual guitars, bass, heavy drumming and even a keytar.
But after Let Us Prey cleared the stage of their drum kit, amps and other equipment, the Battle Beast roadie show up on stage with three stools, a few mics and that was it. The crowd was murmuring as to what is going on, save for a few who follow the band on Facebook. Turns out that the drummer of the band screwed up his arm pretty bad a few shows ago, and instead of cancelling Battle Beast's first headlining tour, they decided to make the bold choice of turning themselves into an acoustic set.
This turned out to be amazing. It even highlighted how good this band really is even more than the full on metal production. Lead singer Noora Louhimo easily shows off her incredible pipes and great personality with the portion of the band on stage which includes the comical, outspoken and great bass player Eero Sipilä, along with Juuso Soinio on rhythm guitar and Joona Björkroth on the acoustic guitar.
The setlist includes a lot of songs played acoustically for the first time of course. The set started out with "Straight to the Heart", continued along with "Familiar Hell, Into the Heart of Danger, The Hero, "Endless Summer, Eden, Black Ninja, Touch in the Night, Out of Control, Bastard Son of Odin, King for a Day, and wrapped up with Beyond the Burning Skies". Mixed into the set were great comedic interludes with the band started to play Oasis' "Wonderwall" and Johnny Cash's "Walk the Line".
I was extremely happy at how the show turned out, and I encourage you to see Battle Beast and listen to their music.
For more Battle Beast news, info and tour dates visit: https://battlebeast.fi