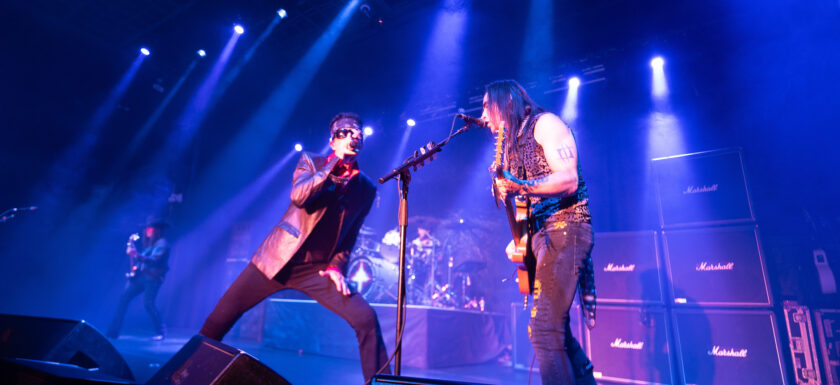 EXTREME
With Living Colour
Casino Ballroom
Hampton Beach, New Hampshire
August 3, 2023
Photos & Review by Michael LaFleche
HAMPTON BEACH, NH – On the second night of their summer tour of North America, the rock band Extreme brought the house down at the Hampton Beach Casino Ballroom, leaving the hometown audience filled with loyal fans, family and friends in awe of their musical prowess and undeniable showmanship. Supporting their new album Six, which has taken the world by storm, Nuno Bettencourt's incredible guitar solos and Gary Cherone's unyielding ferocity were on full display, re-solidifying Extreme's place as one of the best and most respected bands of all time.
The openers were none other than Living Colour, both contemporaries of Extreme and in timeline and funkiness.  Living Colour are legends and each band member is at the top of their craft with Corey Glover as master of ceremonies leading the band through classics like "Type" and "Cult of Personality" along with Vernon Reid still showing his love and passion for the six string.
LIVING COLOUR photo gallery
Extreme quickly followed for what ended up being a 2+ hour set. Opening with the explosive new hit "#REBEL," Extreme set the tone for a night of high-octane rock 'n' roll. The energy in the venerable venue that has seen Extreme play so many times in the past was palpable as they delved into classic hits like "Decadence Dance," "Comfortably Dumb," and "Hip Today." Each song was delivered with a fierce intensity, showcasing the band's ability to seamlessly blend hard-hitting riffs with soulful melodies.
As the show progressed, Nuno Bettencourt's guitar mastery was instantly evident, dazzling the crowd with jaw-dropping solos during "Play With Me" and "Flight of the Wounded Bumblebee." His virtuosity on the instrument is unparalleled, and he effortlessly demonstrated why he's considered the greatest guitarist of his generation.
Gary Cherone's vocals were equally impressive, delivering powerhouse performances on tracks like "Rest in Peace" from their third album and Am I Ever Gonna Change. His dynamic stage presence and captivating charisma kept the audience engaged from start to finish non-stop.  But one thing that was the most impressive was on the new song "OTHER SIDE OF THE RAINBOW" in which Nuno is strumming his beautiful white acoustic guitar and passes it off for Gary to play it while picking up N4 to go nuts on an electric solo.  This was the first time for the world to see Gary play like this, and it was reminiscent of live performances by Queen in which Freddie and Brian would trade instruments live on songs like "Save Me" in shows.
A big highlight of the night was their performance of the global sensation "More Than Words." Any empty space on the floor of the sweltering ballroom was filled with dancing couples holding beers.  The hall erupted in appreciative applause after they crooned along to the heartfelt ballad, creating a magical moment of unity and emotion in the venue.
One of the things that make Extreme special is that they really make you feel like you are a member of their family.  It struck me that this is not the case with any other band I follow. Nuno talks of Hudson (MA) High School and the mosquito ridden summer of New Englanders. They just are being themselves with their people.
As the night drew to a close, Extreme returned to the stage for an unforgettable encore. "RISE" which is the opening track of the new album and features Nuno's insanely powerful solo that sucks you in and has received many reviews from the likes of Justin Hawkins of the Darkness and the YouTube Sensation and music aficionado Rick Beato.  The live performance I dare say sounded even better than the studio track unbelievably.  The main section of the bridge just sounds so melodically pleasing with all the band singing with the power riffs accompanying. Finishing up the ballad, "SMALL TOWN BEAUTIFUL" served as a powerful conclusion to an evening of rock 'n' roll bliss.
In conclusion, Extreme's concert at the Hampton Beach Casino Ballroom was a tour de force of musical brilliance and unbridled energy. Nuno Bettencourt's extraordinary guitar solos and Gary Cherone's powerful vocals solidified their status as rock legends. The setlist was a perfect mix of fan-favorite classics and tracks from their new album Six, creating an unforgettable experience for both longtime fans and newcomers alike. It's safe to say that Extreme's summer tour is a must-see for any rock music enthusiast, as they continue to prove that they are a force to be reckoned with on stage.
EXTREME photo gallery