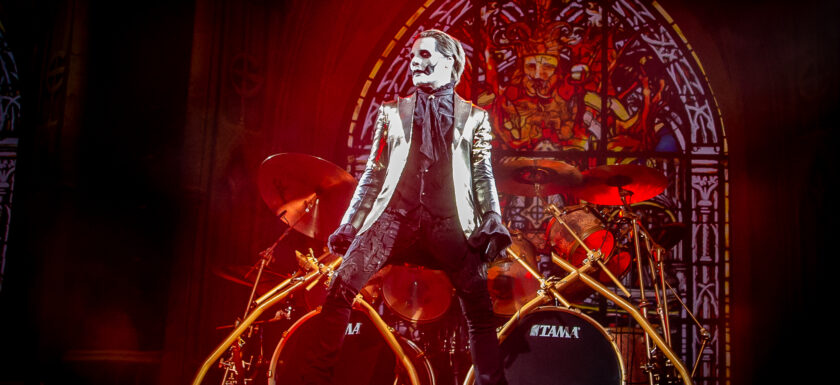 GHOST
Re-Imperatour
Xfinity Center
Mansfield, Massachusetts
August 19, 2023
Photos & Review by Dan Wenc
MANSFIELD, Mass. – The final days of summer 2023 were slowly fading away. As the end of summer concert season crept upon us, there was time for the parishioners of the church of Ghost to gather upon the outdoor amphitheater on a beautiful Saturday night. Walking into the show, you would have seen many die-hard Ghost fans dressed in various Cardinal Copia and Papa Emeritus garb, face paint and masks, along with mass amounts of Ghost tour shirts. There were license plates in the parking lot showing the distance that was travelled to consume such a show, many had travelled from afar to be entertained by Ghost on this Re-Imperatour, tour. Cars in he parking lot came from the surrounding the New England states of Maine, New Hampshire, Rhode Island and Connecticut. Some came from as far as Nova Scotia and New York to take in this experience. Ghost culminates a gathering of music fans for many reasons, the songs are relatively catchy and easy to get into and the stage show is phenomenal. The music is an eclectic mix of rock, doom metal, shock rock, prog rock, metal, pop rock and more. Within the Ghost collection of music, there just may be something for everyone. This would be my third time seeing Ghost performing live, each time was never a disappointment. Ghost and this traveling rock show is perhaps one of the best touring musical and theatrical stage show of the 21st Century. Ghost is more than another rock concert, it is a well rounded experience of music with a theme and visual showmanship. The music keeps you going and the Tobias Forge as Cardinal Copia and Papa Emeritus IV keeps your attention fixated on what is happening next on stage.
Ghost is at about the halfway point of the Re-Imperatour Tour,in support of their fifth studio album, Impera. The remainder of the U.S. Tour dates extend through September 2023. The brainchild of Tobias Forge and his cast of steampunk inspired Nameless Ghouls and Ghoulettes that provide the instrumentals backing Papa Emeritus IV.
Amon Amarth started off the night. They are a Swedish melodic death metal band from Tumba, having been together since 1992; with twelve studio albums to their name. Amon Amarth's latest release from 2022 is The Great Heathen Army. They opened the show, getting the audience fired up with a great hard metal set and a mammoth stage setup, of Viking theme.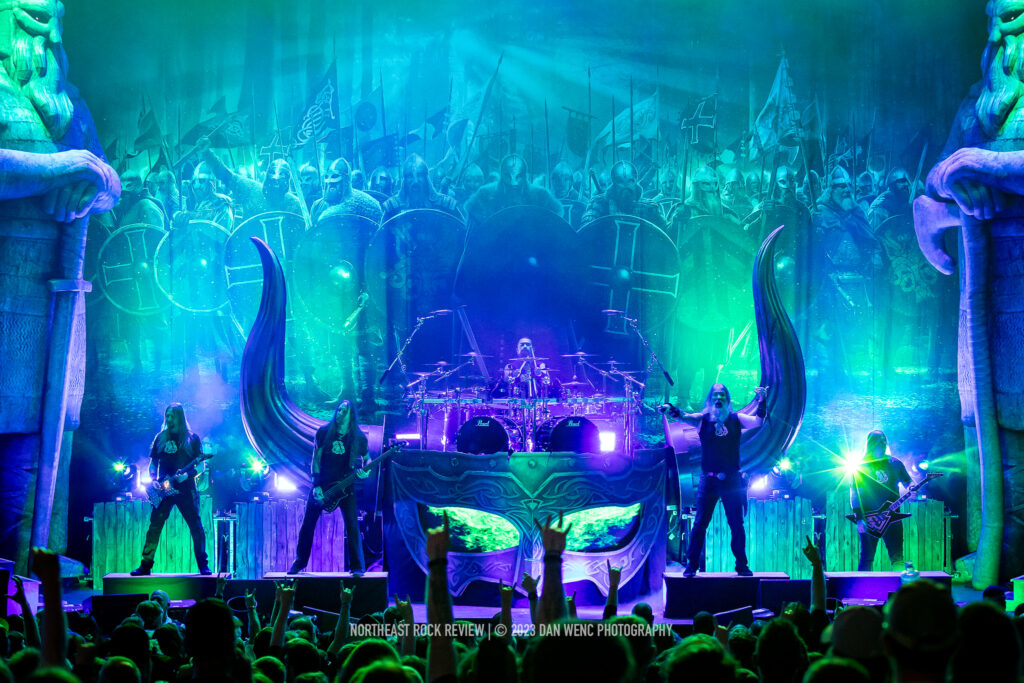 It was around 9 PM and Ghost was set to present to the stage. A large white curtain hung in front of the stage, church type music was playing throughout. The congregation were on their feet waiting for the appearance of Cardinal Copia, Papa Emeritus IV and the Nameless Ghouls. A taped "Imperium" played, the curtain fell and the audience rose up with swells of cheers for what would begin a sixteen song set, along with a three song encore. A grandiose stage set up with large stained glass lining the back wall, a large staircase leading up the drum riser as if it were an altar. Amazing lighting covered the stage in an effect that would give the visual impression of sunlight through stained glass of a church, smoke and the occasional pyrotechnics would be the setting for the evening.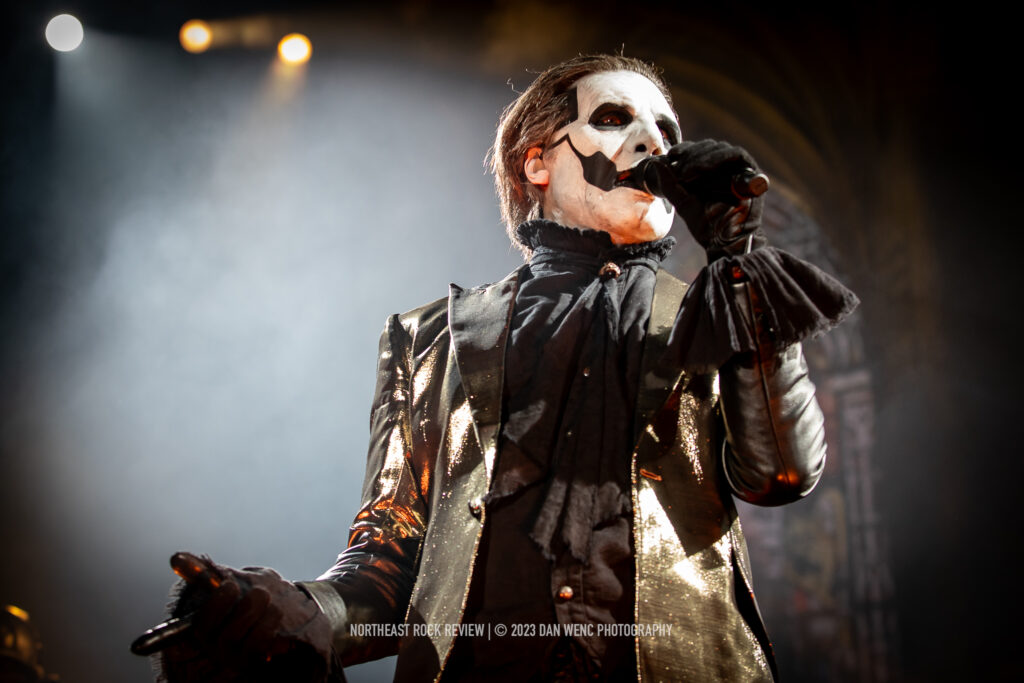 The night started off with "Kaisarion," "Rats" and "Faith." Followed up with "Spillways," "Cirice" and "Absolution." The performance of "Ritual" included some comical exchanges between the guitarists, leading into a brief guitar solo.
From the 2022 Impera album, was "Call Me Little Sunshine", which brought to the stage Papa Emeritus IV wearing his mitre and vestments. Next up was the bass heavy intro to "Con Clavi Con Dio," which brought Papa IV back to the stage after a return to the sacristy, this time in different a different stole, swinging incense around for the sanctification of the evening.
"Watcher in the Sky" brought out another outfit change, a black suit and blue tie. If you attend a Ghost show you have to be in it for the long haul, it is an immersive musical experience. There are no low moments or time for breaks. A full throttle show that will keep your attention throughout the night, not wanting to miss what might happen next.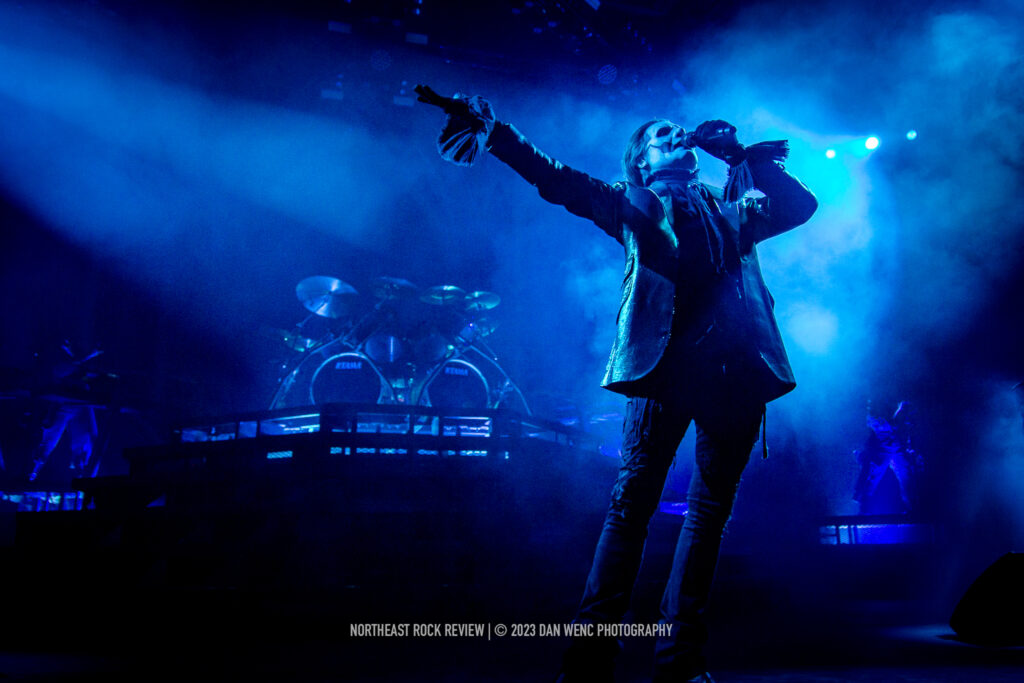 "Year Zero" from the Ghost B.C. era of 2013, brought another change, Papa IV returning to the alter, donned in black robe and mitre. The visual theatrics included flashes of pyro, flames that could be felt at the furthest ends of the venue. Followed up with, "He Is" a slower song that brought about sea of white cell phone lights to illuminate the nave.
At the start of "Miasma," a large black box was wheeled to the front of the stage. The stagehands opened the front of the box to reveal papa Nihil, apparently deceased. A stage hand came along with two shock paddles and attempted to revive Papa Nihil. After a burst of sparks he returned to life after a brief fight, and went on to perform a saxophone solo before returning to death in the box.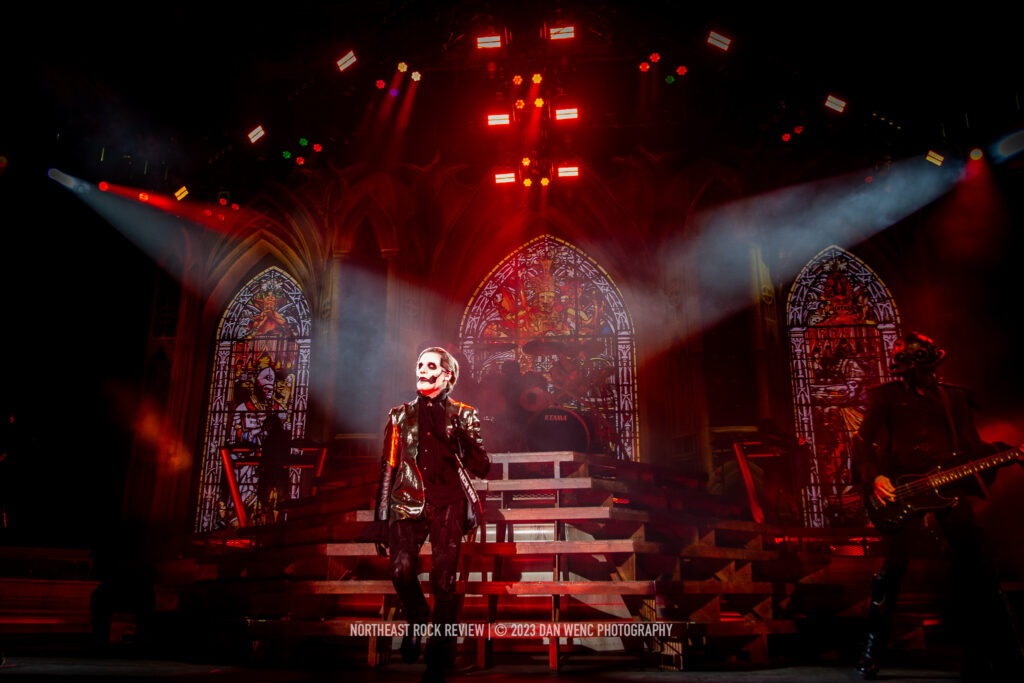 A stage set and macabre sounding music might scare anyone away from this at face value. But as you sit through the set, it becomes quite enjoyable, it draws you in; Cardinal Copia and Papa Emeritus IV also throw in some light conversation and joking with the audience. It is a set of songs filled with music that tells its own story, most songs which have a sound of their own.
It is also fun to watch the eight nameless ghouls, each one holds their own place and purpose on a musical instrument. They appear to be static figures, but if you watch them close enough, you will find that each has a personality of their own.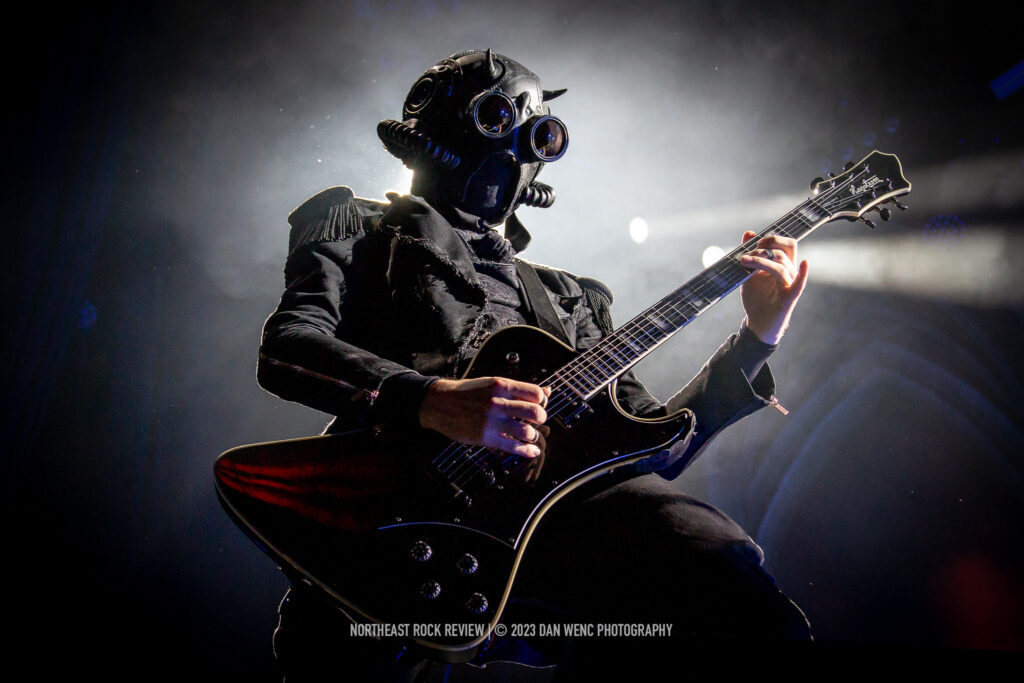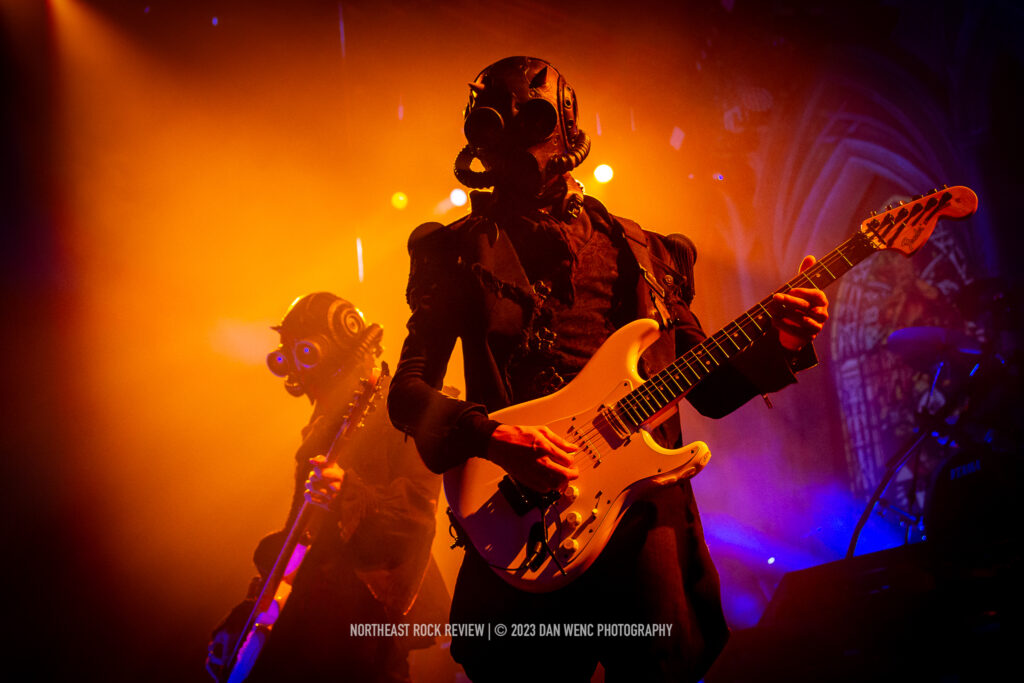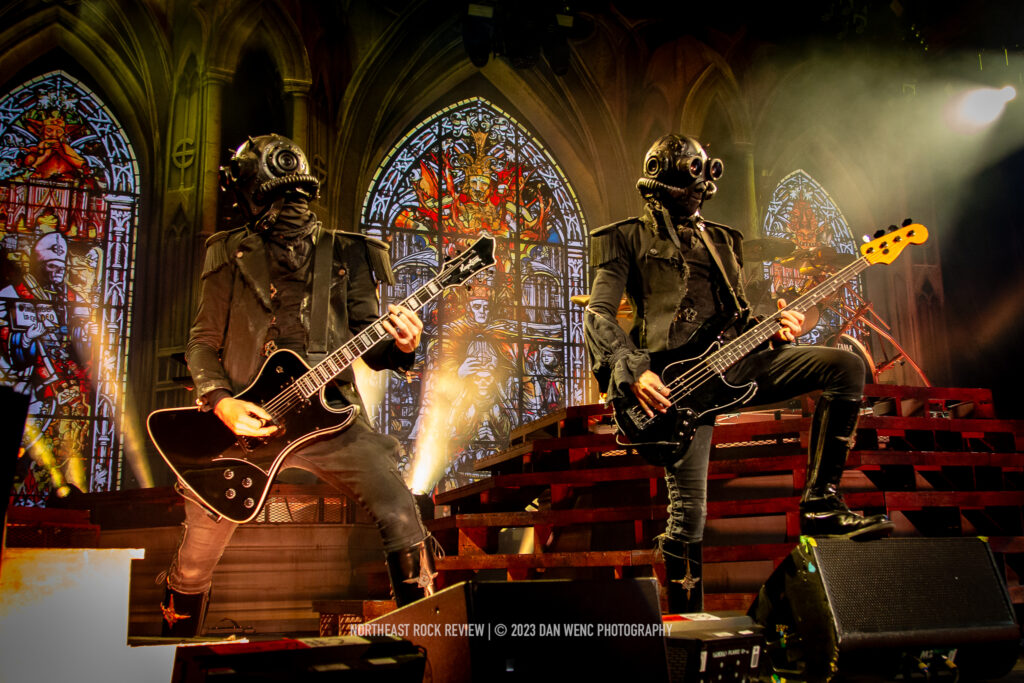 The night continued along with "Mary on a Cross" and "Mummy Dust," to include a key-tar solo and a release of confetti over the stage and audience.
Cardinal Copia had comedic exchanges with the crowd, he spoke about what a lively evening it had been and how it was coming to the end. Copia acknowledged everyone who works with band to make the show possible and encourage the audience to give themselves a round of applause for being there and enjoying life. Copia said that this area was always welcoming and hospitable every time they have come around, and said with sincerity "Thank you for being here tonight."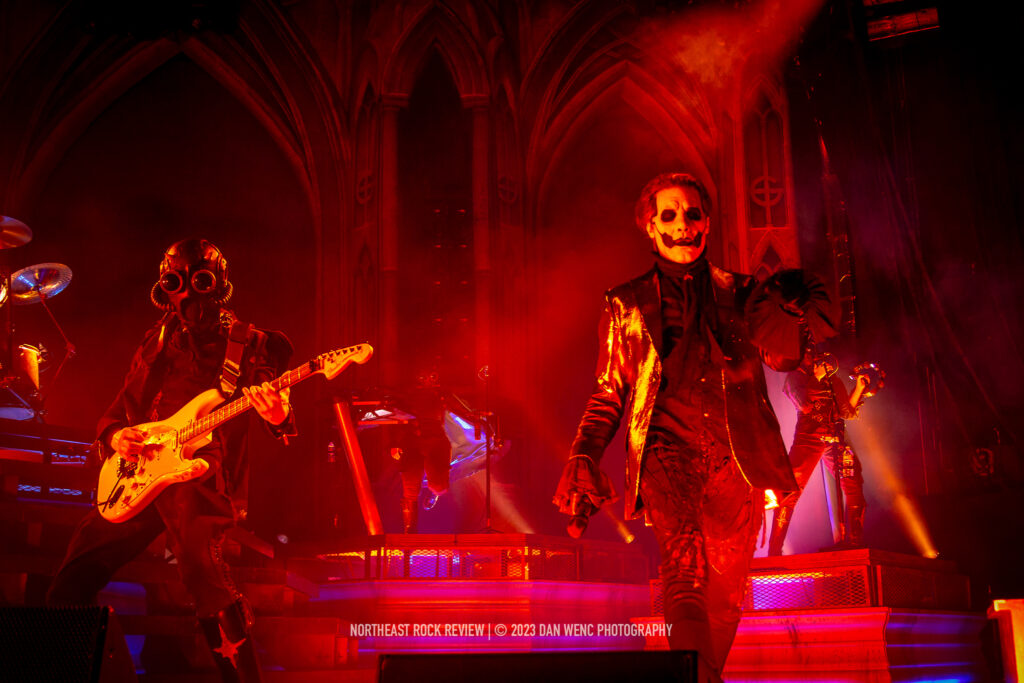 Cardinal Copia lay the groundwork for what would be his last song of the night and continued into "Respite on the Spitalfields." The stage went dark and empty. Some began leaving their seats, then Cardinal Copia made his way to center stage wearing a glittery blue sport coat, which he described as his "after show munching outfit." He was wondering why everyone was still here, encouraging everyone to go home, leave, the show was over. The crowd response was loud cheers and applause, clearly a call for more. Cardinal Copia said that he could turn the coat into an encore jacket… and a two song encore jacket… or a three song encore jacket. With that the crowd was reignited. Cardinal Copia said you don't think that we would leave hear without a kiss goodnight, leading into "Kiss the Goat. The night closed out with high-energy performances of "Dance Macabre" and "Square Hammer."
Ghost was a spectacular night of music and visual entertainment. Check it out at a city near you!
GHOST photo gallery


For Ghost tour dates and music info, visit: https://ghost-official.com/