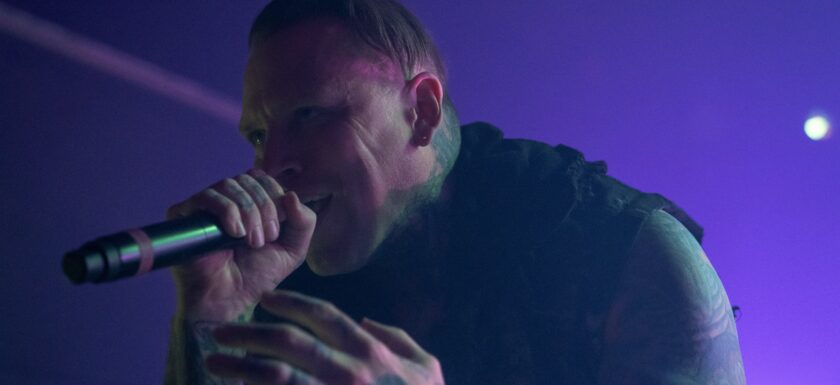 COMBICHRIST
with Silver Snakes
Willy's Pub
Hampton Beach, New Hampshire
April 27, 2019
Saturday night in Hampton Beach at Willy's, hardcore industrial band Combichrist led by Andy LaPlegua rolled into town. The venue was part biker crowd to part goth / punk crowd, enjoying the pulsing beats with Combicrist's double drummers and electronically backed jams.
Silver Snakes is on tour with Combicrist. I enjoyed their electronically laced post-industrial vibe. It felt like Joy Division meets a Ministry at a full moon ritual. Silver Snakes are Alex Estrada, Michael Trujillo, and finally on guitar, Mike Woods. In fact they threw a Ministry song into their 45 minute set. For an opening act, they had quite a sophisticated stage setup with glowing radio era microphone and an LCD projector screen behind the drum kit which had various geometric, esoteric forms presented to the crowd.
SILVER SNAKES Photo Gallery
After Silver Snakes cleared their set, Combichrist revealed their stage, which featured two drum kits, one facing side saddle on the left and one that resembled beer kegs facing forward eadh occupied full time by Will Spodnick and Dane White.
Norweigian born Andy LaPlegua (Also of Icon of Coil) leads the band in overtly passionate music that is impossible not to move your body to. And Eric13 on guitar makes sure that the dance party is still metal.
The tour for the soon to be released "One Fire" record played many recognizable hits and some new songs from the release. Opening the set from the aforementioned record was the anthemic "Hate Like Me" followed up by fan favorite "Never Surrender" The smile on Andy's face as he crooned the romantic song "Shut Up and Swallow" but both entertaining and scary. "Guns at Last Dawn" also from the new record made it's New Hampshire debut. "Satan's Propaganda" and many other hits from their 20+ year catalog played.
I can't remember seeing more leather and tall boots on Hampton Beach. It was good to see how musically diverse the Beach rock scene is becoming with both the Casino and now Willy's regularly playing host to internationally chatting bands. Check out Combichrist's new album being released soon.
COMBICHRIST Photo Gallery