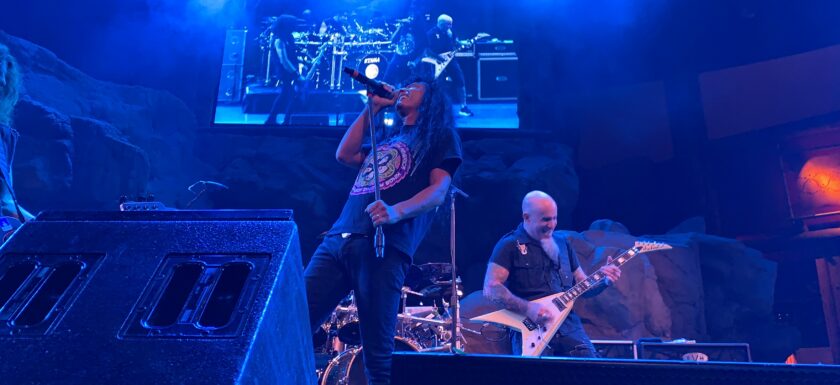 ANTHRAX
Mohegan Sun Casino Wolf Den
Uncasville, Connecticut
November 15, 2019
Review & Photo by Tom Bogus
In what would be the culmination of the For All Kings Tour and the final ANTHRAX show of 2019, this FREE show at the Wolf Den at Mohegan Sun Casino brought Anthrax fans from all over the Northeast to one central meeting point. A night of thrash and fun to celebrate one of the great metal bands of our time.
The thrash metal pioneers and members are Joey Belladonna (vocals), Scott Ian (guitar), Frank Bello (bass), Jon Donais (guitar) and ‪Charlie Benante‬ (drums) set out to put on a hell of a show. And they sure did!
The house lights turned off and ‪Iron Maiden‬'s "Number of the Beast" began to play over the house PA.  The crowd was ready for what was to about to happen.  Anthrax went right for the jugular by opening up with "Caught in a Mosh". Followed by about 90 minutes of good ol' American thrash metal. Anthrax catered to all fans of all ages by playing hits from their 38 year career.  They played early stuff like "Medusa" and "Metal Trashing Mad", to newer stuff like "In the End" and "Breathing Lightening". It must have been quite a task trying to figure out which 12 songs to pick for the setlist, having so many hits to choose from. They closed the night with "Indians", from their 1987 release Among the Living.
There is no accident that Anthrax has survived in the Metal scene all these years. Every member is a master of their instrument and you can tell they all give you 110% every show.
ANTHRAX SETLIST:
1- Caught in a Mosh
2- Metal Thrashing Mad
3- Be All, End All
4- Madhouse
5- I Am the Law
6- Breathing Lighting
7- A Skeleton in a Closet
8- In my World
9- In the End
10- Medusa
11- Antisocial
12- Indians
For More News, Info, Tour Dates and Music on ANTHRAX, visit: https://anthrax.com