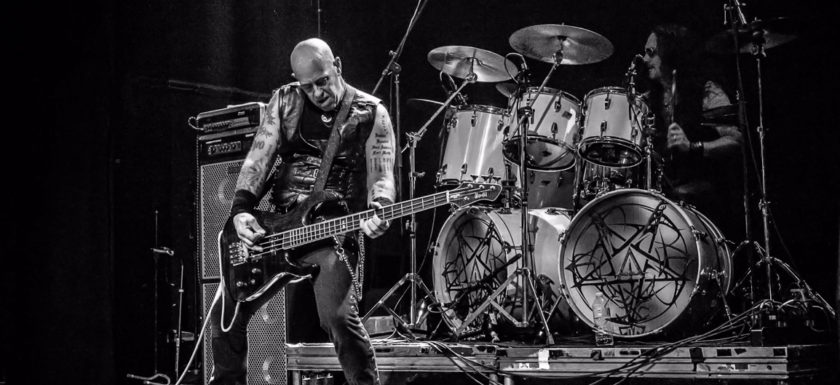 VENOM INC.
The Gramercy Theater
New York City, NY
September 2, 2017
The Gramercy Theater in New York City is one of my favorite places to see a show, and this last weekend, I actually got to shoot my first show there.
The subject of my trip into NYC? A new band from England, playing some classic and new Black Metal, Venom Inc.
Alright, so Venom Inc has 2 of the original members of Venom (Mantas and Abaddon) and another member from the 90's (The Demolition Man), and they are playing classic Venom and new stuff from their new album, "Ave". Enough about that for right now, On this fun night of ear bleeding bliss, a band out of the Buck Eye state hit the stage first.
Convalescence is a Death Metal/Deathcore band with a couple of different things, well at least to me they are different, they have a keyboardist, and her name is Katie McCrimmon, the rest of the groups are, Keith Wampler, lead singer, Brandon Davis and Zac Lunsford on guitars, Ronald Buckley on bass and Charles Webber banging the skins. They have just released a new album, "This Is Hell". Not a bad stage presence, but definitely hindered by being the opening band and having limited stage space and horrible lighting.
Toxic Holocaust was next on the bill, and from the sounds coming from the crowd, these guys were going to be good. With a sound that hearkened back to the old days of thrash with a twist of punk thrown in, I could see why they were popular with this crowd. Hailing from Portland Oregon, Joel Grind and Nicholas T. Rage (have to love stage names lol) Joel is the founder, Bassist and Vocalist for this trio, and they kicked ass. Solid stage performance, lighting was fantastic (I am a photographer after all) and the music great. This band is another one of those that seem to have the work ethic of endless touring, so if you get a chance, and you will check them out.
Out of the bowels of New Orleans, comes the heavy hitters, Goatwhore. A Black/Death Metal band with a distinct sound and dark themes to their music, it is easy to envision them on this tour with Venom Inc. Consisting of Ben Falgoust lead vocals, Sammy Duet on guitar, Zack Simmons on drums with Robert "TA" Coleman on bass. Also on tour supporting a new album, "Vengeful Ascension". Firing on all cylinders, Ben was all over the stage growling and screaming at the crowd, and the crowd ate it up. Seeing Goatwhore here was an experience, the last time I saw them was in a festival setting and that really is not how you should see them, in a small venue with 500 to 700 people all crushed together, with stage divers overhead, thats how you need to experience Goatwhore!
I am a child of the 80's, I started listening to the music that would mold my musical tastes for life. Motley Crue, Slayer, W.A.S.P., Ratt and then I found an album that I bought solely on its cover and title, Venom's "At War with Satan". I found a new genre that really made me want to bang my head, one that Venom had started with the release of their album, "Black Metal". I never got to see them live.
But… I was going to see the next best thing at The Gramercy, Venom Inc., consisting of 2 original members of Venom, guitarist Jeff "Mantas" Dunn and drummer Anthony "Abaddon" Bray with singer and bassist Tony "Demolition Man" Dolan (who was in Venom from 1989 to 1992) who are now touring for their debut album "Ave".
Its been 25 years or so since these guys have been on the stage as Venom, but you couldnt tell as they ripped thru classics such as, "Welcome to Hell", "Black Metal" and "Countess Bathory" along with songs off the new album, like "Ave Satanas", "Dein Fleisch" and "Metal We Bleed".
The energy they absorbed from this crowd must be how they are doing it, Mantas was all over the stage playing like a 20 year old and Demolition Man loomed over the crowd, singing into a microphone in that classic Lemmy style. Abaddon, kept in the dark of the backstage pounding the sounds of Hell to all who were there.
This was one of the best metal shows I have been to this year, and Venom inc is on tour till the beginning of October here in North America, with this tour line up I definitely recommend catching them.
Setlist for Venom Inc.
Ave Satanas
Welcome to Hell (Venom)
Metal We Bleed
Die Hard (Venom)
Live Like an Angel, Die Like a Devil (Venom)
Warhead (Venom)
Blackened Are the Priests (Venom)
Carnivorous (Venom)
Dein Fleisch
Don't Burn the Witch (Venom)
Leave Me in Hell (Venom)
War
Black Metal (Venom)
Countess Bathory (Venom)
Encore:
Sons of Satan (Venom)
Witching Hour (Venom)
Facebook Comments