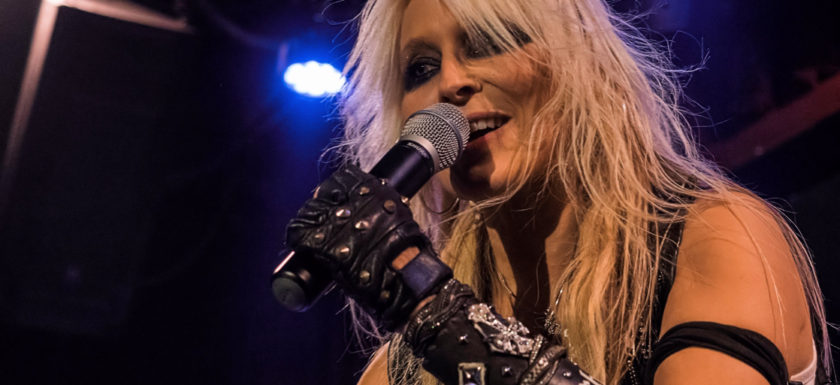 Doro Pesch | The Voice of Warlock
Celebrating 30 Years of the Album Triumph and Agony
B.B. King Blues Club and Grill
New York City NY
September 10, 2017
It was a beautiful day to be in New York City, the sky was blue, it wasn't to hot and I was going to another venue that I had never been to before, B.B. King's Blues Club and Grill. Right off the hustle and bustle of the ever busy and people filled Times Square.
Back in April of 1988, I was at a small venue in West Hartford, Connecticut called the West Hartford Ballroom, I went to see Megadeth. On this bill were two other bands, Sanctuary and then this band from Germany, WARLOCK. The lead singer was this blonde woman with long blonde hair and her voice was amazing. She stood tall at the center of the stage, her hair whipping all over, slapping hands and throwing the horns all over. It was love at first sight.
Fast forward to September 2017, almost 30 years later and I am here in NYC to see her celebrate the 30 year anniversary of Warlock's "Triumph and Agony" album and joining her for this very short jaunt in the U.S. of A (with only half dozen dates or so) was Tommy Bolan, who was the guitarist on Warlock's last and most well received album.
As the crowd slowly filtered into the club, we were treated to the musical stylings of a New York City metal band called, Metalfier. This is a power trio with Andrew Janda, singer and guitarist, Jorge Styrtet on drums and Reda Woodcock on bass. A heavy metal outfit that seemed to be just as excited about seeing Doro as the crowd was, other then what is seeming to be a issue at almost venue I have been to lately, they had to deal with technical issues at the beginning of their set, other then that a great club band and they will be opening for Accept on the 26th in NYC.
The lights went down after Metalifier cleared off the stage and in the darkness Tommy Bolan took the stage to the cheers of the crowd. The crowd went wild as a few moments later Doro came out, arms outstretched and a huge smile on her face. The night started off with blistering guitars courtesy of Tommy Bolan jumping into "Touch of Evil"
From there it was every song off of the "Triumph and Agony" album, "I Rule the Ruins", "East Meets West", "Three Minute Warning", "Kiss of Death", "Für Immer", "Cold, Cold World", "Make Time for Love", "Metal Tango" and of course everyone's favorite song, "All We Are".
Then came the encore… From my vantage point at the stage, I was able to see the set list, the encore was supposed to consist of a few songs, "Earthshaker Rock", "Breaking the Law", "True as Steel", "Fight for Rock", "Hellbound", "Without You", "Night of the Warlock" and finally "Ace of Spades". That turned out not to be the encore tho, Doro started asking the crowd what they wanted to hear, and song titles came from all directions.
These are the songs, that did make up the encore….. "True as Steel", "Burning the Witches", "Fight for Rock", "Hellbound", "Earthshaker Rock", all Warlock songs that the crowd sang along to. Finally the last two songs of the night, "The Night of the Warlock" and "Wacken Hymne (We Are the Metalheads)". An amazing night of Warlock classics, with Doro and Tommy Bolan. Backing them up was most of Doro's usual Rogues Gallery, Johnny Dee on drums, Luca Princiotta on guitar and keyboards and the ever energetic Nick Douglas on bass.
This show was over the top, with Doro constantly interacting with the crowd, leaning into us and passing the mic around, all with a huge smile on her face. The energy that Nick exuded while playing was on par with Doro's as he was all over the stage, whipping his hair back n forth and jumping all over. Watching Johnny play as always, was a treat. Luca between playing guitar and the keyboards also was all over that side of the stage.
Always a high energy show, and there are rumors that this tour will either be extended (unfortunately, Sept 16th in Los Angeles was the last of 5 shows) or brought back to the U.S after her scheduled European dates. I have my fingers crossed. Check out the photos from B.B. King's NYC.