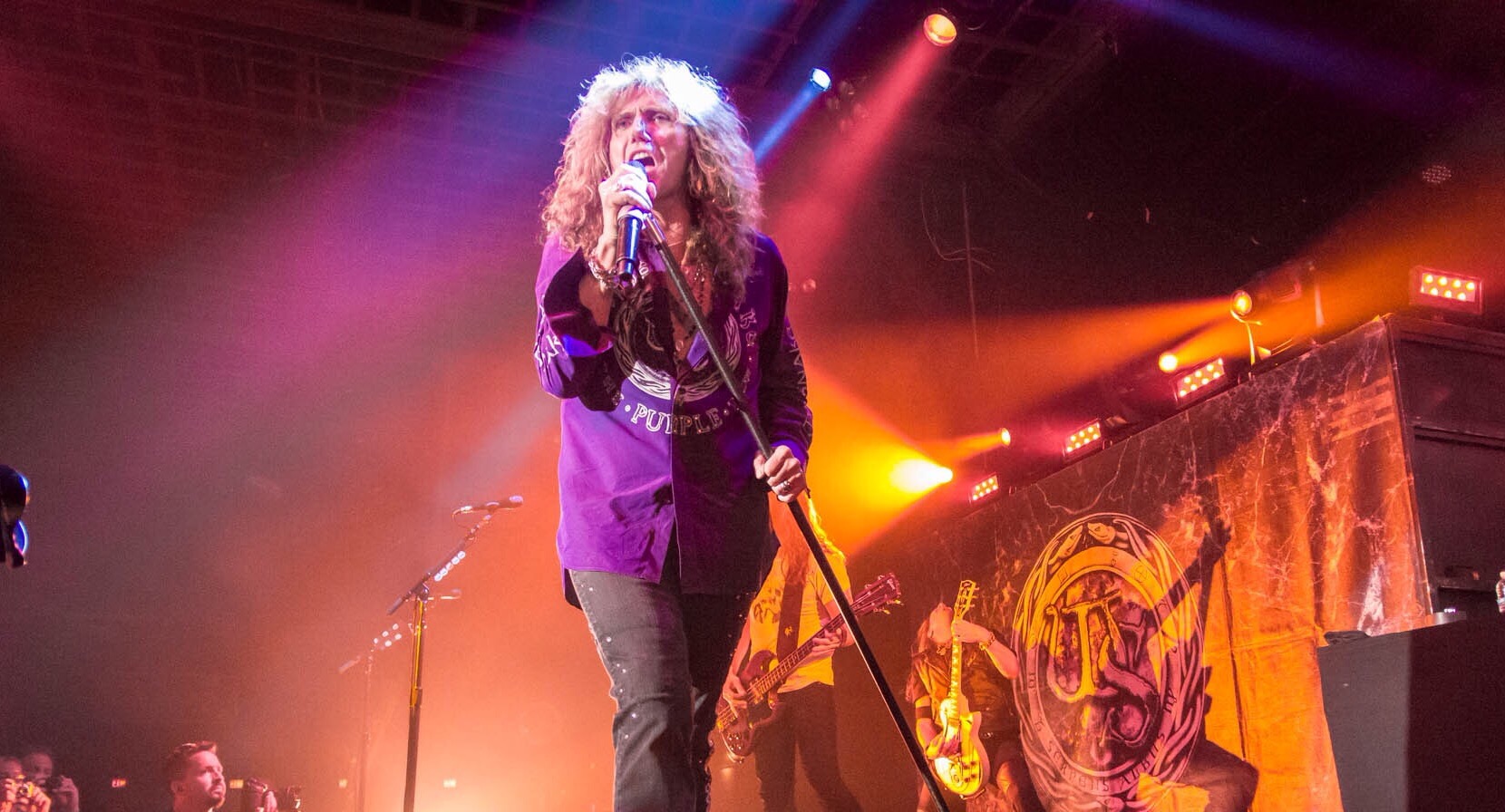 WHITESNAKE – THE PURPLE TOUR

July 22, 2015
Casino Ballroom
Hampton Beach, NH
Much has changed since the days of the summer of 1987 when Whitesnake's self titled album that was released that year and was one of my most worn out cassette tapes of that time. Fast forward to 2015, Whitesnake is still out there making and performing some great music.
One thing that has not changed since then is the musical talents of David Coverdale and Whitesnake in the summer of 2015 as part of The Purple Album tour.
The Casino Ballroom at Hampton Beach is an amazing place to take in a show like this. It was a general admission show with some seating towards the back. A great opportunity to get up close and see the bands of the 80's, metal arena rock, up close and personal. The show was sold out and there was no opening act.
Whitesnake took to the stage with electric energy. Not only has David Coverdale been the face of Whitesnake over the years, his legendary musical roots delve deeper into legend status of rock n roll history as one time frontman of Deep Purple. Whitesnake's Purple Album and its supporting tour brings the sounds of Deep Purple era along with Whitesnake classics. Coverdale is a true gentleman and showman. Coverdale was genuine with the crowd and anyone in the room could tell that he was enjoying the crowd as much as he did performing for the crowd.
Whitesnake took to the stage with Deep Purple classic "Burn" which is on 2015 Whitesnake The Purple Album. The band delivered with this classic and got the crowd going right at the start. Whitesnake followed up with classic "Slide It In" from 1984. They continued the night with a mix of classic Whitesnake songs and songs from The Purple Album. Then came "Love Ain't No Stranger" and "Gypsy" from The Purple Album. Then it was "Give Me All Your Love", which has somewhat of a local New England ties, as the music video for it was filmed at the Worcester Centrum, now known as the DCU Center in Worcester, Massachusetts.
Some of the musical faces of Whitesnake have changed over the years, the current lineup was Joel Hoekstra (Guitar), Reb Beach (Guitar), Michael Devin (Bass), Michele Luppi (Keyboards) and Tommy Aldridge on drums.
Joel Hoekstra was as lively, entertaining and animated as Coverdale. Hoekstra came through with amazing guitar riffs and showed that he was having a great time on stage and interacting with fans. The combo of Hoekstra and Reb Beach made this version of Whitesnake a powerhouse performance.
Long time drummer, Tommy Aldridge came through with an amazing performance, sporting behind his double bass Yamaha drum kit, a fixture of the 80's. It isnt too often you still see band drummers touring with a full set in smaller venues. It was great to see Aldridge with the full kit. What would be a concert without the classic drum solo and guitar solos? There were guitar solos and drum solos of 80's era metal proportions.
There was a very positive connection between the crowd and the band, interactions with the crowd. At times it was a virtual sing along with fans blasting out the lyrics to these songs we love so much.
Set List for the night:
Burn
Slide It In
Love Aint No Stranger
Gypsy
Give Me All Your Love
Keep on Movin'
Forevermore
Mistreated
You Fool No One
Is This Love
Bad Boys
Here I Go Again
Still of the Night
The two songs that stood out and sounded truly amazing live that night were "Burn" and "Is This Love", the overall sound was simply awesome.
During "Here I go Again" it appeared that every person in the venue was singing along. The night closed off with an encore of 'Still of the Night".
The moral of the story is that Whitesnake even after 35 plus years Coverdale and company continue to bring it and sound great, improving with age, with the fresh lineup that currently accompanies Coverdale and Aldridge.
Whitesnake is still out touring with many dates, check thier webpage to see if they are coming to a city near you, if they are, dont miss it.
Visit the Official Whitesnake webpage for tour info and how to order The Purple Album
Also check out The Purple Album and make a purchase of this part of the Whitesnake collection.
Check out more photos from the show below:
Photos by Dan Wenc at dmwpictures.com
Follow Northeast Rock Review on Twitter @NERockReview
©2015 NortheastRockReview.com / ®All Rights Reserved
 All photographs are Copyright protected – Not for use without permission