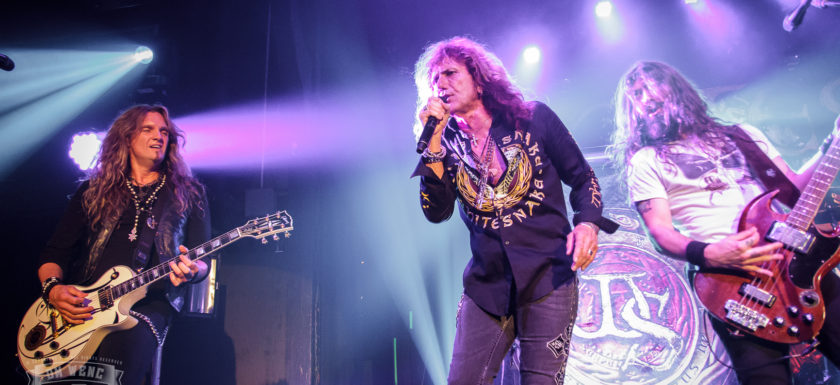 WHITESNAKE
Casino Ballroom
Hampton Beach, New Hampshire
June 23, 2016
Photos & Review by Dan Wenc
It may actually be impossible to go to a Whitesnake show and be disappointed. Especially on a "Greatest Hits" tour. David Coverdale and company brought the fans at the Hampton Beach back to a time where music was great and Whitesnake ruled MTV, radio and our cassette players. It was a virtual sing along all night long, with fans singing all the words to their Whitesnake favorites. They just don't make music like that anymore.
First it was Whitford / St. Holmes who got the night rolling for an already excited crowd. Brad Whitford (Aerosmith) and Derek St. Holmes (Ted Nugent) put on a good old fashioned blues infused classic rock show that had everyone headed for the merch booth at the end of the set to buy their new album. Click here to see the photos from the Whitford/St. Holmes show.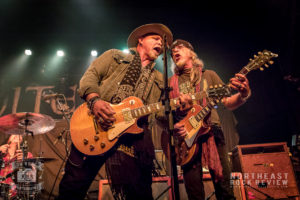 Rock n' Roll Hall of Famer, via Deep Purple, David Coverdale took the stage with smiles, joy and for a night of high energy in front of a sold out crowd at Hampton Beach, New Hampshire. In July 2015, Whitesnake also sold out the Casino Ballroom with The Purple Tour. Great to have you back Mr Coverdale. And we can speak for everyone there that night, we hope to see you out on the road again, and we hope this was not the last tour. Whitesnake brought so much energy that night, most not seen since the heyday of 80's rock and metal.
The band looked like they were having just as much fun as the crowd was. Whitesnake started off the night with "Bad Boys", getting the crowd cranked up, they moved right into "Slide It In". The hits kept going all night, one after another. Although, one could have only hoped to hear the Whitesnake "Purple Album" version of Deep Purple's "Burn" once again, that sounded awesome on the "Purple Album" and live last year.
David Coverdale is rock n' roll royalty, he has led Whitesnake since 1978, about 38 years of musical greatness. Hard to believe it has been that long. He is doing something right, because the fans are still out there with a following for Coverdale. Whitesnake hits have spanned nearly five decades. Coverdale didn't slow down all night, he went from one end of the stage to the other, all night long, whilst belting out the vocals all night, amidst changing his custom Whitesnake stage shirts.
Coverdale has a great backing of talented musicians on this tour, the same as "The Purple Tour".  With of course the legendary Tommy Aldridge on drums. The very talented Reb Beach and Joel Hoekstra on guitar, Michele Luppi on keyboards and Massachusetts native Michael Devin on bass. A combination of these musicians make the sound and songs of Whitesnake timeless, they have continued to carry the Whitsnake torch of musicians before them. David Coverdale remains unchanged of years gone by, he still looks and moves the same as we once watched from the MTV videos in the days of the 80's.
Reb Beach blasted out the guitar solos of Whitesnake songs, note for note. While Joel Hoekstra works the stage with his his custom Gibson guitars, flying around the stage with great feeling and high energy. It is apparent that all these musicians are having the time of their lives up on the stage with the legendary David Coverdale.
In come the guitar solos. Reb Beach started things off with a blazing solo. Reb takes the stage in reserved fashion, although his playing is off the wall and just makes you say "whoa".  Reb is an amazingly talented guitarist who has played with Winger, Dokken, Alice Cooper and more. Joel Hoekstra took over the second portion of the solo session. Joel Hoekstra has played with Night Ranger, Trans Siberian Orchestra and recently released a solo project titled Joel Hoekstra's 13 "Dying to Live", which is a great album by the way. Joel killed it with the second portion of the guitar solos and included a bit of classical acoustic guitar that sounded crisp.
What rock show would be complete without a bass and drum solo? Michael Devin came off with a bass solo with a raw Geezer Butler bass sound that was reminiscent of early Sabbath. Of course we have the drum solo. Tommy Aldridge played drums like a twenty year old and sound just rolled right through the venue with such power. Aldridge still remains a well respected and top drummer industry. Aldridge tossed away the sticks and used his hands to finish off the drum solo. Overall a group of amazing musicians who are an asset to the sounds of Whitesnake.
Whitesnake is still out on the road. Check them out at a city near you. You will not be disappointed. They will bring you a show like it is 1987 all over again.
Set list from the night:
-Bad Boys
-Slide It In
-Love Ain't No Stranger
-Deeper The Love
-Fool For Your Lovin'
-Sailing Ships
-Judgement Day
-Cryin' In The Rain
-Is This Love
-Gimmie All Your Love
-Here I Go Again
Encore:
-Still of the Night
Click here to go to the Official Whitesnake webpage for more tour dates and info.