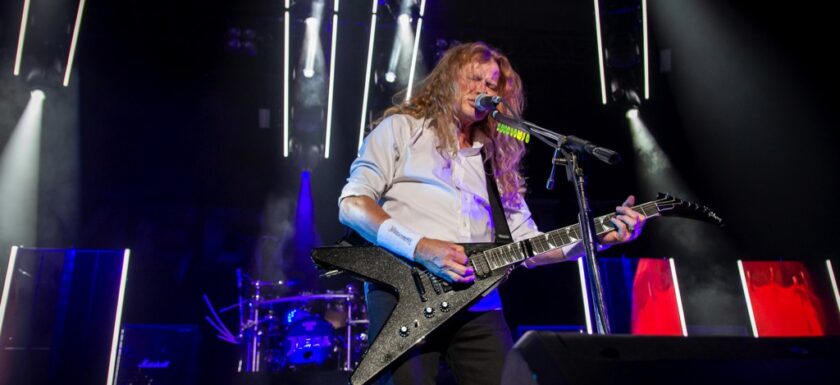 THE METAL TOUR OF THE YEAR
Featuring Megadeth and Lamb Of God
With Special Guests Trivium and Hatebreed
Leader Bank Pavilion
Boston, Massachusetts
September 13, 2021
Photos & Review by Dan Wenc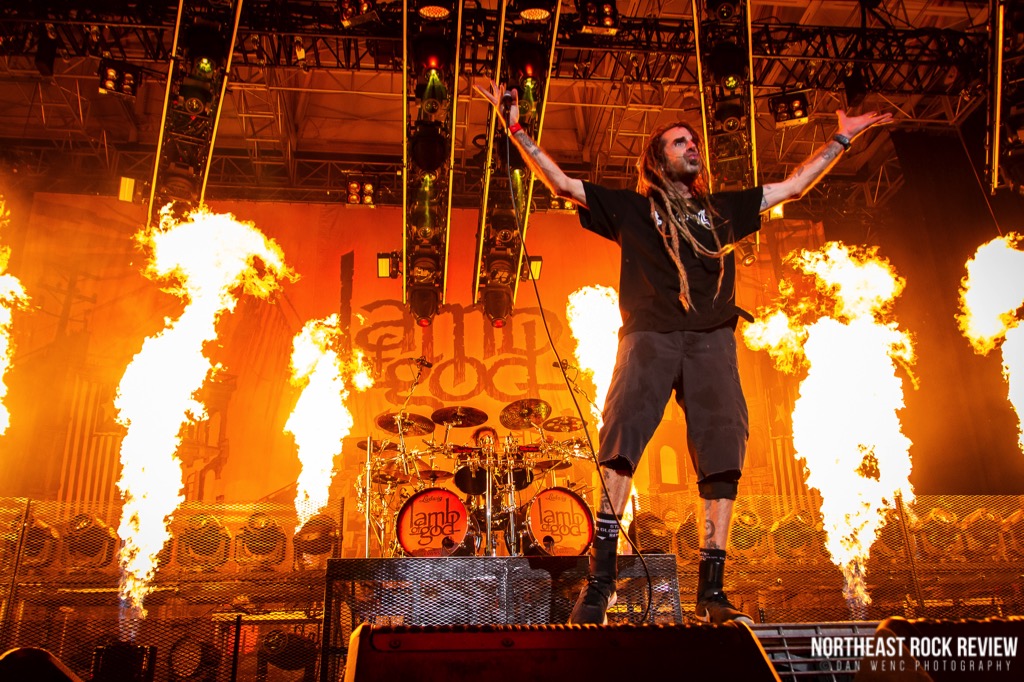 BOSTON, Mass. – It was the 16th stop out of 29 along The Metal Tour of the Year. Once you experience this show you will know that the performance authenticates the title, these four metal bands all on one bill is a ticket that is well worth its value. The co-headlining tour that features Lamb of God and Megadeth made its way to the most eastern end of the United States, along the waterfront of Boston Harbor at the Leader Bank Pavilion, an outdoor amphitheater in front of a sold out crowd of 5,200 metal heads. The night consisted of nearly five hours of raw metalcore and thrash. Special guests included this night were Hatebreed and Trivium. In Flames was originally supposed to tour, but they were unable to partake in the tour.
Hatebreed started the night off with a powerhouse performance, firing up the crowd right out of the gate. Their twelve song set, 35 minute performance kicked off at 6 p.m.  Hatebreed is local to New England, hailing from Bridgeport, Connecticut. Hatebreed is Jamey Jasta (vocals), Chris Beattie (bass), Frank Novinec (guitar), Wayne Lozinak (guitar) and Matt Byrne (drums).
HATEBREED photo gallery
It was still early in the night, Trivium was next up, continuing the high octane momentum of the night with an auditory display of hardcore metal, a set that left the audience wanting more. Trivium put on an eight song set. Trivium is Matt Heafy (lead vocals, guitar), Corey Beaulieu (guitar), Paolo Gregoletto (bass) and Alex Bent (drums).
The night of musical madness continued. At that point, if you were there and you weren't fired up yet, you were definitely in the wrong place. Regardless of who you came to see, all bands collectively or one band in particular, each put on a stellar performance that energized the crowd. There were no low moments in the show, it was a full speed ahead, amazing performance by each band that could be appreciated by all.
TRIVIUM photo gallery
If things weren't crazy at this point, next up was Lamb Of God bringing the night's energy to a whole other level under the direction of frontman Randy Blythe. Not just music, it was energetic stage theatrics throughout the full set of raw metal with amazing lighting, smoke, and a pyro show where the heat could be felt from the furthest ends of the venue. The set was full tilt from beginning to end. I had never seen Lamb of God perform live before and I have been to a few hundred concerts, I was completely blown away at the level of intensity they play at and the way that they electrified the crowd. At the end of the set when the music was done, the crowd was not. Roars of the crowd continued after completion of the final song. No shortage of energy in this performance, the audience was on fire.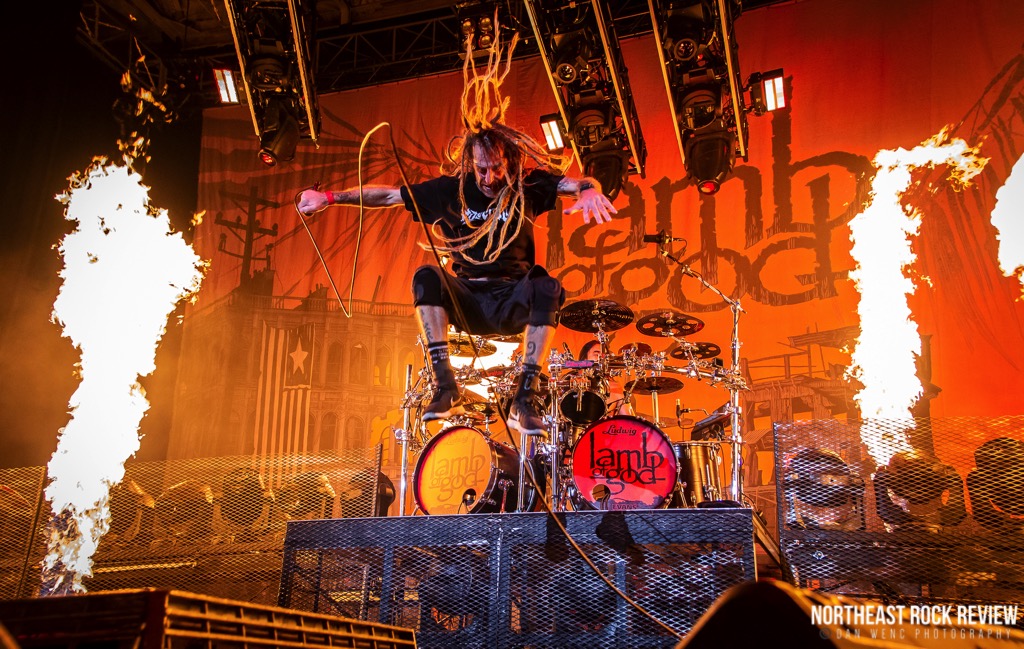 Lamb Of God is, Randy Blythe vocals and keeper of the crowd energy, Mark Morton (guitar), John Campbell (bass), Willie Adler (guitar) and Art Cruz (drums).
Lamb Of God set:
Memento Mori
Ruin
Walk With Me in Hell
Resurrection Man
Now You've Got Something to Die For
Set to Fail
New Colossal Hate
512
Vigil
Contractor
Laid to Rest
Redneck
LAMB OF GOD photo gallery
In all my time of attending concerts, Megadeth was just one of those bands that for one missed reason or another I had never seen until now. Not on purpose, things just never came together when Megadeth came around. It was finally time, after all, Megadeth had been in my music collection since middle school. My first Megadeth cassette, "Peace Sells… but Who's Buying. Megadeth was an integral part of my 80s kid music collection.
The performance was everything that I would have expected. The grand stage set up, a wall of Marshall amps and probably one of the highest drum risers I've seen live in the past twenty-five years. While the 80s were the time of origin for Megadeth, Mustaine's musical works have transcended the past four decades, producing new albums on a fairly regular basis, with fifteen studio albums to date. Megadeth fans are eagerly awaiting the release of The Sick, the Dying… and the Dead!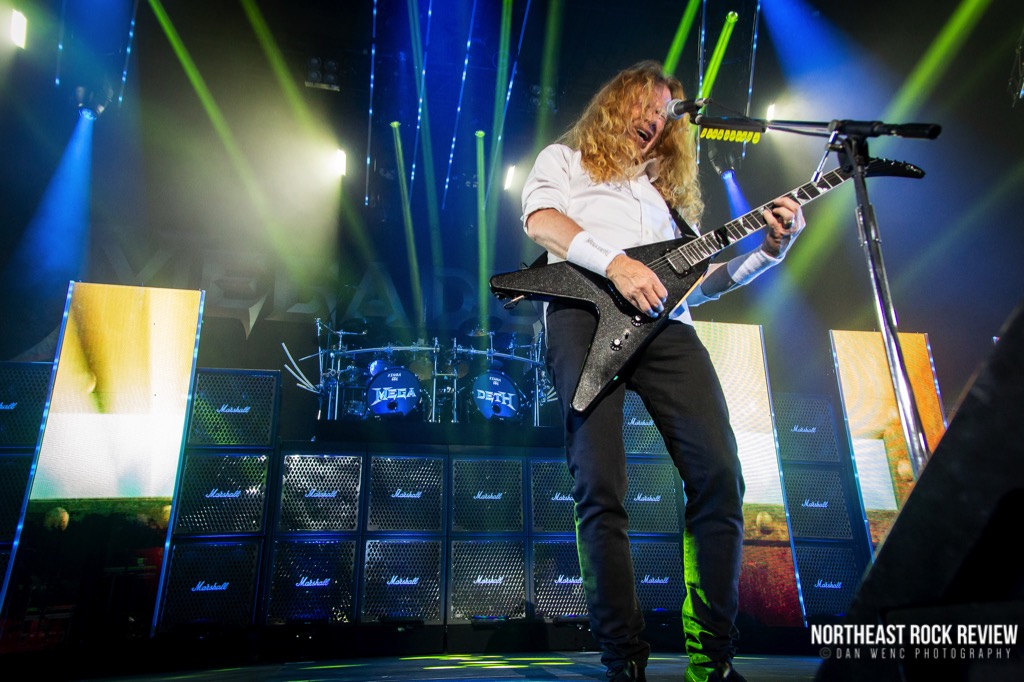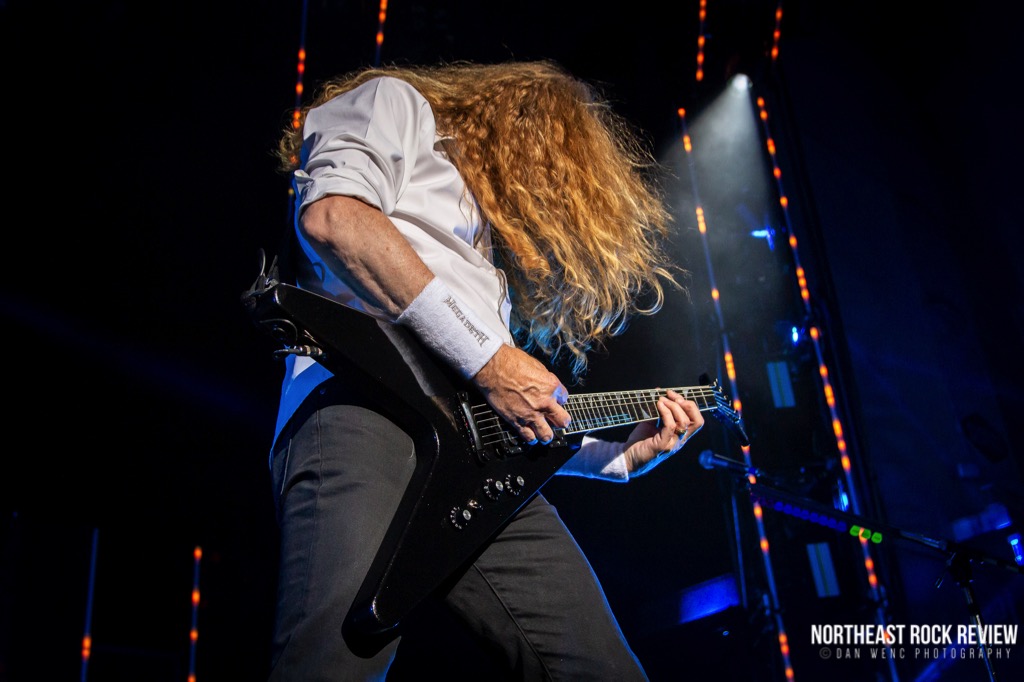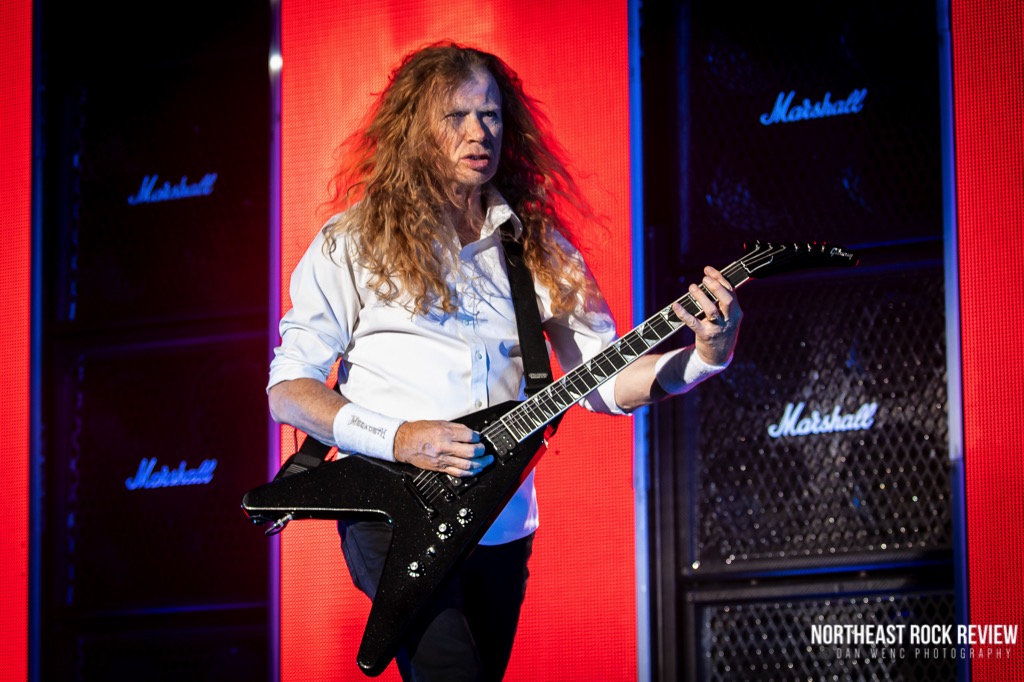 The metal legend, Dave Mustaine took the stage wearing a white button up shirt, with white Megadeth sweatbands on each wrist and an iconic Gibson Flying V guitar at his front. The audience consisted of a wide range of ages, from the younger to the older metal fans and everywhere in between, it was an experience for all to join together and celebrate metal in its purest form.
The night started off with "Hangar 18" from the 1990 Rust In Peace. Then it was right into something newer with, "The Threat is Real" from the 2016 Dystopia album. Followed by "Sweating Bullets" from Countdown to Extinction. Mustaine and company pulled you right into the music, through the sound of the precision drumming and thrashing guitar riffs of that is the Megadeth sound. Megadeth has had its assortment of band members through the years, accompanying Mustaine and his Megadeth machine is Kiko Loureiro on guitar, since 2015, Dirk Vebeuren, since 2016 and James LoMenzo on bass. LoMenzo's musical resume includes being the bassist of White Lion, in addition to performances with Zakk Wylde, Black Label Society, David Lee Roth, to list a few. This performance and the energy that it exuded was everything that a metal show was all about. The night continued through an assortment of Megadeth artistries. Unfortunately time was limited for the night. There were so many more songs from the Megadeth collection that we could have hoped to hear, but it was a great set as it was.
On occasion in between songs the audience would break into an impromptu singing of "Happy Birthday," it was the Dave Mustaine's 60th birthday that night and the Boston crowd was happy to be celebrating with him that evening.
MEGADETH photo gallery
Megadeth Set:
Hangar 18
The Threat Is Real
Sweating Bullets
She-Wolf
Trust
Conquer or Die!
Dystopia
Tornado of Souls
The Conjuring
Symphony of Destruction
Peace Sells
Holy Wars… Punishment Due
At the end of the show Dave Mustaine was treated to his onstage birthday celebratory honors, with "Happy Birthday to You" and with a stream of video clips from assortment fellow musicians and friends wishing him happy birthday playing on the stage screens. On stage, Mustaine watched the videos being played, taking in the birthday wishes.
It was a great night. Catch this tour while you can!
For more visit: https://www.metaltouroftheyear.com
Megadeth: https://megadeth.com
Lamb of God: https://www.lamb-of-god.com
Trivium: https://www.trivium.org
Hatebreed: https://www.hatebreed.com