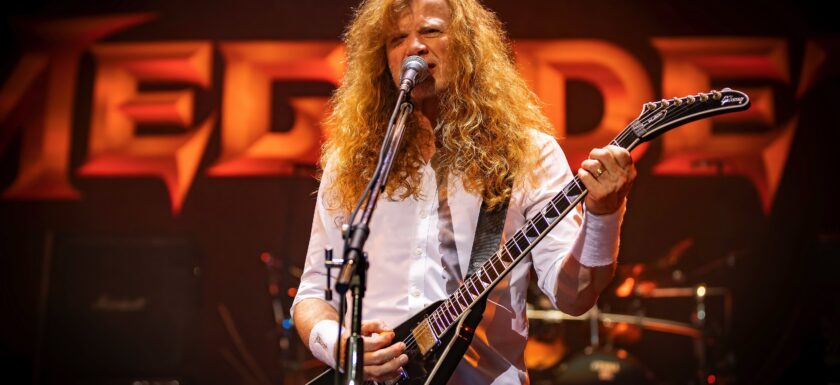 THE METAL TOUR OF THE YEAR 2022 – PART II
MEGADETH | LAMB OF GOD
TRIVIUM | IN FLAMES
Mohegan Sun Casino Arena
Uncasville, Connecticut
May 13, 2022
Photos & Review by Tom Bogus
UNCASVILLE, Conn. – The Metal Tour of the Year 2022 made its way to the Mohegan Sun Arena with the amazing lineup of In Flames, Trivium, Lamb of God and Megadeth. A lineup of this magnitude ensures a great show.
In Flames, one of Sweden's melodic death metal pioneers, kicked the night off with "Cloud Connected," from their 2002 Reroute to Remain album. The band consists of Anders Fridén (vocals), Björn Gelotte (lead guitar), Niclas Engelin (rhythm guitar), Tanner Wayne (drums) and Bryce Paul (bass guitar). Currently, Nicolas Engelin is on hiatus and not on this tour. Former Megadeth guitarist Chris Broderick has been filling in for live shows on this tour and previous live shows since 2019.
Their 8 song setlist did a good job covering the bands vast catalog of material. They played old material from their first album Lunar Strain to their latest album, I, The Mask. They ended their set with "Take This Life" from their 2006 Come Clarity album. The album won the award for "Best Hard Rock Album" at the 2007 Swedish Grammis, and was named the best Swedish album of the past decade by readers of Swedish newspaper "Aftonblade," which is considered one of the largest newspapers among the Nordic countries.
IN FLAMES photo gallery
Trivium was up next, and they opened up their seven song set with the title track off their most recent album, In the Court of the Dragon, which was released in late 2021. In addition to the new songs, Trivium also performed some classics such as "Throes of Perdition," "Rain" and "Pull Harder on the Strings of Your Martyr." Originally, "Pull Harder on the Strings of your Martyr" was not on the setlist, but it replaced "Feast of Fire" because singer/guitarist Matt Heafy was not feeling well. Guitarist Corey Beaulieu took over vocals for that song and did an excellent job. Even though Matt was not feeling good, he and his band put on a very high energy show. They ended their set strongly with "In Waves," which is truly my favorite song off the "In Waves" 2011 album release.
TRIVIUM photo gallery
Lamb of God hit the stage at about 8:15 pm, opening with the slow building "Momento Mori" from their 2015 release VII: Sturm und Drang. The stage was dark with a black curtain baring the band's name covering the front of the stage. A loud explosion occurred, the curtain dropped and the band kicked in. A large circle pit formed on the floor and the rest of the fans in the seats stood up. This set the tone for what was to come.
Lamb of God is one of the most electrifying live metal bands you can see these days. Randy Blythe is one hell of a frontman and fellow bandmates Mark Morton (lead guitar), John Campbell (bass guitar), Willie Adler (rhythm guitar) and Art Cruz (drums) are incredible musicians. The intensity of the crowd grew more and more as they went on to play some early cuts like "Ruin," "Walk With Me In Hell," Now You've Got Something to Die For" and "Laid To Rest". They closed out their energy filled set with my absolute favorite Lamb of God song "Redneck".
LAMB OF GOD photo gallery
The legendary Megadeth took the stage at approximately 10pm and opened their set with"Hangar 18," a masterpiece from their 1990 "Rust in Peace" album. Although tired from the onslaught of the last three bands, the fans had energy in reserves and it showed from their energetic response.
Megadeth was formed in 1983 in Los Angeles by Dave Mustaine (guitars) and David Ellefson (bass guitar) and has had several lineup changes over the many years they were together. The current lineup is original member Dave Mustaine (lead vocals, guitars), along with Kiko Loureiro (guitars, backing vocals), Dirk Verbeuren (drums), and newly back in the lineup James LoMenzo (bass guitar, backing vocals).
The band played its most memorable tracks from their earlier albums, such as "Peace Sells…. but Who's Buying?," "The Conjuring, "Sweating Bullets" and "Angry Again." They also played some newer tracks such as "Conquer or Die!." "Dystopia," and "Dread the Fugitive Mind" They closed with the ultimate trinity with "Symphony of Destruction," "Peace Sells,"and last but not least "Holy Wars… The Punishment Due."
This was an incredible show. All bands sounded and performed great even though this tour has been plagued with issues regarding Covid-19.
MEGADETH photo gallery
SETLISTS:
IN FLAMES:
1. Cloud Connected
2. Behind Space
3. Everything's Gone
4. Where the Dead Ships Dwell
5. Call My Name
6. All for Me
7. I Am Above
8. Take This Life
TRIVIUM
X (playback)
1. In the Court of the Dragon
2. Like a Sword Over Damocles
3. Beyond Oblivion
4. Throes of Perdition
5. Rain
6. Pull Harder on the Strings of Your Martyr
(Corey on lead vocals)
Capsizing the Sea (playback)
7. In Waves
LAMB OF GOD
1. Memento Mori
2. Ruin
3. Walk With Me in Hell
4. Resurrection Man
5. Now You've Got Something to
Die For
6. Contractor
7. 11th Hour
8. 512
9. Ghost Walking
10. Vigil
11. Laid to Rest
12. Redneck
MEGADETH
Prince of Darkness (playback)
1. Hangar 18
2. Dread and the Fugitive Mind
3. Angry Again
4. Conquer or Die!
5. Dystopia
6. The Conjuring
7. Sweating Bullets
8. A tout le monde (Tour debut)
9. Trust
10. Symphony of Destruction
11. Peace Sells
12. Holy Wars. The Punishment
Due
Silent Scorn (playback)
My Way (Sid Vicious version)
Shadow of Deth (playback)