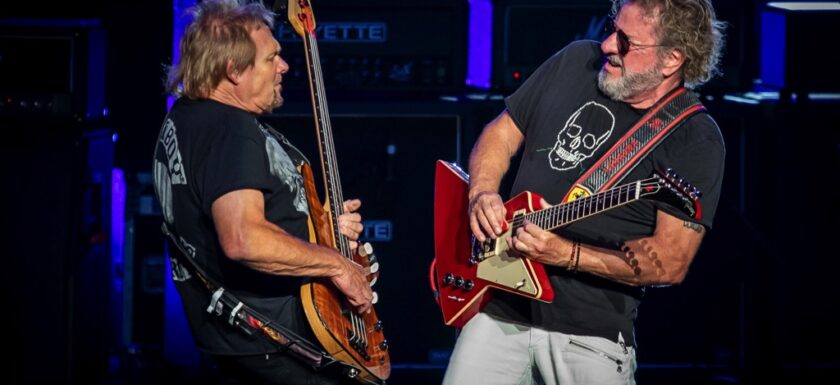 SAMMY HAGAR & THE CIRCLE
With George Thorogood & The Destroyers
Crazy Times! Tour
Xfinity Center
Mansfield, Massachusetts
June 13, 2022
Photos & Review by Dan Wenc
MANSFIELD, Mass. – "Summer Nights", the Hagar era Van Halen song, best described a night like this, an outdoor party on a comfortable eighty-something degree evening, under a full moon at the Xfinity Center in mid-June. It was a Monday night, the Celtics were playing game 5 in the NBA finals this night, but that didn't stop a few thousand music fans from showing up to this party in Mansfield. The venue, weather, music and the overall atmosphere were the perfect mix for good time.
Sammy Hagar & The Circle were out on the road this summer along with George Thorogood and the Destroyers on the Crazy Times! Tour.
Serving up the first round of musical bourbon, scotch and beer, was the bluesy rock riffs and the voice of George Thorogood and The Destroyers, taking to the stage around 7:30 PM with a nine song to start the mood off right. First up was "Rock Party", an appropriate song to begin the night. Next was the Bo Diddly cover of "Who Do You Love?", which Thorogood originally covered in 1978 on the Move It On Over album.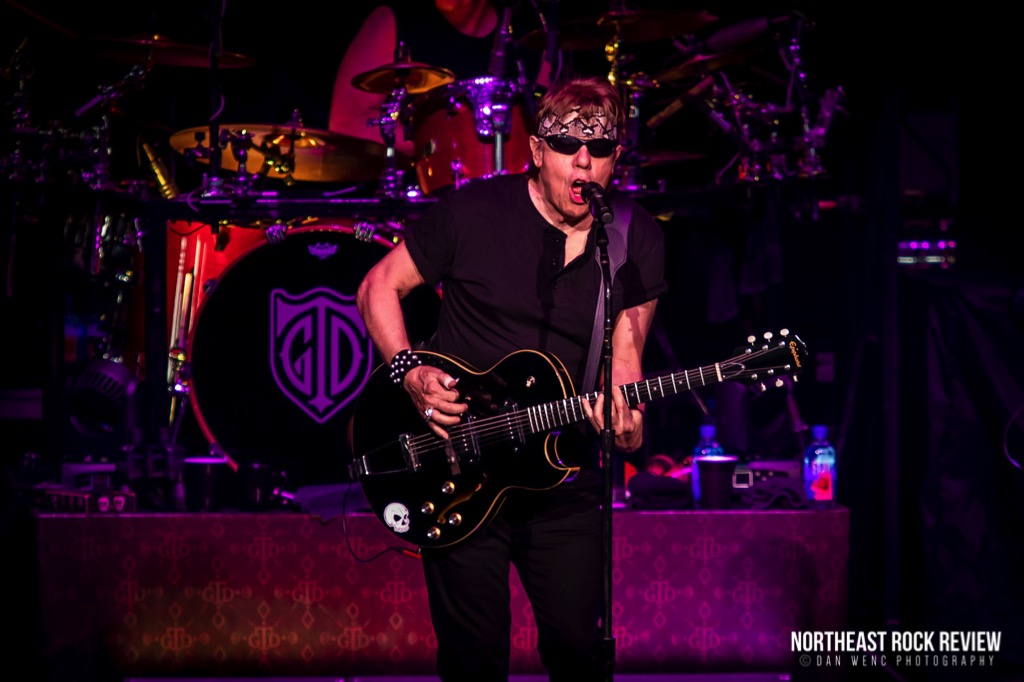 The Destroyers are Jeff Simon on drums, Billy Blough on bass, Jim Suhler on guitar and Buddy Leach on sax. Thorogood set the tone for the night with a set full of good time rock and roll music. Thorogood worked his guitar, along with his slide guitar work, gritty vocals behind each iconic song. The remainder of the good time party music set included, "Shot Down," "Night Time," and then it continued into "I Drink Alone," "House Rent Blues / One Bourbon One Scotch One Beer," "Gear Jammer," "Move It On Over," and closed out with "Bad to the Bone."
GEORGE THOROGOOD & THE DESTROYERS photo gallery
Next up was Sammy Hagar & The Circle with a serving of musical tequila. Sammy Hagar, best known for time as Van Halen frontman, Montrose, his solo work, to include the well known "I Can't Drive 55," with a musical resume, spanning the past 50 years, there was so much music to celebrate and I couldn't wait to see what was in store for the night.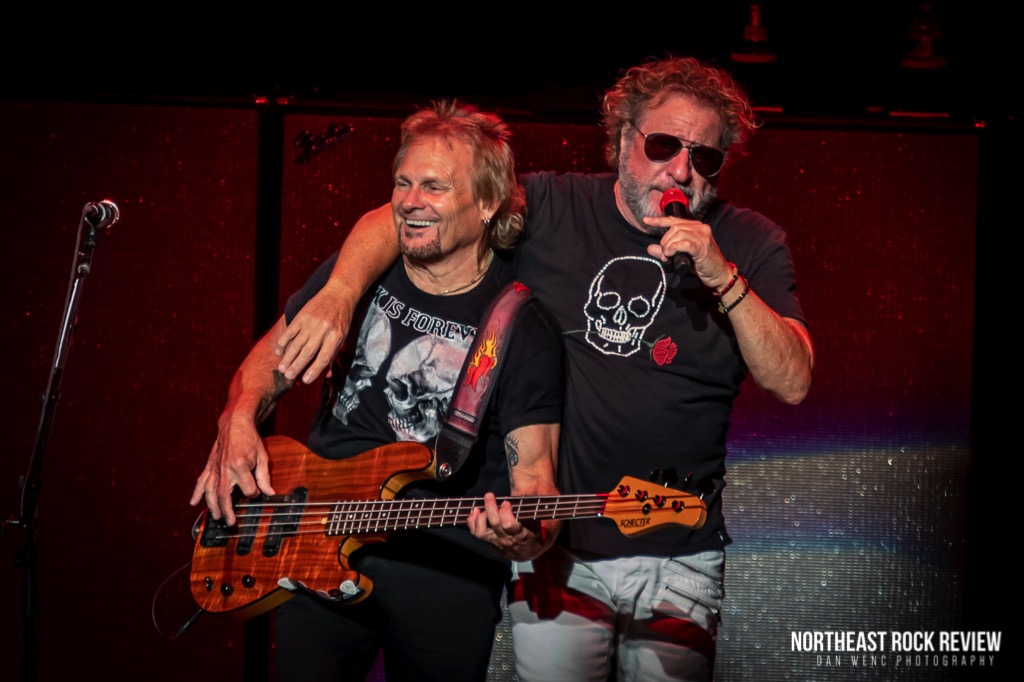 The Circle is comprised of Hagar's former Van Halen partner, bassist Michael Anthony, along with Jason Bonham on drums and Vic Johnson on guitar, who has been with Hagar since around 1999.
Thirty-four years ago I saw this half of Van Halen for my first concert on the OU812 tour, it was awesome to see them together once again and hear them play those songs live one more time.
The lights went down, the seats were filled, the sounds of Van Hagar's "Summer Nights" played on a recorded track. The lights went up, one by one, everyone took their spots on the stage. Hagar entered the stage like he was showing up to a party with a bunch of old friends that he hadn't seen in a while. The crowd rose up from their seats, Sammy and company were met with swells of cheers from the crowd. The energy was high from this moment and would carry all through the night. The Red Rocker, Sammy Hagar was in the house, wearing mirrored sunglasses, white pants and a black t-shirt, he was all smiles through the night.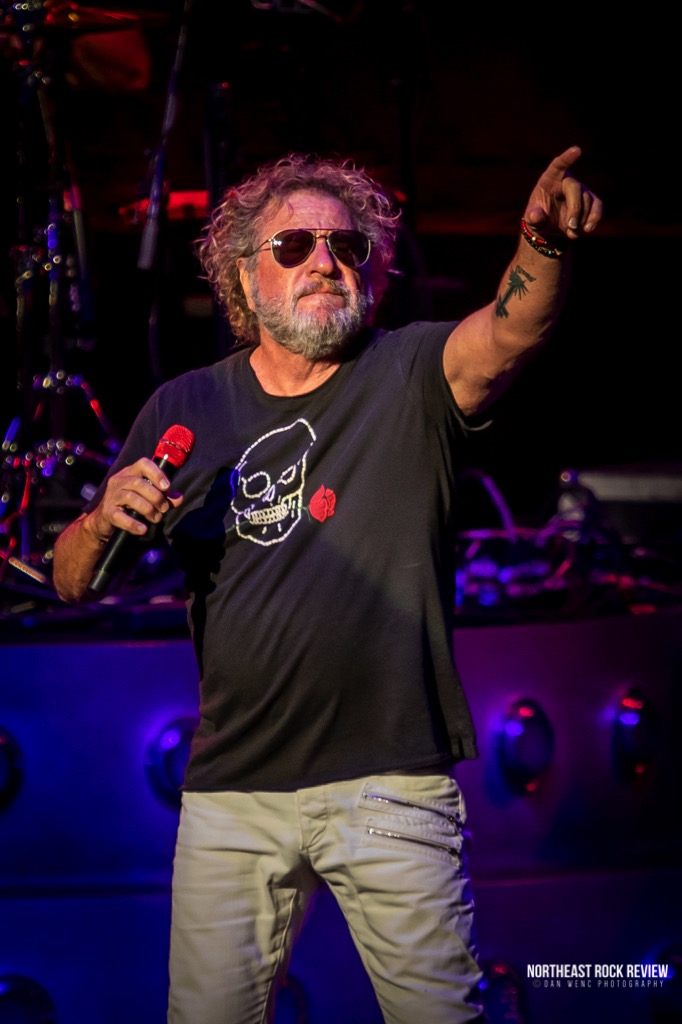 "There's Only One Way To Rock" would start off the night. Hearing that classic rock song was like a roller coaster ride, hearing it played live once again, it was so powerful and was a great first song choice. Hagar remains to be one of the most genuine and energetic front man from the early 80s rock era, still out there going strong. Hagar defies the idea of age, a good reminder that age is just a number and Hagar shows that it is all about how you feel and live your life. It could be a combination of the music, Cabo and his custom line of alcohol products, to include tequila and rum products, Sammy's Beach Bar & Cocktail Co. Whatever the secret to his youthful energy, Hagar is living a good life, this night we were graced with his rock icon status bringing us the music that we all still love.
Next up was "Poundcake" from the 1991 Van Halen For Unlawful Carnal Knowledge album and then into a Hagar original, "Three Lock Box." Hagar and Anthony have been performing together through the years together since Van Halen, they have great chemistry between them as it was evident on stage. Throughout the night Hagar and Anthony could be seen exchanging laughter, smiles and talking between them. Two guys who looked like they were still having the time of their lives up there. And we were too in the audience. Such a fun show. The night kept rolling along with hit after hit, a great set list that incorporated Hagar variations. "Top of the World," "Rock Candy," and "Finish What Ya Started" would carry the to almost halfway of the night.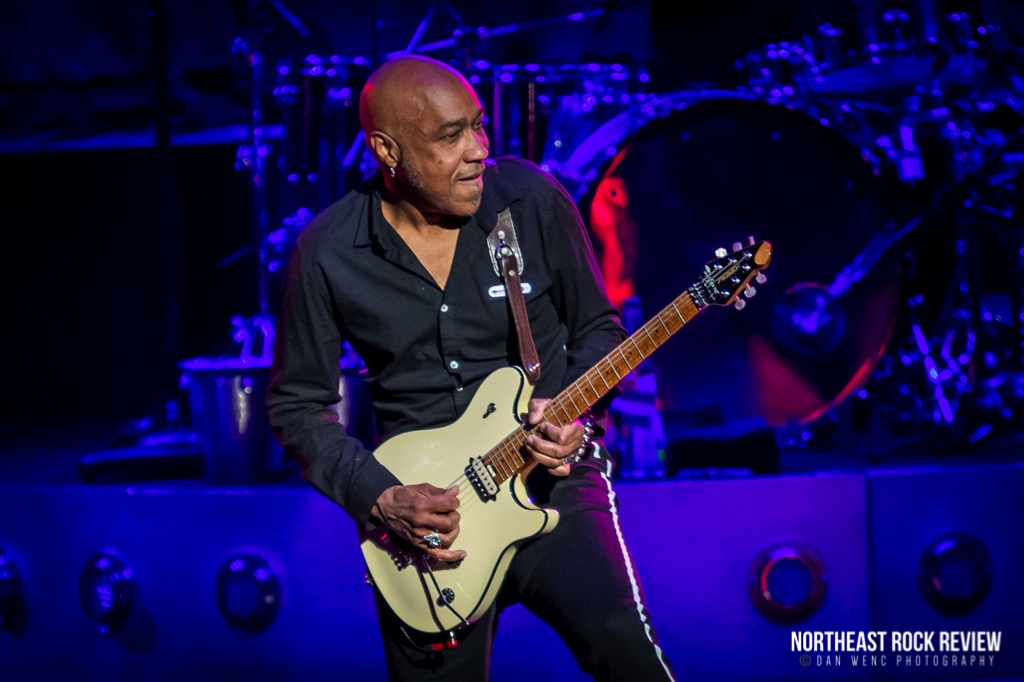 A Sammy Hagar and the Wabos, "Mas Tequila" would bring Hagar to be come a bartender of sorts, handing out some of his brand tequila to a few in the front row, pouring drinks through the set.
Hagar announced, 1983 and went into "Your Love Is Driving Me Crazy" another Hagar solo hit that will be sure to singing in your head for the days following. A song that would become part of Hagar's autograph session, as members of the front row audience era were handing items to Hagar and he would sign them and return them. Just a great guy, and such a great experience as a concert goer. Item after item, clothing, photos, all kept being handed up on stage and Hagar would sign it all. Concluding the song, a large banner was unraveled by Anthony and Hagar sent to the stage from the crowd that read, I'm 10 years old and I f-n love Sammy & The Circle, that young fan ended up with the banner getting signed and returned back. The momentum was going strong, the songs were intense, and pretty sure the volume was getting louder with Van Halen, 5150 era, "Best of Both Worlds." These songs never get old.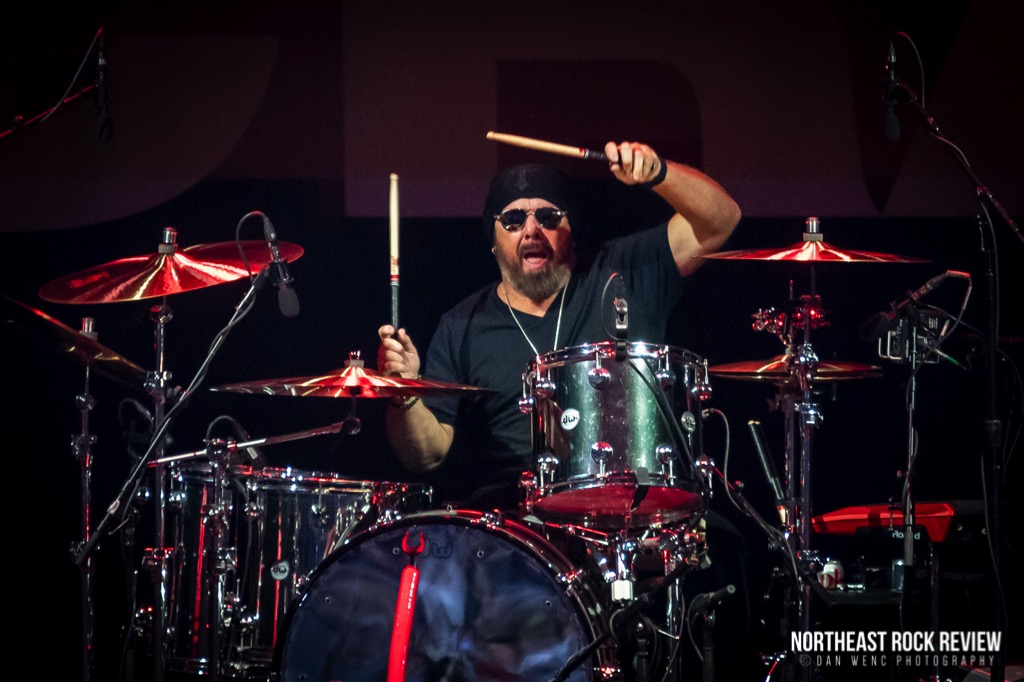 In between songs, Hagar spoke with Jason Bonham, son of Led Zeppelin drummer John Bonham. Bonham spoke about how it was great to be in Massachusetts and that his daughter went to school here and son in law from the area who lives here, and met his father for the first time that night. Bonham then broke off and went into Zeppelin classic, "Rock and Roll." Anthony assisted with vocals on this song, as Hagar continued to traverse the stage signing autographs.
Then it was time for Anthony to take the lead vocals for Van Halen classic, "Unchained." This was awesome, this moment was one of many that made the night. The energy was intense, the crowd was loving it and the night still wasn't over.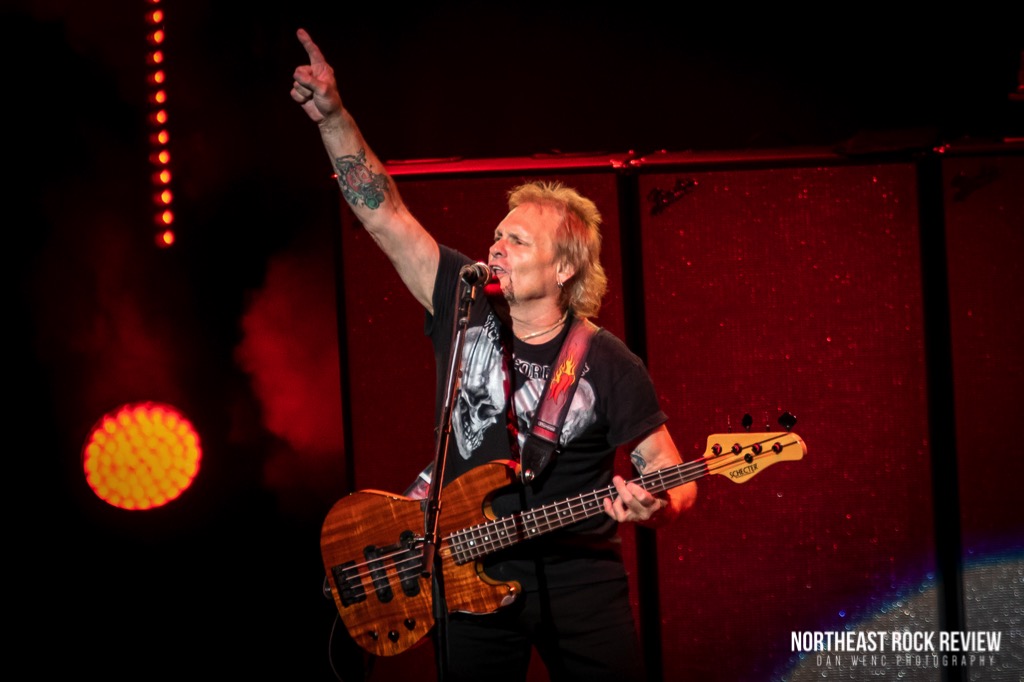 "Why Can't This Be Love," "Right Now," "Heavy Metal," closing out with "I Can't Drive 55," and "When It's Love" concluded this great night. This was the ideal summertime concert experience. Sammy & The Circle are a great blend of musicians on one stage, playing some of the timeless hits from the greatest era of music.
SAMMY HAGAR & THE CIRCLE photo gallery
Catch this tour out on the road in 2022. For more info and tour dates, visit: http://www.redrocker.com/circle
For more on George Thorogood and The Destroyers, visit: https://www.georgethorogood.com