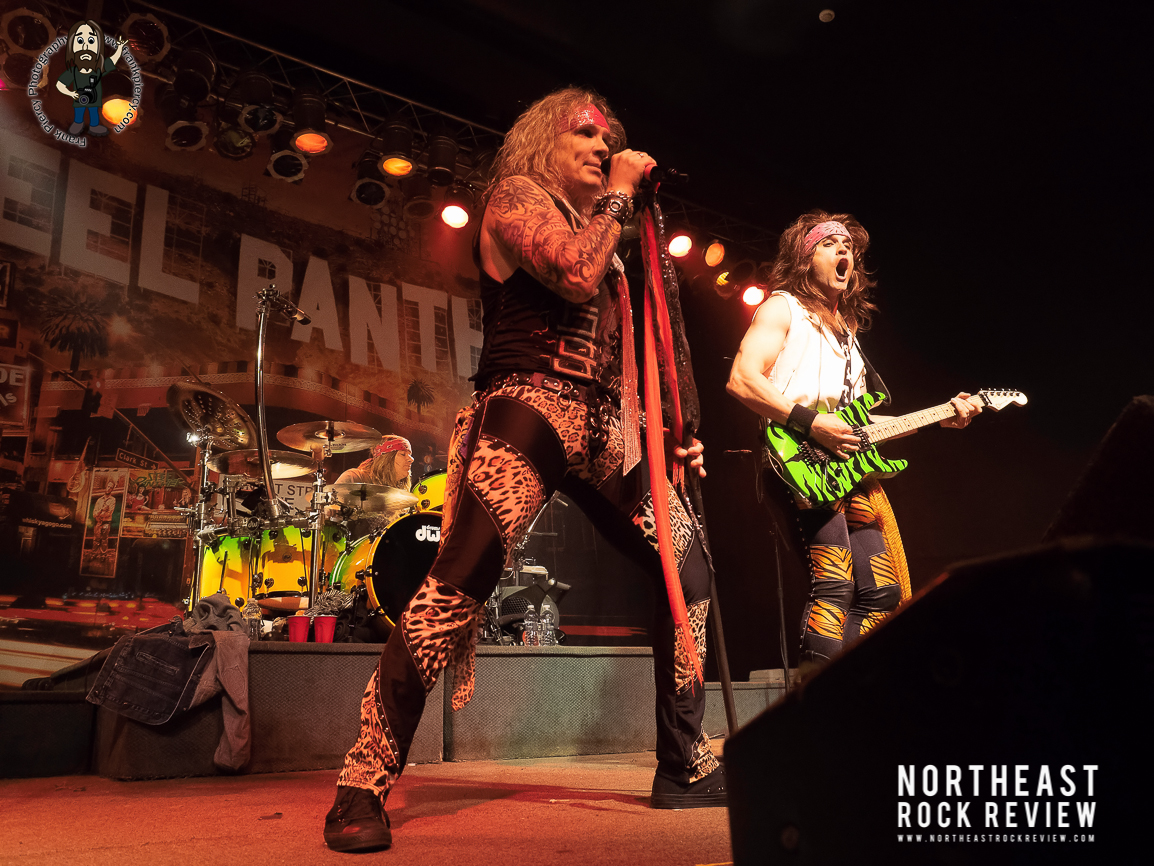 STEEL PANTHER
Webster Theater
Hartford, Connecticut
April 29, 2018
These days it hasn't been to often I have seen the Webster packed to the gills and when I pulled up to the venue before the doors opened and saw a line stretching around the building I knew it was gonna a great evening and a packed house.
I was smart enough to buy my son and I meet n' greets with Steel Panther and that included early entry into the Webster, at least he was going to have the rail for his first full length Steel Panther show.
Opening for the Mighty Panther that night was a local band called In The Red. A Hard Rock / Heavy Metal band with a wide range of influences, from Killswitch Engage to Godsmack and even to Seether. A four piece outfit consisting of Cody Place on lead vocals, Pete Rizzo on guitar and vocals, John Halligan on drums and vocals also. At the time their bassist was Art Pelletier, but just this week they announced a new bassist, the talented guitarist, Desiree Apolonio Bassett. This should be interesting.
IN THE RED
They put on a short set, about 30 minutes or so of music and were well received by the crowd. Very energetic and all over the stage, I do recommend them if they play near you.
Steel Panther – What can I say about them that hasn't been said before?
The night started off with "Eyes of a Panther" with Lexxi and Satchel standing on either side of the drum set while Michael came prancing out in true 80's front man style. Followed by "Going in the Backdoor" off of their latest album "Lower the Bar" then the fun began.
Before they launched into Van Halen's "Jump" they teased us with a snippets of Van Halen and Guns n Roses, with Michael doing his best Axl impression before the introductions started and then the fun started. Crowd favorite "Fat Girl (Thar She Blows)" had everyone singing along but not as much as "Crazy Train" did. Another nod to "Lower the Bar" with one of my favorites "Poontag Boomerang"
Satchels guitar solo was next, playing snippets of Black Sabbath's Iron Man and more 80's Metal classics before going into everyone's favorite song from "The Sound of Music", "Do Re Mi", all the while standing at the drum kit banging out on the bass drum.
This is where the audience participation part really started to ramp up, as they brought a young lady unto the stage to sing her a song, I forget what her name was. All four of the guys came to the front of the stage for a slow song, "Girl from Oklahoma"
Once more hearkening back to their cover tune days, they play Bon Jovi's "Living on a Prayer" then Def Leppard's "Pour Some Sugar on Me" before calling all the girls up on stage for another crowd favorite, "Glory Hole". The evening was coming to a close as they played their last two songs, "Community Property" and one of the best anthems out there, "Death to all but Metal".
As the crowd roared and chanted for Steel Panther, they came back onstage to play one more song, "Party All Day (Fuck All Nite)".
Steel Panther put on a great show full of music and comedy, although this time they added more cover songs to the set list. This is one of those bands, that you can only truly appreciate if you see them live. It is one thing to listen to their music, but without seeing the onstage antics, like Lexxi fixing his hair or make up to Satchels gesture to the audience or just hearing the banter back and forth and the interaction with the audience, your missing the whole package.
STEEL PANTHER
Photos and Review by Frank Piercy at frankpiercy.com