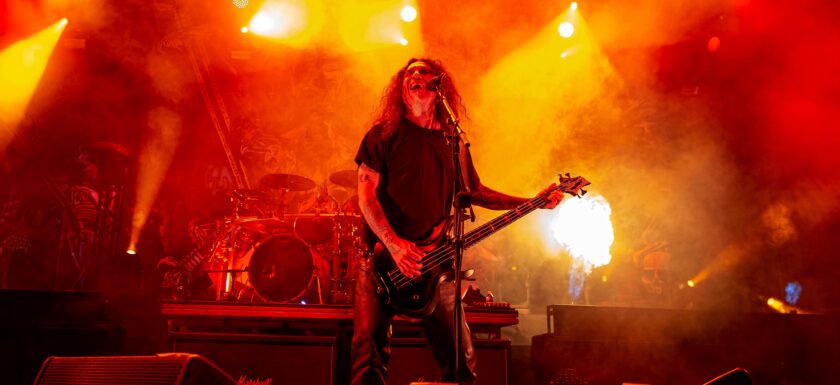 SLAYER
with Cannibal Corpse, Amon Amarth & Lamb of God
Xfinity Center
Mansfield, Massachusetts
May 25, 2019
Photos & Review by Tom Bogus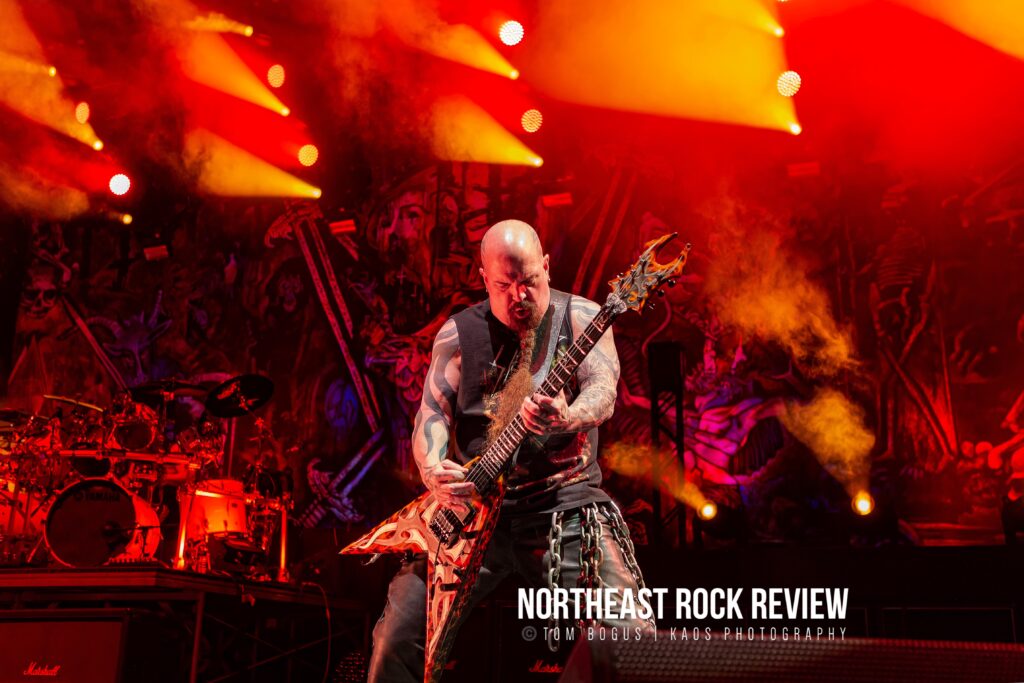 It was a perfect evening for a metal show up in Mansfield Massachusetts on May 25th. Cannibal Corpse, Amon Amarth and the infamous Lamb of God did an amazing job warming the crowd up for the mighty SLAYER! The legendary metal band was about to perform at the Xfinity Center on their Final World Tour. This night would mark the final performance on the Unites States portion of this tour.
CANNIBAL CORPSE Photo Gallery
AMON AMARTH Photo Gallery
LAMB OF GOD Photo Gallery
Prior to set up, the crew placed a black curtain in front of the stage so nobody can see them setting up the stage. At 9:30PM the house lights go out and a playback of "Delusions of Savior" plays over the P.A. Speakers. White lights project from the back of the stage creating images on the black curtain. First images of crosses and then with spinning Slayer emblems. After a few blasts of pyro behind the curtain, the white lights projected the word SLAYER across the whole curtain. As the crowd went crazy, the curtain dropped and they opened up with "Repentless", the title track off of their 2015 release "Repentless".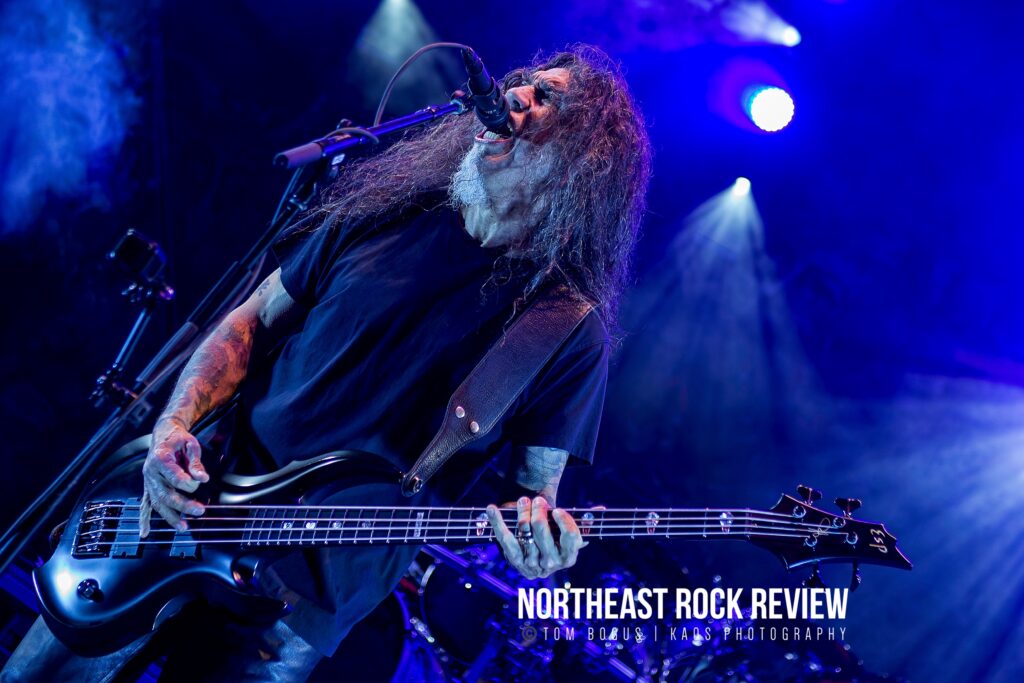 Slayer has never been the band to talk much on stage, so they wasted no time going through it's 20 song set list spanning Slayer's 38 years of existence. They played all the crowd favorites and hits like "Disciple", "Hell Awaits", "Chemical Warfare", "South of Heaven", "Seasons in the Abyss", "Dead Skin Mask", "Raining Blood" and a few others. The show was full of fire and fog. Slayer definitely did not spare any expense when It came to pyro. They ended the night with "Angel of Death" and at the end of the song the house lights came on. The band handed off their instruments and came to the front of the stage throwing out guitar pics and drumsticks to the crowd.
Singer/bassist Tom Araya stayed on stage after the band left the stage. He went from one side of the stage to the other side just looking at the audience. You can see the waves of emotion across his face knowing this was the last time they will not only play Massachusetts again, but the United States again. This was the last US date on the tour. He went to the microphone and said "Thank you" then "I'm going to miss you guys" and walked off stage.
I've seen Slayer several times over the years, and this has been the best show I've seen them do. They played flawlessly. There is no doubt their last show here was amazing.
SLAYER Photo Gallery
Cannibal Corpse Setlist:
1. Evisceration Plague
2. Scourge of Iron
3. Red Before Black
4. I Cum Blood
5. Stripped, Raped and Strangled
6. Hammer Smashed Face
Amon Amarth Setlist:
1. The Pursuit of the Vikings
2. Deceiver of the Gods
3. As Loke Falls
4. Crack the Sky
5. Asator
6. First Kill
7. Twilight of the Thunder God
8. Raise Your Horns (with members of Slayer, Lamb of God and Cannibal Corpse)
9. Raven's Flight
10. Guardians of Asgaard
Lamb of God Setlist:
1. Omertà
2. Ruin
3. Walk With Me in Hell
4. Now You've Got Something to Die For
5. 512
6. Engage the Fear Machine
7. Blacken the Cursed Sun
8. Laid to Rest
9. Redneck
Slayer Setlist:
1. Repentless
2. Evil Has No Boundaries
3. World Painted Blood
4. Post Mortum
5. Hate Worldwide
6. War Ensemble
7. Gemini
8. Disciple
9. Mandatory Suicide
10. Chemical Warfare
11. Payback
12. Temptation
13. Born of Fire
14. Seasons in the Abyss
15. Hell Awaits
16. South of Heaven
17. Raining Blood
18. Black Magic
19. Dead Skin Mask
20. Angel of Death
For More Slayer News and Info, visit https://www.slayer.net