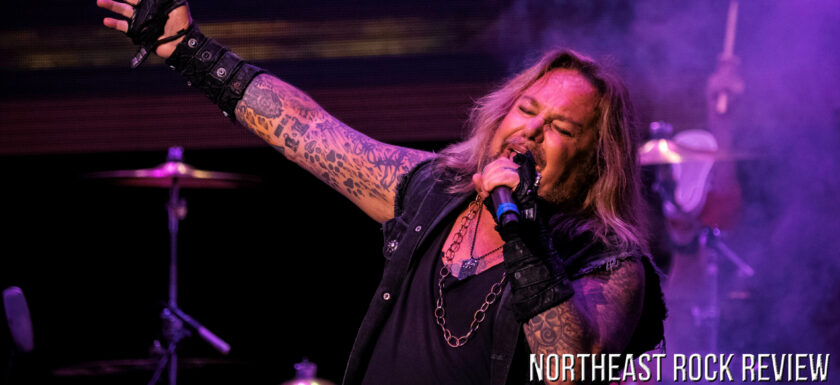 M3 ROCK FESTIVAL 2019 – DAY 3
BANG TANGO – DOKKEN – EXTREME – QUIET RIOT – SKID ROW – VAIN – VINCE NEIL – VIXEN – XYZ
Merriweather Post Pavilion
Columbia, Maryland
May 5, 2019
This year was more then just a first for me (first year officially covering M3) but also for M3, with the addition of a third day for the first time. That was something new and a lot of people were still very unsure about it and the fact it was cold and rainy didn't help matters much and neither did the new nightly after parties at the Sheraton (at least in my opinion), but we were there to Rock!!!
First up on the stage on Sunday was a group from San Francisco, Vain. With a small 30 minute set time and like so many other bands here, with more then enough songs to fill a normal set, the crowd was excited to see them as many sang along to songs like, "Who's Watching You/Beat The Bullet", "Icy" and "1000 Degrees" Consisting of Lead singer Danny Vain, Guitarists Dylana Nova and Joel Proto with Tom Rickard on Drums and Ashley Mitchell on Bass they were pretty tight for being the first band on stage today.
VAIN

As the crowd slowly filtered in… I think people were finally realizing they are 30 years past 18 and cant handle the booze like they used to be able to, but us diehards were there.
XYZ was another band that a lot of people were talking about before todays set, especially after Saturday nights acoustic set at the Sheratons after party. In true rocker fashion, Terry came bounding unto the stage and didn't stop for a 5 song set that was comprised of, "Take What You Can Get", one of my favorites "Face Down In The Gutter", "What Keeps Me Loving You", "After The Rain" and the crowd sing along song, "Inside Out". Vocalist Terry Ilous and bassist Pat Fontaine along with guitarist Tony Marcus and drummer Joey Shapiro, gave M3 a solid set especially for so early in the day after a very late night.
XYZ

One of the highlights of my morning was when I was standing out in front of the hotel waiting for the shuttle to MPP and so was the lead singer for the next band on the bill, Bang Tango. I have been a fan since I first got my hands on Psycho Café and here I am actually shooting the shit with Joe Leste'.
This was a set I was looking forward to, as the band slowly took to the stage and tweaked their equipment just a little bit, Joe ambled on and they started an unfortunately short set… "Attack of Life" Breaking Up a Heart of Stone", Untied and True", "Don't Count Me out" and "Someone Like You" at least those are the ones I remember. The band sounded great, with Lance Eric on bass, Steve Favela on guitar and Timmy Russel on drums. Joe has a solid band behind him with a good presence, they are on tour this summer with Faster Pussycat and I cant wait to see them come thru New England!
BANG TANGO

Vixen was next up and another band that I had been waiting all weekend for, especially after a short teaser set at the Sheraton after party the night before. This would be the first time I would see them with their new Lead Singer, Lorraine Lewis of Femme Fatale fame. As the band took the stage and Lorraine came bounding out and never stopped, the energy that emanated from her throughout the whole set. Instantly took away any of the fears and doubts about her being able to slip into Janet Gardners spot. The set started with a Femme Fatale song, "Waiting for the Big One" then they started into the Vixen songs with "Rev It Up", "How Much Love" and "Cryin'" which lead into one of my favorite songs to see them play live, "I Want You To Rock Me" between the crowd interactions and the snippets of their favorite songs intertwined into it, it was one of my favorite parts of their set. Another Femme Fatale song was next, "Falling In and Out of Love" then the last two songs of the set, "You Oughta Know By Now" and "Edge of A Broken Heart". This was a great set! I was very impressed with how well Lorraine has melded into Vixen, her boundless energy and charisma will win over any doubters. Vixen is one of my favorite live bands, with remaining original members, Bassist Share Ross and Drummer Roxy Petrucci, sharing the stage with Britt Lightning on guitar and Tyson Leslie on Keyboards, the energy is overwhelming and they always look and act like they are enjoying it as much as we are watching them!
VIXEN

It was back in 1983 when the next band broke thru with their song "Cum On Feel The Noize" which propelled them to become the first Heavy Metal band ever to have their debut album hit Number 1 on the Billboard charts and the legend known as Quiet Riot was born. There have been many line up changes and also the passing of their Iconic lead singer Kevin Dubrow back in 2007, but drummer Frankie Banali has been the constant, with guitarist Alex Grossi, bassist Chuck Wright and their lead singer, James Durbin. There was apprehension among a lot of people in the crowd about how well this was going to sound. We can be a hard headed bunch when it comes to replacing lead singers in a band, just ask the Warrant camp about that.
This was also the first band of the day with an extended setlist, 11 songs total, with a heavy leaning towards "Metal Health" starting with "Run For Cover", "Slick Black Cadillac" and crowd sing a long, "Mama Weer All Crazee Now" off of Metal Health album. "Love's a Bitch" has always been a favorite of mine, "Put Up or Shut Up", 'Party All Night" and "Sign of The Times" rounded out this part of the very energetic set with James running around doing his best to rile the crowd up. "The Wild and the Young", "Lets Get Crazy" fed into the last two songs of the set. Songs everyone were waiting for and screamed along to, "Cum On Feel The Noize" and "Metal Health (Bang Your Head)".
I feel that James Durbin, pulled off the coup of the weekend. He put 110% into this show and it showed, he was over the top and didn't miss a beat. That striped mic stand punctuated his performance.
QUIET RIOT

With the next band coming to the stage, the crowd was once again apprehensive. A fan favorite with a different singer then they want at the helm of Skid Row. To be honest tho, I have seen ZP THeart with them, I was lucky enough to be there for his first show with Skid Row, they are in for a surprise. Taking the stage tonite are original members, guitarists Scotti Hill and Snake Sabo, bassist Rachel Bolan along with Rob Hammersmith on drums and as mentioned before, ZP Theart as lead vocalist. This is going to be interesting.
The afternoon's entertainment consisted of a setlist of 12 songs, really leaning heavily on their first self titled album "Skid Row", "18 and Life", "I Remember You", "Making a Mess", "Piece of Me", Sweet Little Sister" and closed out their set with "Youth Gone Wild". We also got a few songs off of Slave to the Grind, there was the title track (one of my favorites), "Monkey Business", "Get the Fuck Out" and "Livin On A Chain Gang". Now this is where being a band known for a specific set of songs and albums starts to annoy this one fan, I love hearing the new stuff, of course I like the old standards, but damn I wanna hear the newer stuff to! Only one song off of the EP "Rise Of The Damnation Army – United World Rebellion: Chapter Two" was played and that was the single "We Are The Damned" and throw in a Ramones cover tune "Psycho Therapy" and you have their set for the evening. It was tight, they sounded great and looked even better. I think people are going to be surprised when they hear the new album….. when it comes out.
SKID ROW

Now here is where it gets all confused, and I think M3 did an injustice. Extreme was next on the line up. Not headlining, not the band right before the headliner but what is more or less the opening slot. Extreme was out to make a point. From the opening song, "It ('s a Monster) Gary Cherone came out slinking his way around the stage and never stopping, "Li'l Jack Horny" and "Get The Funk Out" rounded out the first part of the set. "Rest in Peace", "Play With Me" and "Midnight Express" kept the energy flowing on stage and in the audience. We are now at the half way point of a 12 song set and Nuno Bettencourt comes out with an acoustic guitar and grabs a seat on stool and starts playing. It is easy to see why he is considered one of the best guitarists around, then after a little banter towards the crowd they start the crowd singing the words to "More Then Words" the only time I remember seeing Gary sorta sitting still and not running or jumping all over the stage. Next up was a Sam Cooke Cover, "Cupid" an appropriate intro to their song "Cupid's Dead" and "Am I Ever Gonna Change", was another showcase of the bands playing prowess, not just Nuno's but bassist Pat Badgers and drummer Kevin Figueiredo. "Flight of the Wonded Bumblebee" was another Nuno treatise on guitar playing before the finale song of the night, "Decadence Dance". A VERY well received set on that should've headlined Sunday night in my opinion. They are playing some East Coast Dates in August go out and catch them!
EXTREME

I have been a fan of Motley Crue since the early 80's and I have tried to shoot the next act numerous times but there always seems to have been something going on that screws that up. But not this evening. Vince Neil was there and was next up on the stage.
The night started off with "Dr Feelgood" and then Jeff Blando started into the licks for "Shout At The Devil" then Zoltan Chaney began pounding out that beat. And fists thrown into the air as the crowd screamed SHOUT SHOUT SHOUT along with Vince, then into another track off of Motley's "Shout At The Devil" album, "Looks That Kill". It was time to slow down the pace a bit and start the crowd singing to "Home Sweet Home" listening to Jeff Blando play guitar to this instead of a piano was cool! He sounded great, as Vince stood there singing, I couldn't keep my eyes off the antics of a Zoltan Chaney, pounding the hell out of the drums, while standing there, throwing sticks everywhere and just general mayhem you don't expect to see from a drummer. "Same Ol' Situation (S.O.S.)" was the next Motley Crue song he brought out, followed by a bit of break as he let bassist Dana Strum and guitarist Jeff Blando perform for a bit and Jeff led the crowd in a rendition of Black Sabbaths "Heaven and Hell" then it was back to the Crue tunes, with "Kickstart My Heart" and "Girls, Girls, Girls" and unfortunately, it was over with as fast as it started and went into "Wild Side" and the set was done. I have to say, Vince has chosen his band excellently, they can kick ass on their instruments and nail the vocals also. You may recognize them from their primary gig, as Slaughter. The energy level of the set was fantastic with everyone not standing still for a moment!
VINCE NEIL

It was time to start saying good byes, so many people, so many new friends, so many old friends. And it was time for the last act to hit the stage.
Dokken was big in the mid 80's when I was High School, but I was more of a W.A.S.P. and Motley Crue fan (Throw in some Slayer too…) back then. It was a bit upsetting, that the night's Dokken set was supposed to be a reunion of the old Dokken with Don Dokken, George Lynch on guitar, Mick Brown on drums. Unfortunately, George Lynch had to back out of M3 and about 6 or 7 Lynch Mob shows due to having Pnuemonia and I guess Mick decided he needs a break, but it was cool to see BJ Zampa of House of Lords on drums tonite, with Jon Levin on guitar and Chris McCarvill on bass.
The set started off with "Paris Is Burning", "The Hunter" and 'Breaking The Chains" with a jovial Don Dokken bantering with the crowd between songs, "Into The Fire", "Kiss of Death" and "Dream Warriors" a greatest hits set that also saw them playing "Just Got Lucky", "Alone Again", and "Too High to Fly" the end of the weekend was finally in sight, with two more songs left and a crowd that had already started to head towards the rain soaked exits, "Its Not Love" with a great bass solo from Chris and then that was it, time for the last song. "In My Dreams". It was over…
DOKKEN

As the rain softly drizzled down, the lights came back up and people shuffled off to the Sheraton, not for for an after party, but for a Cocktail Reception. This year was an amazing experience for me, totally last minute. There is a core of people who attend M3, have been attending for years and they are there for the love of this music. It doesn't matter if the singer cant hit the notes anymore, or the guitarist doesn't look the same or the drummer is not the same person who was originally on that first album.
They are there for their Tribe. Our tribe.
For More info on the M3 Rock Festival Visit: https://m3rockfest.com