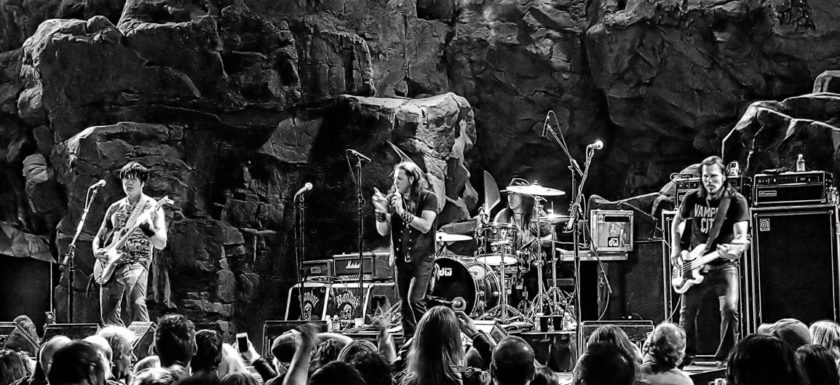 LYNCH MOB
November 20, 2016
Mohegan Sun's Wolf Den
Uncasville, Connecticut
At the last minute, I decided to tag along with my brother in law to Mohegan Sun Casino. He was headed there for the triple status points that day, but I was headed there to catch a rock show in the Wolf Den.
Lynch Mob is the creation of former Dokken guitarist, George Lynch. One of the best guitarists to come out of my favorite era of music, the 80's. Along with Oni Logan on vocals, Sean McNabb on Bass and Jimmy D'Anda on drums, he was bringing the rock to the Wolf Den.
Much to my surprise, the Wolf Den was not as packed as I am used to seeing it, and I was able to walk right in without standing in a long line. Slowly over the next hour the crowd started gathering, with most of them standing over by the left side of the stage. The side George would be on.
The crowd roared with enthusiasm when the band started coming out unto the stage with George getting the most attention. Oni's voice was right on that night and the band was firing on all cylinders as they started off with "She's Evil But She's Mine" and then "River of Love". Watching Jimmy play was fantastic, the energy he had was amazing. I would've loved to seen a drum solo from him or even a bass solo from Sean, who was working the crowd on the right side of the stage.
"Hell Child" and "All I Want", "Believers of the Day" were next on tap with Oni mesmerizing the crowd with his voice. "21st Century Man" was next up on the setlist and off their 2015 album, "Rebel" the song "Testify". It was around this point that they decided to change things up just a little bit and brought a couple of songs that weren't on the set list, "Sweet Sister Mercy" and the first of three Dokken songs, "The Hunter", at least I think it was around this time. "Where do You Sleep at Night" followed and then something everyone seemed to be waiting for, a Dokken tune.
"Into The Fire" turned into a huge group sing along with a very happy crowd cheering loudly at the end of the song. "Slow Drag" brought them back to Earth for a bit, one of my favorite songs of the night.
"Mr Scary" is the showcase for Mr Lynch's talent, an instrumental featuring his amazing guitar playing and another Dokken track that everyone loves. It was around this time the night started coming to a close with Lynch Mob's best known and biggest single and title track of their first album, "Wicked Sensation".
The night wasn't quite over for them though, as both George and Sean came out to meet the fans and sign a few things. It was a great show, the sound was great, the performance was tight and they had a good time playing for us. This was my second time seeing Lynch Mob and I was more impressed this time then I was with them at M3 earlier this year and if they play around again soon, I will definitely go then to.
Check out the photos from the show: