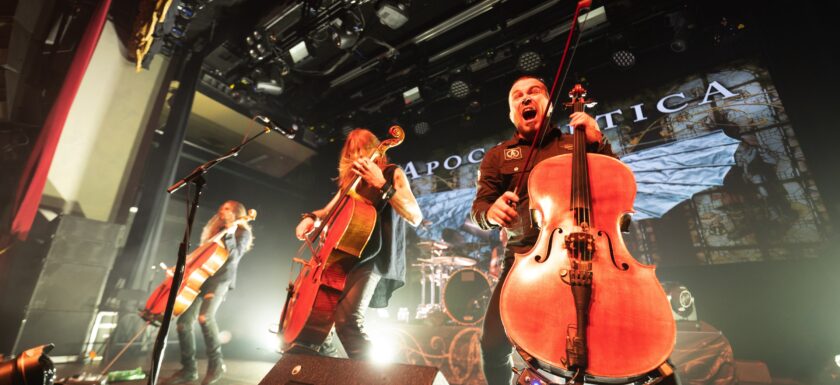 APOCALYPTICA
with Lacuna Coil
Big Night Live
Boston, Massachusetts
May 3, 2022
Photos & Review by Michael LaFleche
BOSTON, Mass. – On their final night on the Cell-0 Tour in the states, Cello-metal driven Apocalyptica and well-known Italian metal band Lacuna Coil were in Boston to rock Big Night Live and give competition to the excited crowd next door at TD Garden as the Celtics were pounding their opponent to a pulp. I wonder if there was some energetic overflow that helped the team in green as the crowd at Big Night Live was full of positive energy and really into the show
First up was Milan based Lacuna Coil, a band that is one of the best examples of symphonic metal with opposing lead singers Cristina Scabbia and Andrea Ferro. It is quite a nice setup, going back and forth with Cristina providing high screaming and potent top of the charts vocals and Andrea telling a metal story in lower grunts and occasional high screams that ensure that the listener is always engaged and surprised. Marco Zelati keeps the edge going on bass for the band while Diego Cavallotti led the group with guitar work that ranges from shredding, to grunge to technical metal. This is all kept in check with Richard Meiz on the drum kit, providing exploding percussion for this unique band.
The show started with great energy with the hauntingly beautiful "Blood, Tears, Dust" with Cristina providing angelic highs and Andrea growling with an undertow of darkness. Following the opener was "Trip the Darkness", "Reckless", "Apocalypse", "Layers of Time", "Heaven's a Lie", "Save Me", "Veneficium", "Die & Rise", and wrapping up the set with the finale "Nothing Stands in Our Way."  The set was well rounded with selections over their 25 year career, including some of the newer stuff from the LP Black Anima most recently released.
LACUNA COIL photo gallery

Next up was quite a scene with Finland based Apocalyptica, clearing the stage off and taking the stage over with an instrumental attack of 4 large Cellos and a massive drum kit backing it up. The band members enter into the lit fog with bows in hand ready to string up the Boston crowd with their incredible talent and unique flair.
The band is made up of quite an eclectic talent of Eicca Toppinen, Perttu Kivilaakso, Paavo Lötjönen and Mikko Sirén. They have had quite a career over the past 5 years with total instrumental works of their own, mixed works with guest singers from other bands and covers of other well known metal classics done in a way that you have never seen before.
The set included both instrumentals and some songs blacked by some guests tonight. "Ashes of the Modern World" was the opener, followed by "Path", "Grace" and "I'm Not Jesus". Cristina Scabbia appeared on the stage again and joined the band for her beautiful rendition of ,"S.O.S.. (Anything but Love)". And "Not Strong Enough" was accompanied by Finnish guest Frankie Perez on vocals
A full night more of songs ensued including "And Rise", "Scream for the Silent", "En Route to Mayhem" and "I'll Get Through It" with "Shadowmaker and "I Don't Care." But the band was not done after a pummeling of the crowd with their huge energy and great smiles that show how much they enjoy their work. Sepultura and Metallica classics like "Inquisition Symphony" and "Nothing Else Matters" closed the main part of the show, and these songs are perfect for the style of these great musicians. But they still were not done with the string based assault. An encore ensued raising the rafters with Metallica classic "Seek and Destroy" completely shattering all expectations of what it could sounds like with Cellos and ending the night with "In the Hall of the Mountain King" which is a song that just does not know how to end, as the band was too hot to shut down, expect that the place would probably be closing soon.
I have to admit this was a fantastic event to attend. A carnival of great metal, musicianship and energy.
APOCALYPTICA photo gallery