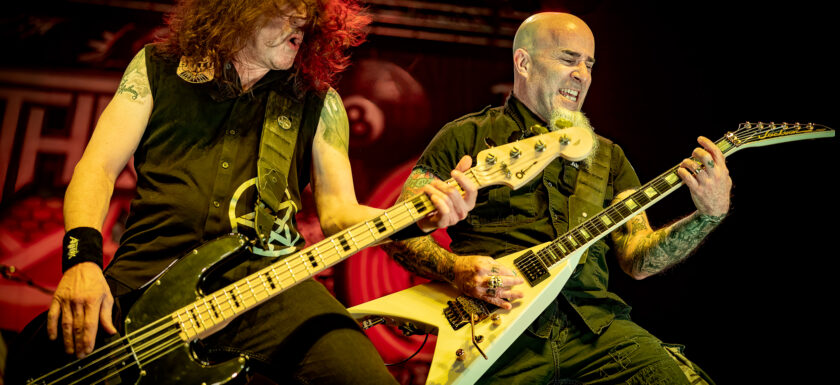 ANTHRAX
40th Anniversary Tour
With Black Label Society & Exodus
Mohegan Sun Arena
Uncasville, Connecticut
February 3, 2023
Photos & Review by Tom Bogus
UNCASVILLE, Conn. – Thrash metal pioneers Anthrax brought their "40th Anniversary" tour to a sold out crowd at the Mohegan Sun Arena. Starting off the night was the legendary San Francisco Bay Area thrashers, Exodus. The band hit the stage at 6:30 in full force, opening with a new song "The Beatings Will Continue (Until Morale Improves)" from their 2021 release "Persona Non Grata" They worked their way through their high energy nine song set that included many classics like "A Lesson in Violence," "Bonded in Blood," "Piranha" and of course fan favorite "Toxic Waltz". They closed out their set with "Strike of the Beast". Exodus played an extremely solid set that left the audience primed and ready for more.
EXODUS photo gallery

At 7:45 pm the house lights went down, with a large Black Label Society banner covering the front of the stage, red lights and music came from behind the curtain, then it dropped as the band erupted into "Funeral Bell" off their 2003 release "The Blessed Hellride." The audience went completely crazy and a few small pits formed on the floor. They covered several fan favorites with songs like "The Beginning… At Last", "Destroy & Conquer," "Suicide Messiah" and "Destruction Overdrive." In the middle of the set they performed "In this River" in which they dedicated it to Dimebag Darrell and Vinnie Paul, two metal icons we lost over the years. The band ended their set with "Stillborn."
BLACK LABEL SOCIETY photo gallery

At 9:30pm, the lights go out and a video played on the huge white curtain hanging in front of the stage. The video was a short six minute video showing some live performances and clips of several musicians and artists giving props to Anthrax. After the video, the curtain dropped and Anthrax launched into their set with 'Among The Living', from their 1987 release "Among the Living". The band came out in full force, jumping all over the stage. You would have never thought these guys have been doing this for 40 years. They wasted no time and played more of their hits like "Caught in a Mosh," "Madhouse" and "Metal Thrashing Mad." The audience loved every minute of it as there hands, fists and phones in the air.
As the set continued on, they surprisingly only played one newer song, "In The End" and one John Bush era song "Only". I'm sure it was quite a task trying to figure out which songs to pick for the setlist from so many hits. They closed the night with "Indians", from their 1987 release "Among the Living", still to this day my favorite album of theirs.
There is no accident that Anthrax has survived in the Metal scene all these years. Every member gives 110% every night. Joey Belladonna (vox), Scott Ian (guitar), Frank Bello (bass), Jon Donais (guitar) and Charlie Benante (drums) set out to put on a hell of a show. And they sure did.
ANTHRAX photo gallery

Setlists:
EXODUS
1 – The Beatings Will Continue (Until Morale Improves)
2 – A Lesson in Violence
3 – Blood In, Blood Out
4 – Blacklist
5 – Piranha
6 – Prescribing Horror
7 – Bonded by Blood
8 – The Toxic Waltz (Raining Blood intro)
9 – Strike of the Beast
Black Label Society
1 – Funeral Bell
2 – The Beginning… At Last
3 – Destroy & Conquer
4 – Destruction Overdrive
5 – Heart of Darkness
6 – A Love Unreal
7 – You Made Me Want to Live
8 – In This River(Dedicated to Dimebag Darrell and Vinnie Paul)
9 – Trampled Down Below
10 – Set You Free
11 – Fire It Up (With extended guitar solo duel)
12 – Suicide Messiah
13 – Stillborn
ANTHRAX
1 – Among the Living
2 – Caught in a Mosh
3 – Madhouse
4 – Metal Thrashing Mad
5 – Keep It in the Family
6 – Antisocial (Trust cover)
7 – I Am the Law
8 – In the End
9 – Only
10 – Got the Time (Joe Jackson cover)
11 – Bring the Noise (Public Enemy cover)
12 – Indians