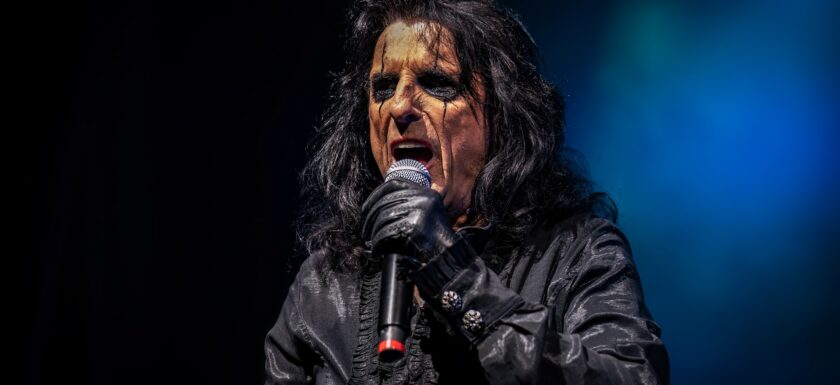 ALICE COOPER
Oakdale Theatre
Wallingford, Connecticut
September 18, 2022
Photos & Review by Tom Bogus
WALLINGFORD, Conn. – Wallingford…..Alice speaks. The Godfather of Shock Rock Alice Cooper brought his Detroit Muscle tour to Connecticut, the legendary frontman is known to be backed by some of the best rock musicians in the scene. The current lineup for this tour is; Alice Cooper (lead vocals, harmonica), Ryan Roxie (lead and rhythm guitar, backing vocals), Chuck Garric (bass guitar, backing vocals),Tommy Henriksen (rhythm and lead guitar, backing vocals), Glen Sobel (drums, percussion) and returning after exiting the band in 1988, Kane Roberts (lead and rhythm guitar,
backing vocals).
At 7:45 PM the house lights went dark and all that you were able to see were the iconic Alice Cooper eyes glowing red on the black curtain that covered front of the stage. A playback of "Nightmare Castle" played over the P.A. The curtain dropped exposing a large castle as the band kicked into "Feed My Frankenstein." Alice exits the castle doors wearing all black, to include a black tailed jacket. On top of his head was a black top hat and he was twirling a black cane. The rest of the band were spread across the front of the stage by their microphones. Drummer Glen Sobel was positioned to the left of the castle door on a low drum riser. The stage castle set was very impressive. There were stairs to the right that led to a catwalk above and across the length of the castle with another small staircase which led to the top of the castle on the left.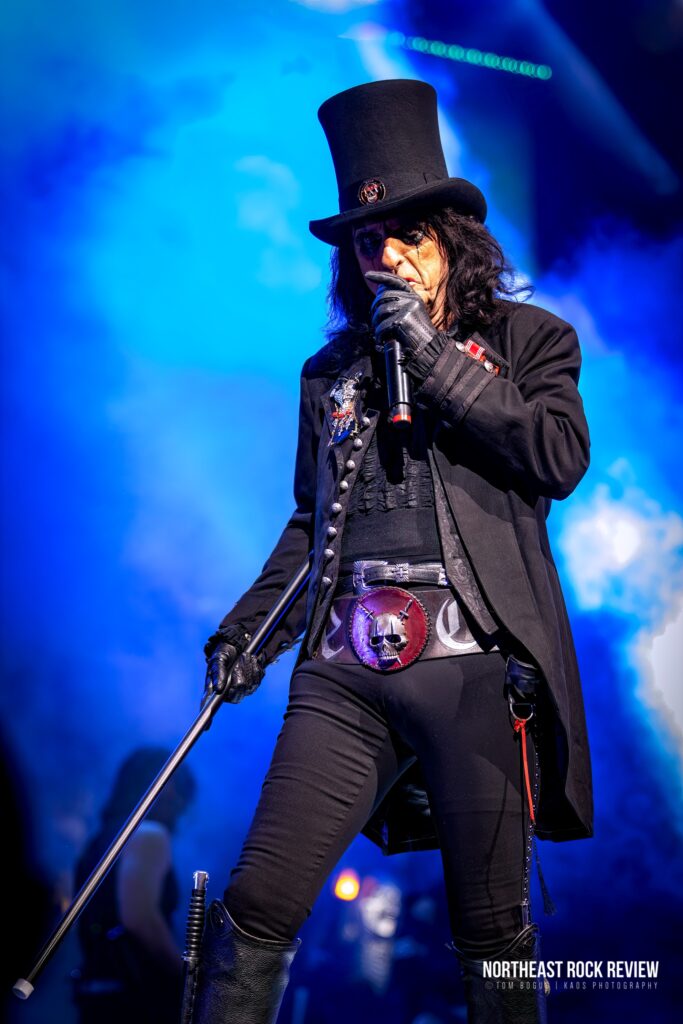 Alice Cooper and his band blazed through song after song with little to no talking in between. They played well known 70's classics such as "No More Mr. Nice Guy," "Under My Wheels," "I'm Eighteen" and "Escape" to name a few. Cooper and company performed many 80s hits like "Poison," "Bed of Nails," "Teenage Frankenstein" and "Hey Stoopid." Surprisingly Alice Cooper did not do any new songs from his current album "Detroit Stories" which was released in 2021.
Just like any other Alice Cooper performance, there were his infamous stage theatrics, from performing in a straight jacket during "Steven," and to having his head chopped off by a guillotine before "I Love the Dead." Many of Alice's stage theatrics were assisted by his beautiful wife Cheryl Cooper, whom appeared several times throughout his set playing different roles.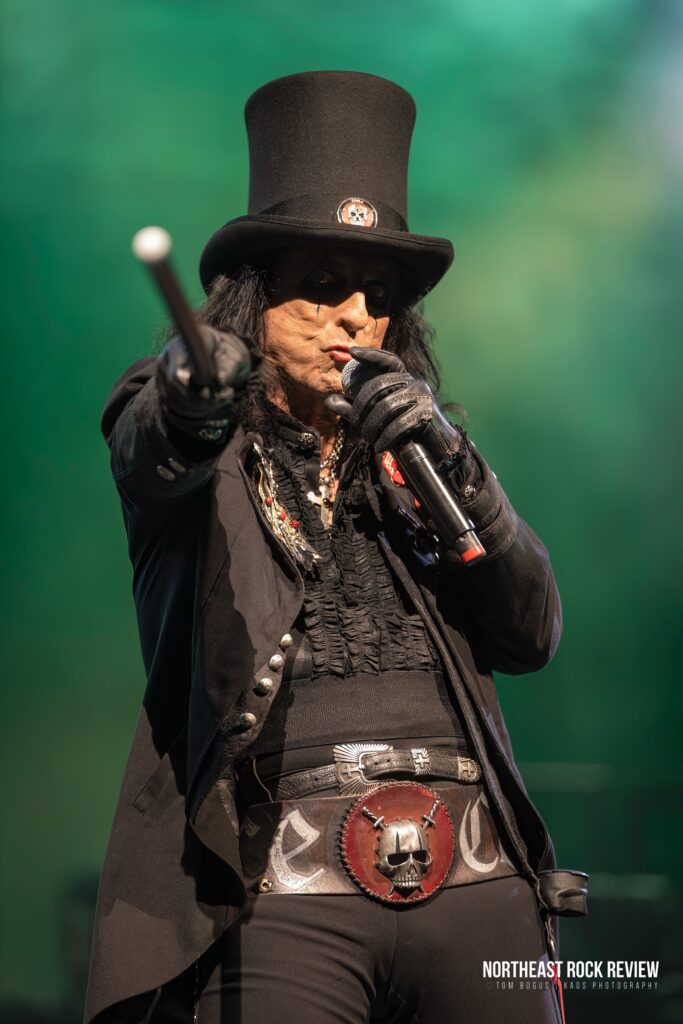 Alice and the band ended the set with "Teenage Frankenstein" and left stage. The crowd chanted and wanted to hear more. Moments later the sound of a school bell alarms and the band begins to play "School's Out." A special guest, former original Alice Cooper band bass player, Dennis Dunaway, snuck onto the stage to assist in the bass guitar department alongside current bassist Chuck Garric. Alice was now wearing a white tailed jacket, white top hat and a white cane. Bubbles were coming from each side of the stage. During the guitar solo Alice said, "It's party time" with a bunch of huge balloons are released to the crowd. Alice grabbed for a sword but was unable to unsheathe it. He threw it down, grabbed a knife and began stabbing at the balloons which were filled with confetti. As confetti filled the air, the band merged into Pink Floyd's "Another Brick in the Wall Pt. 2" and Alice introduced his band one by one, and ending with himself. They reprised back into "School Out" and on the last note a bunch of silver streamers were released from above.
The show was phenomenal! Alice Cooper is a legend and a pioneer in his genre of music. He's been at this for 58 years and at the age of 74, I don't see Alice slowing down. He also fronts the band Hollywood Vampires with Johnny Depp, Joe Perry and Tommy Henriksen. I will always recommend an Alice Cooper show to anyone. He and his band always give a stunning performance.
ALICE COOPER photo gallery

Setlist:
Feed My Frankenstein
No More Mr. Nice Guy
Bed of Nails
Hey Stoopid
Fallen in Love (with extended guitar and harmonica intro)
Be My Lover
House of Fire
Under My Wheels
He's Back (The Man Behind the Mask)
Go to Hell
I'm Eighteen
Poison
Billion Dollar Babies
Guitar Solo (Kane Roberts)
Roses on White Lace
My Stars
Devil's Food(Band only)
Black Widow Jam (with 'Black Juju' drum solo)
Steven
Dead Babies
I Love the Dead (Band only)
Escape
Teenage Frankenstein
Encore:
School's Out (with snippet of "Another Brick in the Wall Pt. 2" by Pink Floyd and band introductions)(special guest Dennis Dunaway)