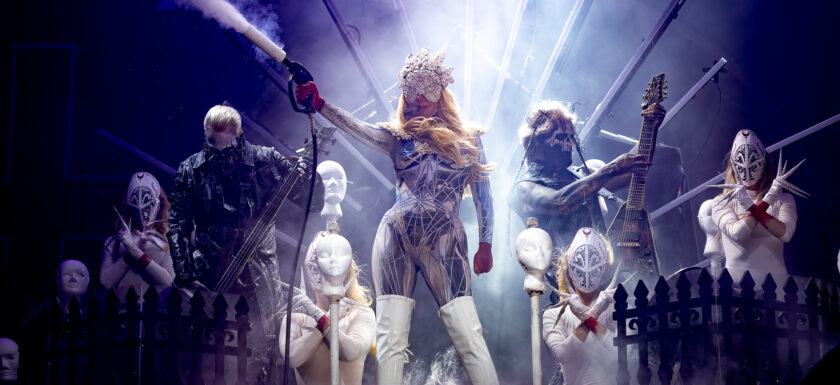 MOTIONLESS IN WHITE & IN THIS MOMENT
The Dark Horizon Tour
With special guests: Fit For a King and From Ashes to New
Mohegan Sun Arena
Uncasville, Conncticut
July 8, 2023
Photos & Review by Tom Bogus
UNCASVILLE, Conn. – Motionless In White and In this Moment began their Co-headlining "The Dark Horizon Tour" at Mohegan Sun Arena in Uncasville, Ct. on July 8th 2023, with special guests Fit For a King and From Ashes to New.
From Ashes to New was first up to the stage. They opened with "Nightmare" from their upcoming release "Blackout", which is set to come out on July 28th, 2023. They continued on to play two more songs "Heartache" and "Hate Me Too" from the upcoming album. The band's two vocalists Danny Case (Clean vocals) and Matt Brandyberry (Rap vocals) complement each other, especially when they are both singing at the same time. They ended their short but powerful set with "Panic" and "Through it All."
FROM ASHES TO NEW photo gallery
Fit For A King hit the stage next and kicked off their set with the title track from their latest release "The Hell We Create" which was released October 28th, 2022. This is my first time seeing these guys and they are heavy and powerful live. Their high-energy performance and heavy metalcore sound had the entire audience on the floor moving and many crowd surfers were making their way to the front barrier. They went on to perform a total of 7 insanely heavy songs to include "Reaper," "Breaking the Mirror" and "Vendetta". They closed the set out with "God of Fire" and bassist Ryan "Tuck" O'Leary left the stage and did a little crowd surfing himself while playing his bass.
FIT FOR A KING photo gallery
In This Moment was next up. The stage was covered in the front by a white sheet with the black widow emblem on it, as Journey's "Don't Stop Believing" played through the house PA, the music cut, the curtain dropped, and singer Maria Brink was center stage, towering over everyone as she stood in a door looking structure in what appeared to be a cemetery with a short gate around it completely covered with fog. Maria's dancers were to her rear and the rest of the band was taking up the rest of the stage.
They opened up with a live debut of a song called "The Purge." The song was received well by the audience and the theatrics along with the pyro went along beautifully with the music. Next, they played "The In-Between,""Adrenalize" and "Blood" and introduced another new song called "Sacrifice."
The new songs sound really good and I hope they have a new album release soon. They went on to play "Big Bad Wolf" before ending the set with "Whore. Without a doubt, any live performance by In This Moment it is a mind blowing musical/visual experience. The visual spectacle accompanying the music was a feast for the eyes. Elaborate stage setups, mesmerizing lighting effects, and a backdrop of striking visuals perfectly complemented the band's dark and intense performance.
IN THIS MOMENT photo gallery
Motionless in White took to the stage next. The house lights went down and music started to come from behind the white sheet covering the front of the stage. Once the sheet dropped, they kicked into "Sign of Life," from their most recent release "Scoring the End of the World" which came out in June of last year. Frontman Chris Motionless commanded the stage with a mesmerizing blend of raw power and undeniable charisma. His commanding vocals effortlessly transitioned between fierce growls and haunting melodies, captivating the audience. The setlist was a meticulously crafted journey through the band's discography, featuring a mix of their beloved classics and newer tracks. The crowd erupted into a frenzy during fan favorites like "Necessary Evil," "Brand New Numb," and "Reincarnate" while newer songs like "Werewolf," and "Masterpiece" showcased the band's evolving sound and lyrical depth. They ended their set with "Eternally Yours," which is probably one of my favorite songs of theirs.
Both Motionless In White and In This Moment proved once again why they are revered as two of the most captivating live acts in the rock and metal scene, leaving fans eagerly awaiting their next dark and exhilarating chapter. I have seen both of these bands several times and I've never been disappointed with any of their shows. I highly recommend going to see this tour.
MOTIONLESS IN WHITE photo gallery
Setlists:
Motionless in White
1 – Sign of Life
2 – Necessary Evil
3 –
4 – Soft
5 – Headache
6 – Werewolf
7 – Brand New Numb
8 – Masterpiece
9- Break the Cycle
10 – Voices
11 – Synthetic Love
12 – Reincarnate
13 – Another Life
14 – Eternally Yours
In This Moment
1 – The Purge (live premiere)
2 – The In-Between
3 – Adrenalize
4 – Blood
5 – Sacrifice (Live premiere)
6 – Big Bad Wolf
7 – Whore
Fit For a King
1 – End (The Other Side)
2 – Vendetta
3 – Breaking the Mirror
4 – Reaper
5 – The Price of Agony
6 – When Everything Means Nothing
7 – God of Fire
From Ashes to New
1 – Nightmare
2 – Heartache
3 – Hate Me Too
4 – Panic
5 – Through It All