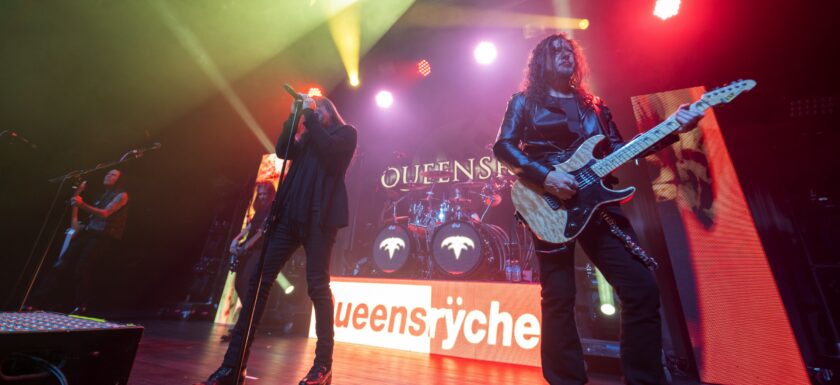 QUEENSRŸCHE
with JOHN 5
Big Night Live
Boston, Massachusetts
February 16, 2020
Photos & Review by Michael LaFleche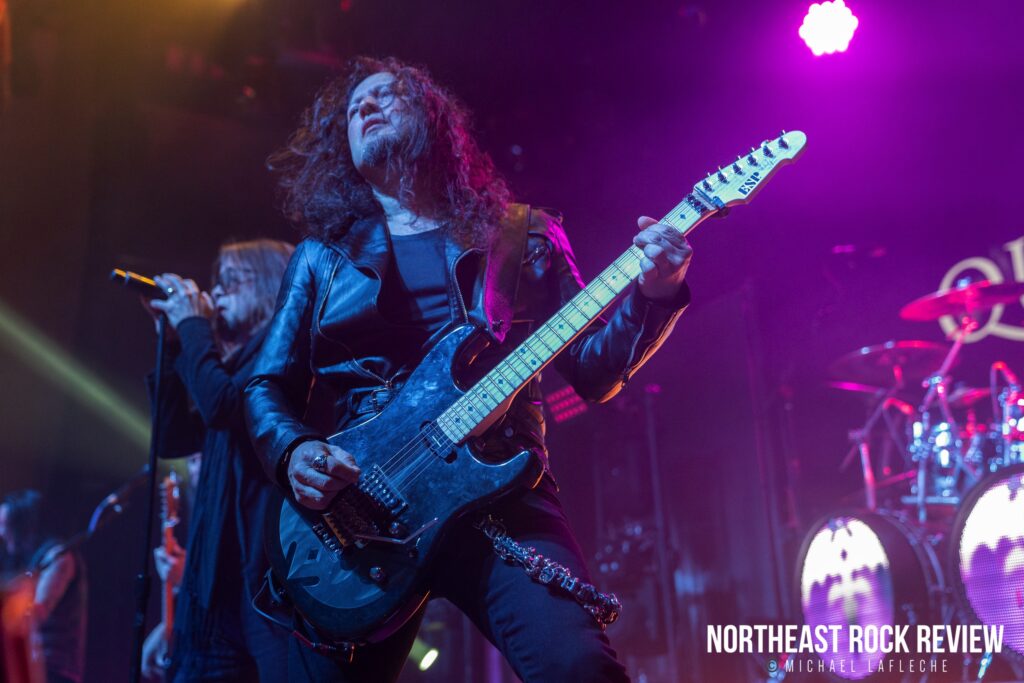 The legendary prog metal hitmakers Queensrÿche headlined the packed Big Night Live adjacent to the TD Garden in Boston Sunday night. The hall was filled with young and old alike, many seeing the band for the first time and many who may remember listening to their big hits from the late 80's and early 90's from Empire and Operation Mindcrime. Opening for Queensrÿche first was Eve to Adam and a great treat also opening for Queensrÿche was the incredible guitarist John 5 and his merry band of metal buskers.
Eve to Adam has been around the block, forming in 1997 and are a pure hard rock quartet. A great way to get the evening started. Singer Taki Sassaris reminded me of a younger Brian Johnson of AC/DC with his look as well as his hard rocking powerful no-nonsense voice. The rest of the band kept pace with his muscular vocals with strong bass rhythm and riffing on the lead guitars, all following the rapid drumming during their 30-40 minutes starting the show.
EVE TO ADAM Photo Gallery
Next up was the magically strange, lovable and gifted talent of John 5. The stage was set up with all manner of high horror, including film clips from movie horror of the 60's, blow carnival tents, balloons, ect… It was definitely a good time. John 5 with his group of 2 other instrumentalists including Ian on the bass and Logan on the drums treated the crowd to instrumental masterpieces from extremely technical heavy metal riffs and licks all the way through ragtime and barber shop quartet style melodies. There was rockabilly and thrash all together. John 5 played a series of guitars in various costumes, including an electric metal mini uke and a banjo.
JOHN 5 Photo Gallery
They were also doing something special Sunday night, recording a live album, so the crowd was extra happy to oblige the requests of John 5 when he asked for all their virtual cigarette lighters to ignite and sway to the lovely "Cactus flower" instrumental and then to a great medley of well known riffs that John 5 has been involved with over the years with bands he has played with like "Thunder Kiss '65" "Beautiful people" and tributes like "Spoonman" and of course some hits from Rush. But it started with riffs from Kiss, including "Detroit Rock City" and ended with some key Van Halen, Motley Crue, some of Tom Morello's stuff and even some Dimebag Darrel licks. The set ended with the Star Spangled Banner al la Hendrix but John 5 playing guitar with his teeth. Outstanding stuff and I cannot wait to see John 5 again.
Queensrÿche had to follow the horror themed carnival, which they successfully did. An LED screen laden stage and drum kit was revealed and Queensrÿche 2.0 took the stage. I call them this as I think of the two eras of Queensrÿche, the Geoff Tate era from the early days and MTV hits, and the Queensrÿche 2.0 with Todd La Torre at the helm. Both are great and in fact I see Geoff Tate in a few weeks so stay tuned for that review. But Queensrÿche's music still stands up today as far as the old stuff goes, but the newer music is incredibly good, from their newer albums, including most recently The Verdict.
Queensrÿche was not shy about going back to some of the Operation: Mindcrime stuff. They included the whole catalog of hits. The 18 song set included "Launder the Conscience", "Prophecy", "Operation: Mindcrime", "Walk in the Shadows", "Resistance", "Man the Machine", "Take Hold of the Flame", "Bent", "The Needle Lies", "Dark Reverie", "Breaking the Silence", of course "Silent Lucidity" followed up by "Jet City Woman" . They ended the show with "Empire" and "Eyes of a Stranger".
QUEENRŸCHE Photo Gallery
For More QUEENSRŸCHE Tour Dates, Music and Other News, visit: http://www.queensrycheofficial.com