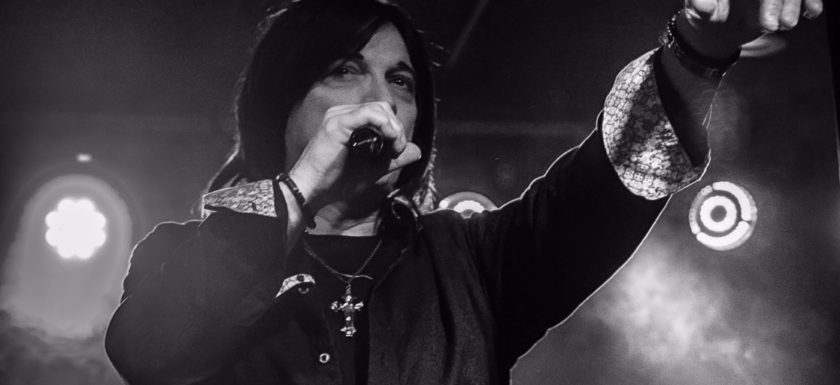 HO– USE OF LORDS
Bristol, Connecticut
January 20, 2017
I first started listening to House of Lords when they released their first album back in 1988, I mean cmon it had Ken Mary of Alice Cooper on drums and Gregg Giuffria on keyboards at that time, I had to. The vocals of James Christian tho blew me away. Through the years I would have their first three albums playing all the time, but unfortunately my musical tastes would drift into other directions.
Over the last 15 years or so, I missed out on some great music by this band until I picked up their last album "Indestructible" and enjoyed the guitar work of local legend Jimi Bell. Needless to say I kicked myself in the ass.
Imagine my surprise when I found out they were going to be playing in Connecticut, and even better about 15 minutes from my house. Bleachers is a bar in Bristol CT, a place I have been for drinks but never a show. I was a bit apprehensive about shooting here, but I sucked it up and went. It is hard to tell how the turn out for a band like this will be at a place like this, but I was expecting a crowd. I wasn't surprised.
It was a sea of House of Lords tshirts and 80s rock fans, surprisingly even a few people I know from meeting at other concerts in Connecticut, and yes I mean the Wolf Den at Mohegan Sun.
The night started with a local band named King Kuel. Great band, played a mix of covers and a few originals thrown in the mix. They sounded good and did justice to the tunes they covered. I would go see them again and even tell ya if they are playing local to you and you wanna go out go catch them!
KING KUEL:
Bleachers was getting crowded and difficult to get to the bar. Thank God I don't really drink.
It was time for House of Lords to come out and light it up.
The festivities started with the song "Come To My Kingdom" and "Rock Bottom", with a crowd that started swaying and singing along. Followed by "Go To Hell" and "Big Money". So far they were sounding great. Jimi Bell playing a blistering guitar, B.J. Zampa pounding the drums with a smile, new bass player Chris Tristram animated as hell while stuck in his corner of the small stage. Well, there wasn't really a stage and to be honest, they didn't have much room to work with, but they worked it as if they did. Smiling and interacting with the fans, friends and family they had there that evening.
"Love Don't Lie", "Battle", Cartesian Dreams", and "Saint of Lost Souls" the title track of their soon to be released new album. This is an album that is on my to buy list after hearing this song. "I'm Free", "Hit The Wall" and their first hit song "Wanna Be Loved". And talk about a sing along! When I first heard this song, so very long ago I honestly thought it was a new Whitesnake tune. This was followed by a fantastic drum solo from B.J. Zampa.
"Can't Find My Way Home" was up next and probably my favorite song from House of Lords. Hearing this live made it worth the night of shooting in poor light. The title track from their sophomore effort "Sahara" was next, "Harlequin" which led right into a guitar solo from Jimi. Wish I knew what happened to the Joined Forces record I used to have…
"Slip of the Tongue" and then "Pleasure Palace" closed out the night.
A fantastic two hour set well worth the price of admission. The band was firing on all cylinders, sounding great with no noticeable missteps that night. I believe this was Christian's first show with the band and they couldn't have picked a better venue or crowd for it.
They have a new album coming out in March and then a tour to follow. I will be seeing them again, and I recommend catching them live. Be sure to check out the new album via Frontiers Records srl.
Check out the photos from the House of Lords show:
For more info on House of Lords:
https://www.facebook.com/houseoflordsofficial
http://www.jameschristianmusic.com/home.html