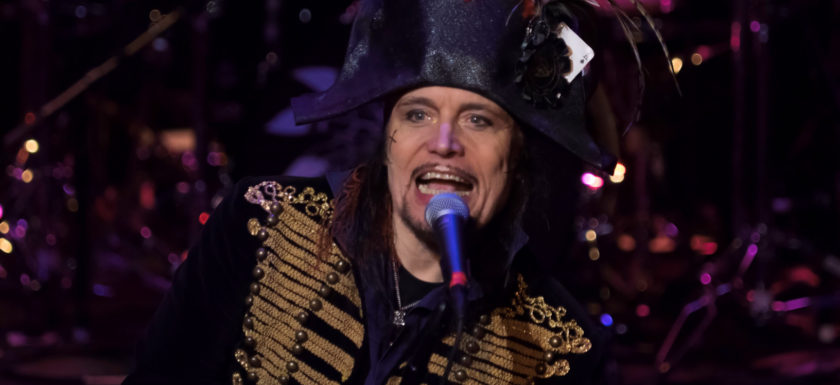 ADAM ANT
Kings of the Wild Frontier Tour 2017
Wilbur Theatre
Boston MA
January 24, 2017
I know in many of my reviews I talk about the bands that influenced me, bands that became popular when I was a young strapping lad, bands that pushed an envelope that has become the standard for so many bands today.
In the early 80s, with the birth of a certain cable television channel I started seeing and listening to bands that I had not known existed. Music Videos changed my tastes from the mundane radio fodder I was being fed, to bands such Duran Duran, Dire Straits, The Clash and a certain brightly dressed buccaneer/highwayman, Adam Ant.
It has been just over 35 years since the release of his first album "Kings of the Wild Frontier" and in celebration of this he has embarked on a small tour of the United States. A tour that has been welcomed with open arms and an enthusiastic fan base that has sold out all but a couple of the dates.
One of these sold out dates was the second stop of this tour in Boston, The Wilbur Theatre, an over 100 year old theater on the south side of Boston. A nice place to see a show with an open floor and plenty of seats up in the balcony. My only complaint, 5 dollars for a coke.
The evening started with the Glam Skanks. They are a quartet of young ladies from sunny California who have a very entertaining set full of energy and sass. I think Adam Ant made a great choice picking this band. The exposure they gain from this tour will hopefully bring back to the East Coast.
GLAM SKANKS:
After a short intermission, the lights went down and under the cover of darkness the players took their spots on the stage.
Adam took to the stage to the cheers of a very enthusiastic crowd and started into one of the longest set lists I have ever experienced, starting with the entire "Kings of the Wild Frontier" album.
The crowd was eating it up, as Adam bounced around the stage. I am a few years younger than he is and I wish I could move like that. The first part of the show consisted of the following song's if you're not familiar with Adam.
Dog Eat Dog
Antmusic (one of my personal favorites)
Feed Me To The Lions (From what I understand, this tour is the very first time it has been played live)
Los Rancheros
Ants Invasion
Killer In The Home
Kings Of The Wild Frontier (another of my favorites)
The Magnificent Five
Don't Be Square
Jolly Roger
Making History
The Human Beings
I hadn't listened to this album in years, until I heard about this tour and over the last couple of weeks it has been on replay constantly. The memories of a long ago youth came flooding back. You have to love hearing that voice in the back of your head, that precious little memory so many of us have of our father saying "what the hell are you listening to?"
Now was the time so many of us were waiting for, the part of the set where he plays some of his favorites. There wasn't much of a break between the sets, nothing more then Adam saying it was time for his favorites.
Beat My Guest
Christian Dior
Stand And Deliver (another of my favorites and also a crowd favorite this evening)
Vive Le Rock (the one song I was wanting to hear and one of my favorites and judging from the amount of cell phones recording a lot of other peoples also)
Cartrouble
Desperate But Not Serious
Zerox
Never Trust A Man (With Egg On His Face)
Lady/Fall In
Goody Two Shoes (massive crowd sing along for this song and again a lot of cell phones in the air)
Prince Charming
Red Scab
Get It On by Marc Bolan (the only cover song of the evening and unexpected by everyone, but still the audience participated)
Physical
Then the show was over.
I have never seen Adam Ant live before and I was not disappointed. A lively performer who was dancing and strutting all over the stage. Backed by a band that consisted of his trademark two drummer sound to two guitarists and a bassist, they performed perfectly. Adam was in his element.
Unfortunately, as I in the process of editing the pictures, I learned of the passing of Adam Ant's guitarist and musical director Tom Edwards.
On behalf of us here at Northeast Rock Review, I would like to convey our deepest condolences to Adam Ant and to Tom's friends and family.
The Tour continues until Feb 16, this is another highly recommended show, it has been a very long since he toured the U.S. and I don't know when the next time will be.
This is a show not to be missed!

For More On Adam Ant:
Adam Ant Official Page
Facebook – https://www.facebook.com/antmusicofficial/
Twitter – https://twitter.com/AdamAOfficial
Glam Skanks:
Facebook – https://www.facebook.com/Glamskanx/
Glam Skanks Webpage