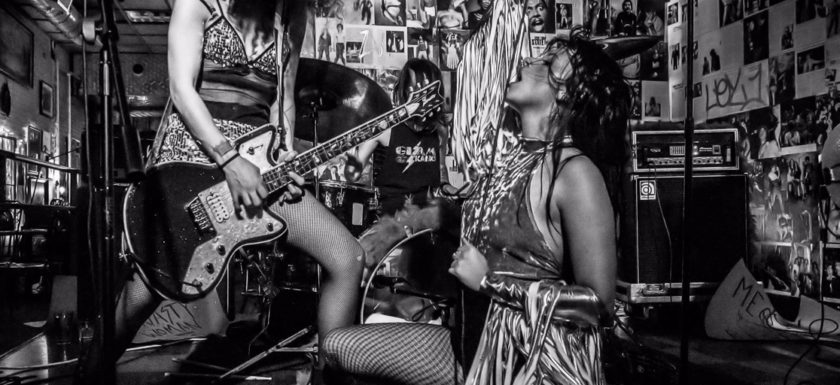 GLAM SKANKS
Don Pedro
Brooklyn, New York
January 25th 2017
Back in November or so, I found out that Adam Ant was coming back to the United States for a small tour and I was introduced to the music of the band that had been tapped to open for him. Glowing reviews of the Glam Skanks from my friend Chris, sent me to their YouTube channel. After a little online research, I found a new band to listen to and a whole new level of excitement for the Adam Ant show.
The Glam Skanks are 4 young ladies, Ali Cat, the front woman, Veronica Volume, the guitar goddess, Millie, the bombastic bassist and Cassie the demolition woman of the drums. This combination of musicians is bringing back a style and attitude that I feel is much needed in today's music scene and warmed the audience up really well for Adam Ant when I saw them in Boston.
After their set they were just as fantastic, spending a lot of time at their merch booth signing CD's and posing for pictures with all who stopped by. It was during this, while talking with their tour manager, Mitch, that I found out they were going to be playing an off date show at a small place in Brooklyn NY. the next night.
A chance to focus on shooting this band, was something I didn't want to pass up.
Much to my wife's chagrin, for the second night in a row, I was making a 2 hour drive to shoot a band. Thank God she loves me.
They were playing a small bar in Brooklyn, Don Pedro. Not a very big place, it reminded me of when I shot Broadside in pizza joint in Poughkeepsie 2 years ago. Lighting was going to be an issue and my heart dropped, and dropped even further when Mitch suggested some pics of the girls in a really interesting doorway next to the venue. I was totally unprepared for this, and it has become a lesson I quickly learned from. I now, no matter what carry a flash in the camera bag.
The crowd wasn't very large, and I couldn't help but think what was going thru their minds, going from opening at a sold out show the night before to a crowd that didn't look much bigger than 30 or 40 people. Any doubts about this affecting their performance were soon put to rest.
They started their set off with their signature tune, "G.L.A.M." and the energy just exploded from there. "Teenage Drag Queen" and "Tube Tops" followed, Ali was all over the the stage, putting just as much into it as the night before, if not more. Reminiscent of a 50's or 60's Ronettes or Shangri La's song was "Fuck Off", "Radio Blues" one of my favorite songs off of their CD "Glitter City" was next. Watching Veronica play is amazing, just as much energy is put into that as Ali puts into being front woman. Over the last few years everyone has been gushing over how well Orianthi or Nita Strauss play, apparently they haven't seen Veronica, yet.
One of the influences that seem to be common ground between the girls, is David Bowie, and next was a Bowie tune, "Hang Onto Yourself" followed by "Karma" and "Bad Bitch" closing their set with "Wild Soul".
Cassie was driving the beat and never swerved out of control, pounding the skins with an abandon the Gods would swoon over and with the combination of Millie's bass, solidified the whole sound. Veronica's guitar playing is amazing. Watching and listening to her play combined with Ali's voice, I was enthralled.
The Glam Skanks, are influenced by a period of music called Glam or Glitter Rock, a Rock genre that ran from the late 60s into the mid 70s, that included bands such Sweet, Slade, New York Dolls, T. Rex, David Bowie and even Alice Cooper. An era of guitar driven androgynous musicians in spandex and glitter that influenced The Runaways and many of the rockers from the 80s, like Hanoi Rocks and Motley Crue.
Influences you can hear in their music and see in their highly energetic stage show. If your looking to see a band with great music, one that puts on a show that is just as high energy as their music, these are your girls.
Check out the photos of the Glam Skanks from the Brooklyn show: