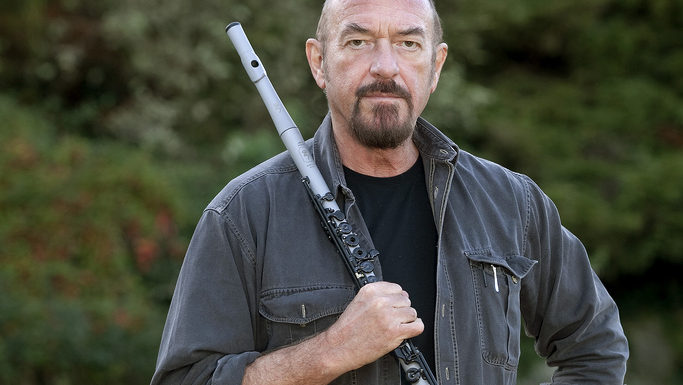 IAN ANDERSON TO RELEASE A CLASSICAL COMPILATION OF JETHRO TULL: THE STRING QUARTETS
U.S. Tour Dates Through May 26 – June 1st, 2017
February 8, 2017
Ian Anderson, John O'Hara, and the Carducci Quartet are set to release "Jethro Tull – The String Quartets," a collection of 12 re-imagined Tull classics, allowing Tull fans and classical music connoisseurs to enjoy the band's vast catalog in a new way.
"Aquafugue (Aqualung)" for example, starts with the recognizable six note theme before continuing to follow the rules of a fugue. A subject, counter subject, and an accompanying counterpoint all alternate between the tonic and dominant keys. "Loco (Locomotive Breath)" begins with a cello cadenza inspired by the writing of J.S. Bach, an influential composer in Jethro Tull history. Other Tull favorites round out the tracklisting, such as "Farm, the Fourway (Farm on the Freeway)," which starts with a violin cadenza drawn from the recognizable harmonic progression of the song, and "In the Past (Living in the Past)," which opens with the famous 5/4 time riff that helped make the song successful.
Says Anderson: "There were some songs rather special to me which featured the string quartet such as 'A Christmas Song,' 'Reasons For Waiting' and 'Wond'ring Aloud.' These were my first experiences of working with a quartet. John [O'Hara, keyboardist for Ian] came up with a few suggestions of his own which presented challenges. All had an intimacy and presence which I looked forward to recapturing…."
O'Hara "felt a responsibility to delve deeper and offer a new imagining of each piece. An orchestrator's job is to arrange and compose a new version of an existing work. However, I also felt a responsibility to the Jethro Tull listeners who cherish this material and may not welcome a radical rendition of a beloved song. My ambition was to create a thought-provoking album that remains true to Ian's compositions."
Jethro Tull – The String Quartets will be available in the USA on March 24th, 2017 via The End Records/BMG. The album is now available for pre-order on Pledge Music at http://www.pledgemusic.com/projects/jethro-tull-string-quartets/updates?ignore_id=78188,
JETHRO TULL-THE STRING QUARTETS
Official Tracklist
01. In the Past (Living In The Past)
02. Sossity Waiting (Sossity: You're a Woman / Reasons For Waiting)
03. Bungle (Bungle In The Jungle)
04. We Used to Bach (We Used to Know / Bach Prelude C Major)
05. Farm, the Fourway (Farm On The Freeway)
06. Songs and Horses (Songs From The Wood / Heavy Horses)
07. Only the Giving (Wond'ring Aloud)
08. Loco (Locomotive Breath)
09. Pass the Bottle (A Christmas Song)
10. Velvet Gold (Velvet Green)
11. Ring Out These Bells (Ring Out, Solstice Bells)
12. Aquafugue (Aqualung)
In addition, Ian Anderson is returning to the United States for three rock tours in 2017; firstly, during this May and June in the Mountain States, Texas, and Oklahoma. These concerts are Best of Jethro Tull multimedia performances billed as "Jethro Tull by Ian Anderson" and feature the regular rock band. They will take place in Albuquerque, El Paso, Sugar Land (Houston), Austin, and Durant OK. Tickets for Albuquerque, El Paso, Austin and Durant go on sale Friday, February 3. Sugar Land tickets go on sale Friday, February 24. Stay tuned for an announcement for one more show for the May tour.
There will be a special concert of JETHRO TULL by Ian Anderson with the Colorado Symphony at Red Rocks Amphitheater, in Morrison, Colorado, on May 26.
TOUR DATES
MAY 26: Red Rocks Amphitheater, Morrison, CO
MAY 27: Route 66 Casino, Legends Theatre, Albuquerque, NM
MAY 28: Plaza Theatre PAC, El Paso, TX
MAY 30: Smart Financial Centre, Sugar Land (Houston), TX
MAY 31: ACL Live at the Moody Theater, Austin, TX
JUNE 1: Choctaw Casino, Choctaw Grand Theater, Durant, OK
In 2017, JETHRO TULL by Ian Anderson will play in Australia and New Zealand during April with further tours and concerts throughout Europe, USA and South America later in the year.
Ian is accompanied by Tull members David Goodier (bass), John O'Hara (keyboards), Florian Opahle (guitar), Scott Hammond (drums).
Formed in 1968, Jethro Tull has released 30 studio and live albums, selling more than 60 million copies worldwide. With nearly 50 years' history, the band has performed more than 3,000 concerts in 40 countries, playing 100+ concerts each year.