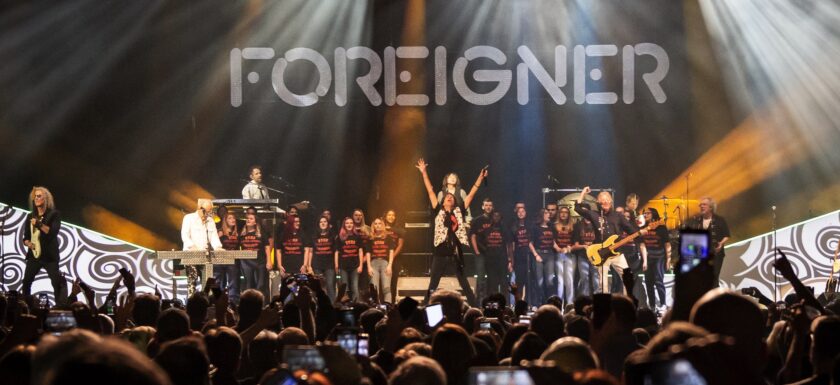 FOREIGNER
DOUBLE VISION: THEN & NOW REUNION TOUR
Mohegan Sun Arena
Uncasville, Connecticut
October 3, 2019
Photos & Review by Dan Wenc
The legendary Foreigner took to the stage at the Mohegan Sun Arena to kick off a short run of reunion shows which featured the current lineup and original members performing a night of timeless Foreigner classics. In usual touring status, the band consists of only one original founding member, guitarist Mick Jones. The reunion tour has become a occasional tour run that brings Mick back to his bandmates, sharing a stage once again. This night would be broken up into two parts, the Now and the Then. At the conclusion of the night both versions would join together on stage to perform all together amidst a stage filled with great musical energy.
A night that celebrated the timeless classics of over forty years of Foreigner music. Three words to describe a Foreigner show… So Much Fun! A show that will leave you thoroughly entertained and feeling good. A regular Foreigner show with the current lineup is amazing. But throw in a Reunion show with original members and it becomes a historical event. Catching a performance with the original players on the albums together is a must!
Unfortunately Lou Gramm was not in attendance for this show. Several days before this show Lou Gramm had announced via social media that he was having some health issues and would not be able to perform per doctor's orders. We wish Lou well! Lou Gramm did perform on Foreigner's reunion show in December 2018 at Mohegan Sun.
Now – The current line up of musicians to take the stage for this first set was Kelly Hansen (vocals) (former Hurricane vocalist), Bruce Watson (guitar), Tom Gimbel (guitar), Jeff Pilson (bass) (Dokken bassist), Michael Bluestein (keyboard) and Chris Frazier (drums).
The lights went down and the band took the stage and kicked off with rock anthems, "Double Vision" and "Head Games". Following up with "Cold As Ice", which featured a longer version of the song the the album, bringing Kelly Hansen out onto the floor of the arena walking around in the crowd, bringing another boost of excitement to the audience. This is a band who knows how to entertain. A band that in its current state, features only one original member, but can still garner so much enthusiasm and excitement from the audience as it did 30 years ago.  There is much to be said about this iconic band and the legacy of music they have created. The legacy to be performed by this second generation of Foreigner musicians, enabling fans to hear these songs live worldwide.
Just before performing "Urgent", Kelly Hansen did the band intros as well as providing an honorable introduction to the man, the songwriter, the founder and guitarist, Mick Jones; who then took to the stage with a swell of cheers from the audience. Mick talked briefly to the audience and introducing Kelly Hansen, saying that Hansen brings a lot of soul and movement to the band and said that we would be in for a good time that night. Mick was right.
Now – Part 1 Setlist:
Double Vision
Head Games
Cold As Ice
Waiting for a Girl Like You
Headknocker
That Was Yesterday
Urgent
Juke Box Hero
THEN it was time for the ones who created the music. The ones who played on the albums and started it all. Kelly Hansen called them out to the stage and announced them, Rick Wills (bass), Al Greenwood (keyboard) and Ian MacDonald (guitar). Original drummer, Dennis Elliot was not present at this show, for reasons unknown, therefor Chris Frazier remained on drums for the night.
Set 2 kicked off with "Feels Like the First Time", bringing a second wave of Foreigner euphoria to the arena. Mick Jones and Rick Wills together at center stage, as if they were in a world of their own together for a brief moment, performing together once again, with glowing smiles. The photos we go that night, documented this historic appearance, capturing the musicians who started it all, wrote and performed the songs from another era of the Foreigner legacy.
Then – Part 2 Setlist:
Feels Like The First Time
Blue Morning, Blue Day
Long, Long Way from Home
Dirty White Boy
I Want to Know What Love Is
Hot Blooded
The final two songs were a joint performance with all members on stage. Coming together for 1984 release, "I Want to Know What Love Is", which featured the Norwich Tech Choir performing on stage. This portion of the night is really a moving experience, you can feel the song and emotion of the performance. Having the choir on the stage in each city is such a great thing that Foreigner does, which is certain to leave the choir with a memorable experience and inspiration to the future of their musical endeavors.
The night closed out with "Hot Blooded". The night went by way too fast. A night packed with a catalog of hits that have transcended generations of music fans, played by the people who wrote and performed them. Foreigner music has been part of the soundtrack of the lives of many spanning the past 40 years.
Having seen Foreigner perform live on three occasions in the past few years, two of which were reunion shows. There is something to be said for the success and following that Foreigner continues to have. Foreigner doesn't stop. They can be found playing cities all over the US and Worldwide. Every show gathers great fan support and turnout. The modern, NOW lineup brings great value to the performance of Foreigner music in a live setting, they keep the enthusiasm for the music alive. Kelly Hansen's voice is amazing and goes hand in hand with his entertaining and energetic stage presence. A band with barely an original lineup, some 40 years later, still filling venues worldwide is an accomplishment that few bands can pull off.  The crowds keep coming, the songs keep playing and the band keeps on touring. It is magical to watch the original members performing on stage together, along with Mick Jones once again. Catch any Foreigner show and you'll be entertained. Keep an eye out for the Reunion Tour dates when they come around. Its a historic event.
For more information on Foreigner, tour dates, and more visit: https://www.foreigneronline.com/
For a Full Listing of Upcoming Mohegan Sun Arena shows visit the link HERE