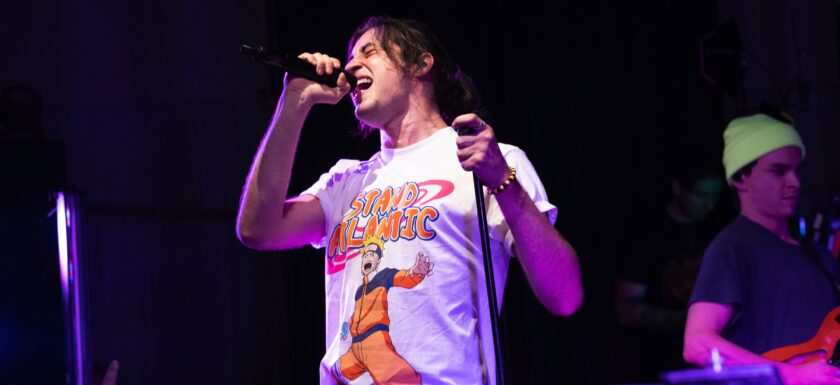 THE FAIM
with Stand Atlantic
Once Ballroom
Somerville, Massachusetts
September 28, 2019
Photos & Review by Michael LaFleche
The Faim and Stand Atlantic rolled into Somerville, Massachusetts at the Once Ballroom Saturday night with quite a variety of global rock. The ballroom was packed with a new generation of adoring fans, dressed in houndstooth and checkered attire for the headlining band.
HOLD CLOSE Photo Gallery

First up was a band called Hold Close which as smooth, polished rock, and the other opening act as WSTR, the complete opposite a hard punk rock band from the UK. Both were great and helped get the party started. Hold Close lead singer Braxton Smiley led the first bad with a cool ethereal setup a standing keyboard and cool lighting while singing. WSTR was just pure energy with great and fast drumming, and proper hammering guitar work.
WSTR Photo Gallery

Stand Atlantic is an Australian based band which is a pop-infused version of punk led by Bonnie Fraser singeing and playing the electric guitar, backed up by guitarist David Potter, bassist Miki Rich, and drummer Jonno Panichi. The band from Sydney has been extremely popular down under and apparently they are here too, as the crowd was singing along to most of their hits, including Bullfrog and Skinny Dipping. I was really impressed with the energy of Bonnie and the band. They were able to switch it up from really fast hard stuff to more smooth pop sounds with ease. But don't let that fool you. The crowd was quite excited, with stage diving and crowd surfing all making for a great atmosphere.
STAND ATLANTIC Photo Gallery

The last act of the night was The Faim, heralding from the other side of the massive Australian continent in Perth. The Faim came out on stage the the energy of flamethrower. Shooting the show from the crowd was really a challenge here during the show as the fans were flying around like we were in a particle accelerator. It was great though to see the energy the Faim was able to pull from the crowd.
The band is made up of lead singer Josh Raven, bassist/keyboardist Stephen Beerkens, guitarist Samuel Tye and drummer Linden Marrisen. They are making quite a stir in the industry being somewhat of a newer band. I liked how they mixed an industrial electronic sound with a bit of AC/DC. That's the only way I could describe it.
The playlist Saturday night included Saints of the Sinners, My Heart Needs to Breathe, Midland Line, Beautiful Drama, Infamous, Make Believe, A Million Stars, Humans, Words Apart, When It Comes, Tongue Tied, Amelie, Buying Time, Summer Is a Curse, and State of Mind.
The Faim are still on tour with Stand Atlantic through October and Headline another tour with dates through December.
For more info on The Faim, visit: http://thefaim.com
THE FAIM Photo Gallery