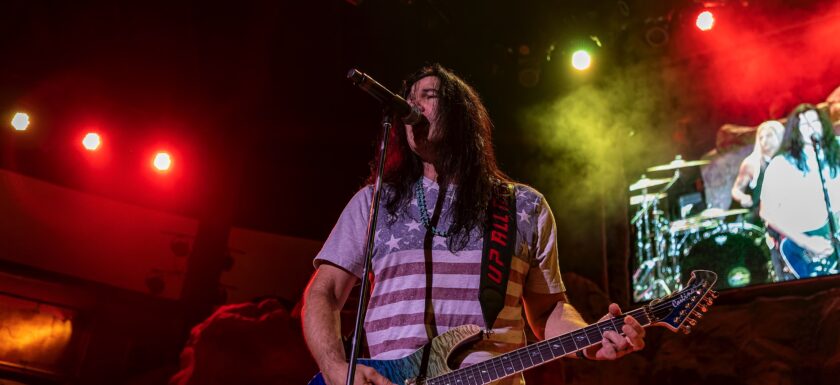 SLAUGHTER
Mohegan Sun Casino Wolf Den
Uncasville, Connecticut
October 5, 2019
Photos & Review by Tom Bogus
Slaughter made their way to the Mohegan Sun Wolf Den in Uncasville, Connecticut on October 5th 2019. The casino was completely packed that evening with rock fans. Not only was Slaughter doing a concert, but Journey was performing in the Arena.
As Slaughter took to the stage, I was expecting to see Blas Elias on drums, but Blas had another show to play, So Will Hunt from Evenescence filled in on drums. The line-up that evening was Mark Slaughter (lead vocals/guitar), Dana Strum (bass), Jeff "Blando" (lead guitar) and Will Hunt (drums). They started their set off with "The Wild Life" from their second studio release. Keeping the momentum and energy up, they went right into the next song "Burning Bridges" from their double platinum debut CD Stick it to Ya. A good portion of the set list was from that epic album. They played all the hits and from it and did a pretty good cover jam with some Led Zeppelin, Queen and Black Sabbath (Dio era) songs. They closed the night out with first "Fly to the Angels" and then "Up All Night".
I was glad I had the opportunity to see these guys again. My first time seeing them was back in 1990. I've seen them since, but it's always nice to hear the old songs live again. By the amount of smiles, I could tell everyone had a great time at the show.
SETLIST:
1 – The Wild Life
2 – Burnin' Bridges
3 – Spend my Life
4 – Cover Jam (Immigrant Song, We Will Rock You and Neon Nights)
5 – Mad About You
6 – Days Gone By
7 – Eye to Eye
8 – Real Love
9 – Fly to the Angels
10 – Up All Night
For More Slaughter Info, News, Music & Tour Dates visit, https://www.slaughterusa.com
For the Schedule of FREE Mohegan Sun Wolf Den shows, check out the schedule here, WOLF DEN CALENDAR